Weekend Forecast for April 24-26, 2015
By Reagen Sulewski
April 24, 2015
BoxOfficeProphets.com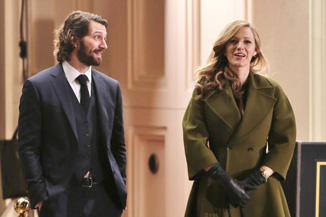 ---
Hollywood's habit of running away from the weekend right before the summer season starts is in evidence once again, as pre-Avengers weekend sees just one new wide release, one limited appeal niche film, and one expansion to national release, leading to a very quiet frame.

The wide release is Age of Adeline, starring Blake Lively as a woman who stops aging in her 20s following an accident. Something of a twist on the Benjamin Button scenario, it deals with the complications of not growing older and all the unwanted attention that could bring from authorities. To combat that, Lively's character retreats into seclusion – until she meets someone worth risking her secret for, and then the whole thing turns into a perfume commercial.

A sub-Sparksian romance that puts a weird spin on the May-December concept, it also stars Michiel Huisman (that's Daario Naharis to you) as the love interest and Harrison Ford and Kathy Baker as his parents. So it's got an OK cast but a large hole at its center in trying to insist that Lively is a box office draw. But, you might point out, The Last Ride showed that you don't necessarily need a big name to open a film like this, to which I'd respond that I'm the one making the clever points here, thank you very much. But more seriously, a film's lack of stars can be in some ways a neutral factor for romances, but Lively is possessed of that rare substance known as anti-charisma, and can drive viewers off by her very presence. In some ways she's actually untested as a marquee name, with no films that really rested on her ability to bring in paying customers on her resume. I maintain, though, that most people's opinions of her settle on "blah."

The absolute best case comparison here is The Time Traveler's Wife, but that rested on a much more popular book and star. With mediocre reviews and not a lot of studio support, I'd expect a lackluster weekend of about $11 million.

The other new film, opening in just over 1,000 venues, is Little Boy. Directed by relative unknown Alejandro Monteverde and with the production backing of Mark Burnett and Roma Downey, it's a faith-based film set in the waning days of World War II. The film is centered around a young boy who is small for his age (hence the title, but, wait for it...) and his close relationship with his overgrown child of a father (Michael Rappaport). However, with the breakout of WWII, that father is called off to the War in the Pacific. Meanwhile, a magician visits his town and convinces the boy that he has psychic powers, which he then starts to direct towards the goal of bringing his father home. Instead of disabusing him of this notion, the town indulges it, which seems like a crazily risky strategy (what if he dies? That happens a lot in war, after all) including the local priest, who decides that it's a gift from God. Cause...hwahaa?

Little Boy has an approach to faith that I have a hard time accepting that true believers actually embrace, turning religion into a wish-granting genie, not to mention taking a borderline-offensive approach to the war and its ultimate end (there was something else around that time called Little Boy and don't think that this film isn't going there). Add in an overly cutesy tone and it feels like a film without a constituency, and should open to around $3 million.

Expanding to around 1,200 venues is Ex Machina, a buzzed-about sci-fi film from Alex Garland, writer of 28 Days Later and The Beach and the first 90 per cent of Sunshine before the last bit was lost to a hard drive crash and reconstructed by a random plot generator (at least that's the theory I like to go with). It stars Oscar Isaac as an inventor who creates an artificial intelligence and puts it into a lady robot (Alicia Vikander). Domhnall Gleeson is a young programmer selected to evaluate the program and determine how close he's achieved to true A.I. ... with sexy results.

Halfway between sci-fi and a psychological thriller, Garland's film has attracted a lot of buzz and acclaim as a smart take on a technological issue and its social implications. I'm reminded here most of Moon, although that film never got above 250 venues or so, while Ex Machina nearly got into the top 10 in just 39 venues. While this is still a "builder," it's definitely a film that's set to catch some attention of the wider public. Ex Machina should earn about $5 million this weekend.

This leaves the box office to Furious 7 once again, even as it continues its precipitous fall. Its third weekend saw it earn $29 million, down over 80% from its debut just two weeks ago. Those of you quick on the draw with math will realize that this still means it's an enormous earner, with over $300 million in the bank domestically, which is just a small part of its billion plus international take, a number it has earned at a record pace. Go back 10 years and make that prediction and see how fast you get committed. Now in its fourth weekend, it should pull in about $15 million.

In a merciful world, the Paul Blart sequel would not only have not been released, anyone suggesting such a thing would be placed away from where they could harm us further. We don't live in that world, and its $23 million opening weekend stands as a mark against us as a society. Hope could be found in its inevitable crash to earth, perhaps to around $8 million. We can make this happen, people!

Also likely to crash is Unfriended, thanks to its heavily front-loaded genre. The innovative yet also insipid horror film, shown entirely on a computer screen through social media, debuted to $15 million but carries a fickle audience. It should fall to about $6 million.

Lastly in terms of relevance, we have Home, the surprise modest hit for DreamWorks Animation that's headed for about $160 million domestic. It should hit around $6 million this weekend as well.