Weekend Forecast for April 17-19, 2015
By Reagen Sulewski
April 17, 2015
BoxOfficeProphets.com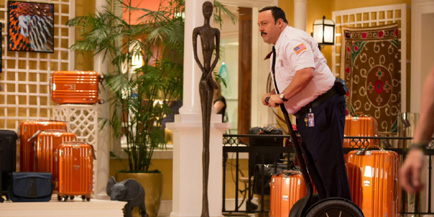 ---
With 52 weeks of the year to release movies, there are some when Hollywood is going to come up a little short on quality. Then there are weeks like this one, where you're looking for a meteor to hit the Earth before Friday.

The scourge known as Paul Blart: Mall Cop 2 arrives in theaters this weekend as the main new draw for films, which leads me to think of a bit from a Patton Oswalt stand-up bit, "doors lock from the outside!" Six years ago, Kevin James found surprising success with the original Mall Cop film, frequently found in connection with the descriptor "inexplicable." Released in a dead spot in the film schedule, and just shortly after the end of the run of King of Queens, it grossed *one hundred and forty six million dollars*. In other words, January 2009 was peak Kevin James, and it's a period of time we'll all probably look back at with horror, like that brief time in 1998 when everyone tried swing dancing. Attempts to make fetch happen with James again met with less success, as Zookeeper, Here Comes the Boom and The Dilemma met with declining levels of interest.

Part of the help with the original Paul Blart was a producing deal with Adam Sandler, who lent his then-not-poisonous name to the film's advertising. Lately, outside of the Grown Ups films, Sandler is a man without an audience and has his films premiering on the Internet lately. Of course, this film is about James, but it's part and parcel of a decline in the appeal of this sub-genre of stupid comedy, and/or these particular actors.

Have I gotten to the plot yet? I suppose I should, for what it matters. Our heroic Segway-riding security guard – even the visual gags are dated in this – heads to Vegas for a vacation as his daughter heads off to college. Then something something terrorism and here comes bumbling Fat Hard to succeed by accident. Reviews are dismal for the film, with universal pans where reviews have been allowed to occur (expect a lot to populate on Saturday – those poor, poor critics). There's still some value to the franchise name, in that it's a thing that people remember and recognize, which is sadly all that it takes sometimes for some films. Dropping from the $31.8 million of Blart, we should see an opening weekend of about $20 million for Blart 2.

Horror films have often been on the forefront of social trends, largely because of their inexpensive budgets, allowing less lead time for planning and more inventive filmmakers. In that sense, Unfriended is a sterling example of that, as it's a horror film that takes place entirely on social media. After a viral video of one of their friends, drunk at a party, inspires her to commit suicide, another group of teens are haunted online by some sort of ... let's say evil spirit? that starts knocking them off one by one, causing them to kill themselves. It's probably best not to think about the logistics of this, but in terms of scaring the crap out of teens, insinuating that the thing they use the most might be trying to kill them is quite the selling point. I'm not sure I'm buying the whole "evil Skype icon" bit, but then again, I'm only on Facebook under protest, so I'm possibly not the target market here.

Playing something like a real-time Paranormal Activity, Unfriended has actually received an unusual number of positive reviews for a gimmicky horror film, largely for committing to its premise and executing it about as well as could be expected. Featuring a cast of never-heard-of-'ems, Unfriended (smartly ditching its horrible original title Cybernatural) is entirely relying upon this premise for success. Being (essentially) the first film to claim this territory is valuable, and with a heavy appeal to teens and an au courant setting, it should find a moderate result of about $15 million this weekend.

The annual Disney nature film appears this weekend with Monkey Kingdom (which was probably also the alternative subtitle for the Paul Blart sequel). These have been modest earners each year, with only 2009's Earth and 2012's Chimpanzee scoring over $20 million. The lesson here – go big (or ape) or go home. Turtles can go pound sand. Monkeys are kind of like apes, so this might bump up the curve a little bit, but we're still looking at about $6 million.

In a not quite wide release, True Story makes its debut in around 800 venues. Feeling a bit like an elaborate Funny or Die sketch, it stars Jonah Hill and James Franco, with Franco playing an accused killer who has taken on the identity of Hill's fired New York Times reporter. Hill's character attempts to investigate just what's going on behind the at-the-very-least sociopathic Franco's game, leading to a cat-and-mouse thriller that's based on actual events. With mediocre reviews and a half-hearted release schedule, True Story should be a minor player this weekend with about $3 million.

The weekend should belong again to Furious 7 despite its steep drop-off last weekend. Crossing the $250 million plateau last Sunday, it should add another $25 million to its coffers as it heads its way to $400 million and over a billion internationally. If you ever get access to a time machine, after you kill Hitler, go to July 2006 and place a bet that a film in the Fast and Furious franchise will earn over a billion dollars internationally at some point. You will win, by my rough calculations, all of the money.

Also returning is Home, which should find about $11 million in a family-friendly environment, The Longest Ride, which should drop to around $7 million after an unimpressive $13 million opening, and Get Hard and Cinderella, with about $5 million each.