Trader's Retreat - Sports Cards Weekly
By Jim Van Nest
April 15, 2015
BoxOfficeProphets.com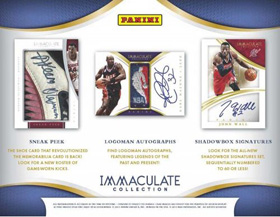 ---
Hello, good people, and welcome to another edition of Trading Cards Weekly! Last week's column was dominated by the release of the three big end of season football sets. This week, we're back to the land of the affordable and have some real fun products to talk about. We have one product that is becoming a yearly favorite and another that will probably excite some of the staff here at Box Office Prophets.

As mentioned last week, while most of these dates are solid, there is the chance the release dates could change without notice. That being said, let's take a look at the offerings for April 15th - April 21st!

April 15th

2015 Rittenhouse Marvel Agents of SHIELD Season 1 - With The Avengers: Age of Ultron scheduled to hit theaters in a couple weeks, Rittenhouse is striking while the iron is hot and is presenting Season 1 of Agents of SHIELD! Each five-card, 24 pack box will set you back about $55 and will feature one autograph and one costume relic per box. You could pull a Clark Gregg (Agent Coulson) autograph, a Ming-Na Wen autograph or one of several others including Bill Paxton, Brad Dourif and Patton Oswalt. This one will be big, I imagine, so get them while you can.

2015 Topps Gypsy Queen Baseball - Since blasting onto the trading care scene in 2011, this 1880s era tobacco card throwback set has quickly become one of the highlights on the trading calendar every season. Each box of 24 10-card packs is stuffed to the gills with good stuff. First off, you get two autographs (most of which are on-card) and two relics per box. But as all Gypsy Queen collectors know, that's just the beginning and 2015 looks to continue that trend. With a bunch of Minis, short prints, inserts and parallels - this looks to be another outstanding effort from Topps. Priced around $105/box, I'm sure the baseball collectors out there will be eating these up!

2014-15 Upper Deck Ice Hockey - Also dropping on 4/15 is the return of Upper Deck Ice. For those not familiar, this isn't a base Upper Deck set of ice hockey cards. The brand is Upper Deck Ice and it's been largely missing from the hobby, only showing up as a set-within-a-set style insert. But it makes its full return with eight three-card pack boxes. Each $105 box should net you an autograph and a relic as well as several short printed cards. UD Ice is predominantly an acetate set and looks to have a lot of awesome stuff in it. I think we'll all be glad to see its return just in time for the Stanley Cup playoffs!

2014-15 Panini Immaculate Collection Basketball - I said this week's offerings would skew more affordable and I meant it, except for Immaculate Collection Basketball. Still a relatively new product, this fantastic set from Panini has ascended to the top of the basketball mountain quickly. With a $540 per six-card box price tag, Immaculate is not for the faint of heart. Included in each six-card box are five autographs or relics all of which are serial numbered under 100. And keep your eyes open for the return of the Logoman Autographs - cards that feature a signature with a game used NBA logo patch from that player's jersey. If you've got the funds and you love the NBA, you have to include Panini's top-end Immaculate Collection on your shopping list.

2015 Topps Chipz Baseball - 2015 sees the return of Topps Chipz to the hobby planet. This product isn't exactly trading cards, but rather MLB poker chips. TraderRetreat reviewed the 2013 version of Chipz and found it to be a fun break, but geared more toward kids or people who wanted a change of pace. This year, Topps has upped the ante (see what I did there?) on this set by including different color Chipz to the mix. In 2013, there were different colored stickers, but in this set, the Chipz themselves are different colors. Each box will contain 36 four-Chip packs. Also included this year are randomly inserted Relic Chipz with little pieces of game used bat embedded in them. Priced in the $55-60 per box range, I think Topps Chipz will prove to be a fun, if not kid-centric, product for this 2015 MLB season.

2015 Sage Hit High Series Football - Rounding out our releases for this week is the first look at the 2015 NFL Rookie class, including the likes of Amari Cooper, Jameis Winston and Todd Gurley. Coming in at about $95/box, Sage Hit offers the impatient collector their first opportunity to collect the 2015 Draft Class. One thing to note is that Marcus Mariota is not a part of this set. That aside, though, in Hit High Series, you will pull 12 autographs! Each box has five 14-card packs, so you're pulling two or three autos out of every pack of Hit High Series. You can't go wrong with 12 of 70 cards being autographed, though the draft hasn't happened yet, so you never know if these guys are the next big thing, or a guy that doesn't get drafted. Either way though, you can't beat the hit to base ratio here, especially for a lower end set.

Down the Road

This section will be a "down the road" look at some upcoming products through blasts direct from the card companies.

Topps Announces 2015 Bowman® Product Portfolio - In anticipation of the April 29th release of Bowman Baseball, Topps is excited to announce the remainder of its 2015 Bowman product portfolio.

The end of June will mark the release of Bowman Inception Baseball, the Bowman brand's most high-end product with a checklist featuring the game's up-and-coming stars on stylized designs. The product will feature four autograph cards and an autograph relic card per box.

The ever-popular Bowman Chrome Baseball is scheduled for a September 2015 release. The product will include a host of the game's top prospects and international signers not yet featured in the Bowman product line, showcased entirely on chrome technology.

A collecting staple in the hobby, Bowman Draft Baseball will return in November 2015 to feature the 2015 MLB Draft class. Don't miss the opportunity to collect the very first trading cards of the game's future stars in their MLB uniforms.

And showcasing the game's top veterans, rookies, prospects and draft picks, 2015 Bowman's Best Baseball will feature the biggest newsmakers of the season. The new set will reinvigorate the end-of-year collector with dynamic designs and an array of content that delivers on all levels.

For more information about any of the product releases, please follow on Twitter @BowmanCards and/or visit us on Facebook.com/BowmanBaseball. Bowman – The First Place to Find the Game's Future Stars.

And that'll do it for this week...please make this a weekly stop as we'll be highlighting the hottest new releases every week. Also, keep an eye out for a Review of 2015 Topps MLs Major League Soccer - spoiler alert, we have a Printing Plate (or two)!!!