Weekend Wrap-Up
Furious 7 Shortens The Longest Ride
By John Hamann
April 12, 2015
BoxOfficeProphets.com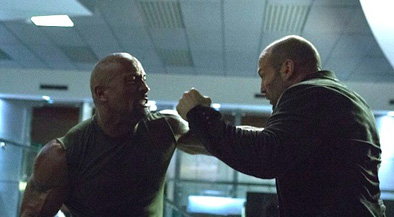 ---
After a $147 million opening weekend, making it one of the top nine openers of all time, what could Furious 7 do to keep the momentum up? How about hold better than most of the other top nine top openers, and make another spring weekend look like summer.

What a ten day stretch it's been for Furious 7 and Universal Films. The estimate last Sunday was $143.6 million, but it came in at $147.2 million once actual receipts were counted. This means it trended nicely over opening weekend and was less front-loaded than originally thought. It had the eighth biggest first week at $191.9 million and crossed the $200 million mark on Friday, its eighth day of release. Furious 7 is ready to roll through the month of April, as competition throughout the month is much like this weekend – not much.

The biggest opener this weekend is The Longest Ride, another of these tired Nicolas Sparks' adaptions that have been reduced to being seen only by women, as men have seen these films before and now have brains. Smaller debuts include the widening of films like Woman in Gold, Danny Collins and While We're Young, three films that likely wouldn't appear in the top ten had the list not been so top loaded with Furious 7.

Number one is obviously Furious 7. The only question this weekend was about its hold compared to the last frame. Box office analysts wondered whether it would crumble in weekend two or if the A Cinemascore and the mountains of press regarding the opening weekend would keep it rolling. Given the massive size of the opening, the season, and the fact that last weekend was a long weekend, a drop below 50% was going to be virtually impossible. Universal would be looking for a Spider-Man 3 type drop of 62% or a Furious 6 type drop of 64%. Furious 7's second Friday came in at $18.8 million, 72% down from its debut day. However, that $67.4 million opening day had $15.8 million from Thursday previews, so it was actually down 63.5% from last Friday's "true" gross of $51.6 million, which is much more reasonable.

The second weekend gross for Furious 7 came in a healthy $60.6 million, off a decent 59% compared to that massive opening weekend. This drop is slightly better than other top ten biggest openers of all time like Spider-Man 3, which opened to $151 million and fell 62% in its second frame; the first Hunger Games, which opened to $152.5 million and fell 62%; and The Dark Knight Rises, which debuted with $161 million and dipped 61%. Keeping up with Disney/Marvel titles proved tougher, as The Avengers fell only 50% after opening to $207 million, but it was close to Iron Man 3, which dropped 58% after debuting to $174.1 million. Furious 7 crossed the $250 million mark on Sunday, its 10th day. That is the eighth fastest to $250 million of all time and the fastest for any film that didn't open in summer or at Thanksgiving.

The action blockbuster with the $190 million budget joined the top 12 biggest second weekends of all time, staying ahead of Toy Story 3's $59.7 million but falling just short of The Dark Knight Rises $62.1 million. Paul Walker's last film now has a 10-day domestic total of $252.5 million, and is a whisper away from joining the top 75 domestic releases of all-time already. For me, the hardest thing to believe is that after only 10 days of release, Furious 7 is already the biggest Fast & Furious grosser, having already surpassed the $238.7 million earned by Furious 6. Depending on what happens throughout April, the blockbuster could earn as much as $350 million, as I am expecting holds in the 40-45% range over the next two weekends before Avengers: Age of Ultron hits screens. Overseas, Furious 7 has almost reached crossed the $550 million mark before the weekend began, so we are almost certainly looking at a billion dollar worldwide film here.

Finishing second is DreamWorks Animation's Home, which is now in its third weekend. After a $27 million frame last weekend that saw it drop 48% compared to its $52.1 million opening, DreamWorks and Fox were looking for a stronger hold this weekend, with no $150 million juggernaut showing up to mess things up. It did hold well, as Home beat expectations in its third weekend, earning $19 million and dropping only 30%. This was exactly the kind of box office that DreamWorks and Fox were looking for, as it keeps momentum moving forward. Next weekend's Monkey Kingdom shouldn't slow it down too much, and the following weekend's Little Boy is already a long shot. Currently, Home has reached $129.6 million on the domestic side, and it could still see a Croods-type finish in the area of $187 million. Its overseas take is $111 million mark, so despite the too-large budget of $135 million, DreamWorks will have a success with Home, and potentially a franchise.

Finishing third is our lone new wide release, The Longest Ride, which won't end up being known for a huge box office success, but rather for the launch of its stars, Scott Eastwood and Britt Robertson. First off, The Longest Ride, another in the Nicolas Sparks brand of cookie-cutter romantic movies, did the usual and opened to $13.5 million from 3,366 venues (most of which will be given to Avengers: Age of Ultron in a few weeks). Seven of the 10 Sparks adaptions have opened between $10 and $16 million, and this is just another in a long lineup, with more unfortunately likely to come. Like usual, critics hated it, with The Longest Ride garnering a rotten rating of 29% at RottenTomatoes. Audiences liked it more than critics, as it received an A Cinemascore. The usual score for Sparks' film is B+, so this one stepped up a little better. Made for $35 million, the studio will be looking for a similar result to The Lucky One, which earned $99.4 million worldwide.

If you live under a rock, Scott Eastwood is Son of Eastwood, and looks remarkably like his iconic father did back in the days of the spaghetti western. Upcoming films for the young Eastwood include Oliver Stone's Snowden, and then he has an unnamed role in Suicide Squad. After that, he is rumored to be playing Steve Trevor in the Wonder Woman spinoff. Britt Robertson's next film is Tomorrowland with George Clooney, which is opening on May 22nd, and she is following that up with Cook, a drama with Eddie Murphy. Like with Ryan Gosling and Rachel McAdams in The Notebook, The Longest Ride could provide the career lift both actors are looking for.

Fourth is Get Hard, which is in its third weekend and manages a much better hold. After dropping 61% last weekend, Get Hard earned $8.6 million and fell 34% this weekend. The $40 million Warner Bros. release has picked up $71.2 million on the domestic side and has crossed the $10 million mark overseas.

Cinderella is in fifth, as it spends a fifth weekend in the top five. The Kenneth Branagh Disney success earned another $7.2 million, and dipped 29% compared to last weekend. The $95 million production has now earned $180.8 million domestically and will either meet or beat $200 million before all is said and done. Overseas, Cinderella has pulled in a massive $230 million and will be looking to finish with a half-billion worldwide.

Insurgent is sixth, as it continues to struggle following a decent opening. The Lionsgate sequel earned $6.9 million, declining 32% compared to the previous frame. Divergent, the original film in the series, had earned $124.8 million after four weekends. Insurgent has earned $114.8 million in the same amount of time.

Seventh is Woman in Gold from The Weinstein Company, which expands from 258 venues last weekend to 1,504 venues this weekend. The increased venues improved the gross to $5.9 million, which is an 180% increase from the $2.1 million it earned last weekend. The budget for this one was $11 million, so it will need to have some overseas success to return the budget. So far, the Helen Mirren starrer has earned $9.3 million.

It Follows spends another weekend in the top ten despite very little marketing support and 22 fewer screens this weekend. After earning $2.5 million last weekend, the $2 million Radius-TWC release earned another $2 million and has now increased its total to $11.8 million.

Danny Collins, the new film with Al Pacino, shows up in ninth after a couple of weekends in limited release. With a bump to 739 screens, Danny Collins pulled in $1.6 million and had an only okay venue average of $2,165. Made for $10 million, this film was made by Bleeker Street Media. Their first release is already in trouble given the budget. Critics liked it – it has a 77% fresh rating – so maybe older audiences will embrace it over the next couple of weekends. So far, Danny Collins has earned $2.5 million.

Finishing 10th is While We're Young, the new film from Noah Baumbach starring Ben Stiller, Naomi Watts and The Force Awakens' Adam Driver. Out to only 246 screens, the comedic drama earned $1.4 million, giving it a venue average of $5,598. From distributor A24, this small release was a $4 million pickup for the upstart and has a gross to date of $2.4 million.

Ex Machina, the new sci-fi flick from 28 Days Later screenwriter Alex Garland, opened at only 4 theaters but picked up $250,000, for a venue average of $62,500. This release is 90% fresh at RottenTomatoes and is also being released by A24.

Overall, the top 12 was still healthy, but with only one new wide release, the box office was almost completely reliant on Furious 7. This weekend's top 12 pulled in $128.9 million, close to last year's total of $132.8 million. Next weekend brings a bunch of new titles. Wide openers include the Paul Blart sequel, and I will be very interested to see if it opens anywhere near the $31.8 million debut of the original in 2009; Unfriended, the Facebook horror flick that was shot over a 16-day period; and Monkey Kingdom, one of those Disneynature flicks. Smaller releases include Child 44, the new Tom Hardy flick and True Story, the new Jonah Hill/James Franco drama.