Weekend Wrap-Up
Furious 7 Races to Records at Hot Weekend Box Office
By John Hamann
April 5, 2015
BoxOfficeProphets.com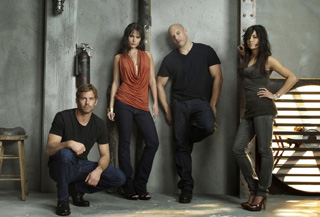 ---
Wow. Easter weekend is supposed to be an anti-holiday at the box office. Thanks to Furious 7, that is just not the case this weekend, and maybe never again. The Paul Walker tribute film grossed an insane $143.6 million over this early April weekend, which is like running a cement truck at full speed into the box office record book.

Prior to the release of the rebooted Clash of the Titans in 2010, Easter was not considered a launchpad for big time blockbusters. When Clash opened to $61.2 million, it blew away the second biggest Easter opener at the time, The Hannah Montana Movie, which found $32.3 million. With big Fridays and lower Sundays due to family commitments, the Easter weekend creates automatic front-loading, making it tough to open big films.

Last year's Transcendence flopped at Easter last year, earning only $10.9 million over its first three days. The list of top films released at Easter features a series of losers and only a handful of winners, with losers including a host of films that should have been big but weren't, like hot YA property The Host ($10.6 million opening), or supposedly bulletproof sequels like Miss Congeniality 2 ($14 million opening), and The Whole Ten Yards ($6.7 million opening). Furious 7 had none of those issues, which may pave the way for studios to take a new look at using the holiday as launching point.

Furious 7 got started on Thursday, where it earned an out-of-hand $15.8 million from Thursday night screenings alone. That partial opening day gross alone put Furious 7 just outside the top 20 Easter openers ever and set it up for a huge weekend. The former biggest April opener, Captain America: The Winter Soldier, which had much softer Thursday previews of $10.2 million. It also ran over Furious 6, which earned $6.5 million from preview screenings. Iron Man 3 earned a similar $15.6 million over its preview Thursday before going on to earn $174 million over opening weekend, and of course The Avengers earned $18.7 million on Thursday before setting the record for an opening weekend at $207 million. Just because Furious 7 had similar first Thursdays to these films does not mean it will earn between $174 and $207 million, and the main reason why is that it's Easter weekend.

On Friday it was entertaining to watch weekend estimates for Furious 7 go up, up and up all day. The weekend estimate started on Friday morning at $115 million, grew to $125 million after the Thursday preview amounts were released, and then grew to $150 million by the end of the day, once matinees and early evening amounts were tallied. Box office analysts had under-estimated the force of Furious 7 prior to Thursday, despite all signs saying $100 million plus was coming.

Estimates went flying upward due to the combined Thursday preview/Friday amount of $67.3 million, an amount that was already the biggest ever for an Easter weekend, the 10th biggest opening day of all time, and the 11th biggest single day of all-time. Oddly enough, the last Paul Walker blockbuster had a very similar opening day as the late Heath Ledger's last blockbuster The Dark Knight, which earned just a few thousand less than Furious 7 ($67.2 million) when it opened. The debut Friday was bigger than all the Transformers movies, all the Harry Potter films (save Deathly Hallows Part 2), and all the Marvel films save The Avengers and Iron Man 3. The single day gross for Furious 7 represented the fourth biggest weekend gross of the series and was more than The Fast and Furious: Tokyo Drift earned throughout its run ($62.5 million).

On Saturday, Furious 7 would be looking to match that opening day gross as much as possible, but a more realistic effort would have it matching the Friday gross without the Thursday preview amount included. A Saturday at $50 million and a Sunday at $35 million would put Furious 7 at $150 million, but it had to deal with the Easter effect. This morning's estimate has the Saturday at $46.3 million, which means the WAG (wild-ass-guess) for Sunday was $30 million, giving Furious 7 an estimated weekend total of $143.6 million, the ninth biggest opening frame in history, and it opened in April. APRIL.

The weekend estimate means that Furious 7 outgrossed last weekend's entire top 12 films ($142.3 million) all by itself, and outdid all the weekends this year save two – the one where American Sniper earned $90 million, and the one where Fifty Shades of Grey opened to $85 million. Out to 4,004 venues, Furious 7 garnered a venue average of $35,870 thanks to Universal's widest release ever. That count was 345 screens fewer than The Avengers, and had it maintained the average and included those additional screens, it would have made an additional $13 million, putting it into the top four openers of all time.

While Furious 7 owes a lot of its opening success to the passing of Paul Walker, that's like saying The Dark Knight only opened to $158.4 million because of the death of Heath Ledger. What both films had more in common is that they are good films that are parts of successful franchises. Furious 7 is 81% fresh at Rotten Tomatoes, better than the 68% rating of Furious 6 and the 78% rating of Fast Five. Furious 7 earned an A Cinemascore, which matches that of the last two Furious films, and will put it easily on pace to be 2015's second $300 million plus earner after American Sniper. Last year, Captain America: The Winter Soldier started the summer early over the same weekend. Furious 7 has little competition until Avengers: Age of Ultron opens on May 1st. After that, it's blockbuster hopscotch, as one huge film opens after the other.

Also of note is Furious 7's overseas gross, as it earned a massive $240.4 million from those international venues. The global total for the film - after one weekend - is $384 million. This thing is officially a juggernaut, and sets the summer blockbuster season in motion in a very positive way.

The rest of the top ten took it on the chin this weekend thanks to Furious 7, but the overall gross was still scintillating in its success due to some decent holdovers – which further shows the power of the Universal sequel. Last weekend's winner Home is second, as Furious 7 pushed the DreamWorks Animation title out of the biggest theaters in multiplexes. Home earned $11.3 million Friday, off only 28% compared to its first Friday, but remember it's Easter. So, instead of improving over the rest of the weekend like usual, the opposite happens due to the holiday (Good Friday up, Easter Sunday down).

The weekend take for Home came in at $27.4 million, off 47% compared to its $52.1 million opening frame. This is a decent but not spectacular hold for Home, bringing the total for the kids flick up to $95.6 million on the domestic side. The overseas take is going to bail Home and its $130 million price tag out, as it appears the domestic gross is going to tap out around $170 million. Should the animated flick make it to $200 million, it will need at least the same amount overseas to avoid a DWA markdown Heading into the weekend, Home has already picked up $50 million on the overseas side.

Get Hard drops to third this weekend as Furious 7's unexpected dominance wipes out the comedy with the similar demographic. After opening to $33.8 million last weekend, Get Hard gets soft, as it is only able to find $12.9 million, good for a decline of 62%. The Warner Bros. release cost only $40 million to make; however, it likely carries a large marketing budget due to the campaign levied prior to release. Given the debut, Get Hard should still see an $85 million domestic finish, and then only $30 million or so overseas will get Warner Bros. into the black. So far, Get Hard has picked up $57 million on the domestic side.

Fourth is Cinderella, as the Disney princess rises above Insurgent. Cinderella earned $10.3 million in its fourth weekend, off an improved 40% compared to last weekend, and better than the 49% and 51% drops it has seen over the last few weekends. What it has lost in legs it is certainly making up for overseas, as the Disney release has picked up about $230 million to go with its $167.3 million domestic take.

Fifth is Insurgent, which continues to trail the original, Divergent. In its third weekend, Insurgent took in another $10 million, off 54% from last weekend's $21.5 million take. Divergent earned $25.6 million in its second weekend and $13 million in its third, giving it $114 million after three weekends of release. Insurgent has pulled in $103.4 million stateside, and looks like it will finish with about $130 million, or about $20 million less than that of the original. That amount will easily be made up overseas, as Divergent tallied only $137.8 million overseas, where the sequel Insurgent already has $120 million.

The rest of the top ten is barely worth mentioning. It Follows managed a sixth place finish, and despite Radius-TWC adding another 437 theaters, the horror title could not keep pace with last weekend. The critically-acclaimed, micro-budgeted release earned $2.5 million, down 35% compared to last weekend despite the uptick in screens. The budget has been reported at $2 million (which seems high), and the film has a gross so far of $8.5 million.

Seventh goes to Woman in Gold, the new film out in limited release from The Weinstein Company. This Helen Mirren/Ryan Reynolds release earned only $2 million, but did it from only 258 venues. It picked up an okay venue average of $7,767, but its 49% fresh rating likely won't take it much higher than that.

Eighth is Kingman: The Secret Service, which is in its eighth weekend. Kingsman earned another $1.7 million, off 43% compared to last weekend. It brought its domestic total up to $122.3 million, and its worldwide gross has crossed the $330 million mark, which means it has earned more than four times its $81 million budget worldwide.

Ninth is the faith-based drama, Do You Believe?, which is still struggling to reach $10 million despite several weekends of wide release. This weekend, the drama earned $1.5 million, dipping 35% compared to last weekend. The Pure Flix release has a take so far of $9.8 million.

Finally in tenth is The Second Best Exotic Marigold Hotel, which despite not tearing the cover off the box office, has seen some real success due to a moderate budget. This weekend, the Dev Patel starrer took in $1 million, off 53%, but brought its domestic take up to $30.1 million. Overseas, it has earned another $40 million, so this sequel that cost only $10 million to make has quietly done quite well.

Overall, thanks to the bruising dominance of Furious 7 and some impressive holdovers, the top 12 joins the top ten biggest top 12's of all time. The top 12 earned $214.2 million. A year ago, when Captain America: The Winter Soldier opened to $95 million, the top 12 earned $158.9 million. Next weekend, the only opener is The Longest Ride, and as it is a Nicolas Sparks' adaption, is likely not very good.