Friday Box Office Analysis
By Kim Hollis
April 4, 2015
BoxOfficeProphets.com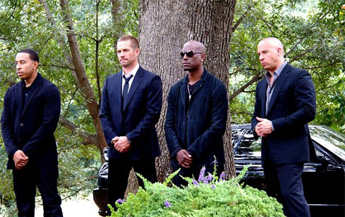 ---
How many superlatives can we hurl at this debut weekend for Furious 7? Probably not enough. After six movies, four continents and nine countries, the Fast & Furious team returns for yet another entry in franchise. With faster cars, crazier action, more stars and craftier cons than ever before, audiences were hungry and eager to support the film in theaters. All expectations were for a huge, $100 million plus performance. The only question was what the ceiling might be.

On top of the fact that the Fast and the Furious series is one of the most popular ongoing film franchises in both North America and all around the world, Furious 7 had one sad, unfortunate circumstance that made it a bid of an x-factor where its potential box office was concerned. Paul Walker, who had portrayed Brian O'Connor since the very first film, died in a tragic (and avoidable) car accident while filming was taking place. Although it wasn't the kind of publicity for Furious 7 that Universal wanted, it still put the movie front and center in the pop culture conversation for almost a year and half.

Taking place after the events of The Fast and the Furious: Tokyo Drift, Fast 7's cast is packed with the past participants in the series, but also adds Jason Statham, who alone isn't a massive star, but he does have a consistent following. Combine all of these elements with an audience that is hungry for a big event picture and you've got all the elements for a massive, massive breakout. Fast 7 certainly did not disappoint on that front.

Yes, Fast 7 earned a mighty $67.3 yesterday, including $15.8 million from Thursday night previews. The weekend trajectory is going to be a fascinating one given the fact that it's both Easter weekend and NCAA Final Four Saturday. At the same time, Fast 7 had unprecedented demand compared to previous movies in the series, with multiple sellouts both on Friday night and Saturday morning. Usually, you could expect Easter to seriously diminish the box office for all releases, but this appears to be the exception to the rule. Not only is typical Easter behavior out the window, but so are the usual multipliers for the Fast and the Furious franchise.

The easiest way to look at the potential for the weekend is to check daily potential. With a "true" Friday number of $51.5 million ($67.3 million minus the midnight screenings), I think it's fair to guesstimate that the film should see an increase on Saturday (all-day showings plus unmet demand). I'm going to say that Saturday number will come in at $55 million, while Sunday ought to come in around $30 million. That gives us a weekend total of $152.3 million, but I won't be surprised to see it estimated even higher - perhaps even as much as $160 million.

There are holdovers from last weekend, but it hardly even feels worthwhile to talk about them. Home actually held up quite nicely, dropping only 28%. If it continues to hold nicely like this, it will have a weekend total of $39 million or so. Get Hard fared much worse, falling 61%, which means it's headed for a second weekend of $15 million.