Weekend Wrap-Up
Home Is Where The Box Office Is
By John Hamann
March 29, 2015
BoxOfficeProphets.com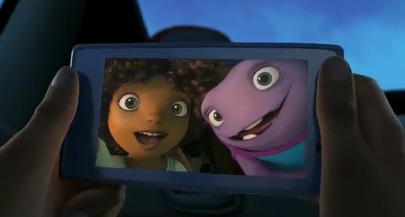 ---
If it's a weekend featuring a DreamWorks Animation title, the box office would normally be in trouble. This weekend, Home breaks the usual trend we've seen from the publicly traded production company, but is the opening enough to stop the cavalcade of write-downs DreamWorks has seen recently?

This weekend should be considered the pre-Furious 7 frame at the box office, as the sure-to-be-huge Universal blockbuster is going to change the box office landscape dramatically next weekend. This frame gives next weekend's counter-programming options a time to shine before they get buried. One of our new releases is Home, the latest from DreamWorks Animation. This time, the project is a little different, as the toon features a unique set of performers including Rihanna, Jennifer Lopez and The Big Bang Theory's Jim Parsons. DreamWorks was looking to shake the negativity this weekend, as their last few films have not performed well enough and led to massive restructuring at the animation studio.

Our other major opener is Get Hard, the buddy comedy with Kevin Hart and Will Ferrell. After advertising the life out of it and being subject to catcalls about the content, it was going to be interesting to see how audiences respond. Lastly, we get something we hardly see anymore – an unexpected, last-minute expansion of a VOD title in It Follows, the very well-reviewed horror title released by Radius and The Weinstein Company. Could it translate a $10,000 venue average last weekend into a decent wider opening this weekend?

As expected, our number one film is Home, the animated feature distributed by Fox and made by DreamWorks Animation. Since the release of Madagascar 3: Escape to Africa in 2012, DreamWorks Animation has struggled, releasing a crop of so-so releases that, while not being out-and-out flops, have left the company with a series of write-downs they couldn't afford. Those films include Rise of the Guardians, which earned $306 million worldwide against a $145 million production budget; Turbo, which earned $282 million versus a $135 million budget; Mr. Peabody & Sherman, which had a $145 million budget and earned $272 million worldwide; and Penguins of Madagascar, which earned $370 million worldwide against a $132 million budget.

The studio had two hits: The Croods, earning $587 million worldwide against a $135 million budget; and How To Train Your Dragon 2, which earned $618 million internationally against a $145 million budget. While the hits were decent, they didn't make up for the drag caused by four films that cost a combined $557 million, and earned $1.23 billion. While the cost versus revenue might look good on paper, it's important to keep in mind that DreamWorks has to share revenues with the distributor, Fox, which means they have to do even better than the "three times the budget" multiplier we normally see to earn a profit.

Home needed to break the streak and behave more like a How To Train Your Dragon or The Croods. Once again, DreamWorks spent way too much on another release - this time it was $135 million on a 94 minute animated feature. The studio had to be pleased to see a first day gross of $15 million, with another $650,000 coming from Thursday previews. The opening day almost doubles that of Mr. Peabody & Sherman, which got started with a sad $8 million over an earlier March weekend last year. It's also healthier than the $10 million Penguins of Madagascar brought in on its first Friday and the $6.6 million turned in by Turbo, although both of these films were Wednesday releases. Home was able to use Spring Break and a lack of animated features (SpongeBob has been out for eight weeks) to its advantage, and score a solid weekend take of $54 million from 3,708 venues. The opening is a solid increase over The Croods ($43.6 million) and How To Train Your Dragon 2 ($49.5 million). Now, Home just needs to find some domestic legs and overseas firepower. One of these will be easy, one might not.

Home's chance at legs might be an uphill climb. Reviews were not kind to the animated feature, but scores did improve as the weekend approached. As of the time of this writing, Home sits with a 48% fresh rating, well back of its Pixar predecessors. "Top critics" liked it even less, with a 37% rating. Reviews weren't unkind, though. They were more of a warning that Home does not push the envelope in any way, and that this one is likely best left to the 10-year-olds. The Cinemascore was solid at an A, but that is the same Cinemascore recorded for Turbo and Rise of the Guardians, two DreamWorks releases that struggled.

The good news is that Home is already off to a strong start in a couple of foreign markets where it debuted last weekend. Home picked up $9 million when it opened in England last weekend, and has already pulled together $26 million in overseas revenue. Given what we've seen so far, Home does not have the smell of disaster that Turbo did when it opened to $21 million, but it will be interesting to see how it performs over the next few weekends.

Finishing second is Get Hard, the offensive, homophobic, racially-insensitive COMEDY with Will Ferrell and Kevin Hart, two gentlemen known for their highbrow releases. After getting started with a super $1.8 million Thursday preview amount, the Warner Bros. release kept it going into Friday, as Get Hard earned a first day gross of $12.9 million, only a few million away from first place Home. That's the best first Friday for Will Ferrell since his last buddy-comedy, The Other Guys, where he starred with Mark Wahlberg. The tempest in a teacup controversy started by a screening at SXSW, where Get Hard was called out for being homophobic and racist, despite having a plot that involves Will Ferrell hiring a black man to help him avoid getting gang raped in prison (what were people expecting, Shawshank?). Warner Bros. advertised this one incessantly, and the move paid off. The $40 million comedy earned $34.6 million from 3,175 venues, but one has to wonder where the advertising budget ended up.

For Will Ferrell, this debut is his best since The Other Guys, which opened to a similar $35.7 million in summer 2010. That was his second-best live action debut behind only Talladega Nights, which found $47 million in 2006. For Kevin Hart, Get Hard doesn't quite match the $41.5 million earned by the debut of Ride Along, but does reach the heights of his second biggest lead role in Think Like A Man, which opened with $33.6 million.

Critics weren't enamored with Get Hard (shocking), as it earned a 32% fresh rating, but you should have your head examined if you were expecting better. The more important Cinemascore came in a B, which likely indicates an even further importance of the opening, as legs are likely fleeting.

Third spot goes to Insurgent, last weekend's $52.3 million winner. A year ago, after Divergent opened to $54.6 million, it fell 53% in weekend two to $25.6 million, and Lionsgate would have been looking for a similar result for the sequel. Insurgent found $22.1 million in weekend two, which means it dropped 58%, likely a point or two higher than the studio would have liked. However, as Lionsgate made perfectly clear last weekend when the sequel failed to match the opening of the original, they don't really care about the domestic success of Insurgent. They are busy concentrating on getting people out in Istanbul. After its second weekend, Divergent had earned $94.4 million. Insurgent has now pulled in $86.4 million domestically and had $47 million in overseas sales prior to the weekend, but cost $110 million to make.

Fourth is Cinderella, which is struggling a bit in the legs department. After getting started with $67.9 million, Cinderella fell 49% to $35 million last weekend, and takes another step down in weekend three. Cinderella earned another $17.5 million, but fell another 50%, as Home eats into its business. Regardless, the Disney film with the $95 million budget has now earned $150 million domestically and $131 million from overseas venues.

It Follows, the 95% fresh horror title being released by Radius and The Weinstein Company, expanded this weekend from 32 screens last weekend to 1,218 venues this weekend. A little more marketing may have helped jump it from arthouse to mainstream, but the company was still able to draw $4 million despite such little support. It Follows was made for $2 million and has a gross to date of $4.8 million.

The rest of the top ten is a collection of also-rans and non-starters. Sixth is Kingsman: The Secret Service, which dropped its screen count significantly this weekend to make room for bigger films. As a result, Kingsman earned $3.1 million and fell 34%. It has a domestic gross of $119.4 million to go with $183 million in overseas grosses.

Seventh is Run All Night, the Liam Neeson actioner. The $50 million Warner Bros. release earned $2.2 million and dropped 56% from last weekend. It has earned $23.8 million since opening.

Eighth goes to The Second Best Exotic Marigold Hotel. It earned $2.2 million in its fourth weekend and fell 38%. The $10 million release has picked up $28.1 million stateside and $35 million from overseas venues.

Ninth is Do You Believe, last weekend's faith-based flop. Believe earned $2.1 million and declined 40%. It has a cumulative total of $7 million. It cost two paperclips and a thumb tack to bring to the screen.

Sean Penn's The Gunman finishes 10th, as it earned only $2 million, dropping 59%. The Gunman has a total of only $8.8 million against a $40 million budget.

Overall, the top 12 was in good shape due to a healthy top four films. The top 12 earned a strong $146.3 million this weekend, higher than the $130.6 million earned last year, when Noah was on top with $43 million. Next weekend brings Furious 7, which is the only real release between now and April 14th, as I don't count The Longest Ride. A $100 million plus opening for Furious 7 would set the record for an April release and lead the overall box office to a huge overall gross.