Weekend Wrap-Up
No Divergence for Insurgent from Original
By John Hamann
March 22, 2015
BoxOfficeProphets.com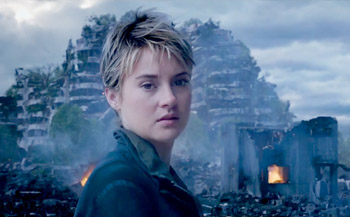 ---
Been there, done that. The Divergent Series: Insurgent replicates the success of the original Divergent. Same weekend, same audience, similar opening weekend. Cloned movies attended by cloned teenagers.

Our big new release of the weekend is The Divergent Series: Insurgent, as no one would know the origins of Insurgent without the silly preface before the title. Exactly one year ago, Divergent, or The Divergent Series: Divergent, opened to $54.6 million from 3,936 theaters. Lionsgate spent $85 million bringing the book to the screen, and the Shailene Woodley starrer earned $151 million domestic and $137.8 million overseas for a worldwide take of $288.8 million. Normally, I think that a film needs to earn three times its budget worldwide to see a profit, so this one would have just squeaked by before making a small fortune through digital download. Lionsgate didn't mind, this was just the set up to much bigger things coming in Rounds 2 and 3. We got the first taste of that plan this weekend.

Also opening this weekend is The Gunman, starring an out-of-his-element Sean Penn, and with so many R-rated action releases out, this movie had no chance of surviving this weekend. Our last opener is Do You Believe?, another faith based drama, this time trying to use the same formula of last year's God's Not Dead, which earned $60.8 million last year against a $2 million budget.

Number one, of course, is Insurgent, a title I always need to check I have right due to its similarity to that of the original. After months of marketing, Insurgent finally got started with previews on Thursday, where the Veronica Roth adaptation got started with $4.1 million. Surprisingly, that is less than the $4.9 million than the original earned a year ago and likely was a little troubling for Lionsgate, who invested more in the sequel than they did in the original, which wasn't cheap at $85 million. Over the Thursday-to-Friday period combined, the original movie earned $22.8 million, with $17.9 million earned over its first Friday. The sequel made $17.2 million on Friday. With Insurgent being a sequel, the likelihood of making up the gap over the remainder of the weekend was small, given that sequels are usually more front-loaded than originals. However, given the fanbase around the books, that drive to see the first one made it behave more like a sequel. The original earned an internal weekend multiplier of 2.4, and the sequel would need to improve on that to get ahead.

Over the entire weekend, Insurgent earned a decent but unspectacular $54 million from 3,875 venues. It had a venue average of $13,942, keeping theaters happy, but I am not sure if Lionsgate is going to feel the same. Why is it important that the sequel improve on the original when we are talking about $50 million plus opening weekends? Because Lionsgate spent $25 million more making the sequel than they did the original, which means the film needs to generate an additional $75 million in worldwide revenue. Given that Divergent's domestic total outgrossed that of the overseas take, increasing the domestic total was key to the original, although the overseas gross should improve now that the first film laid the ground work.

The sequel was like the original film in many ways. Neither received overly strong, with Divergent coming in at 41% fresh (top critics at 36%), while Insurgent turned in an even worse overall score of 32%. The Cinemascores were the same – the original had an A Cinemascore, while the sequel dropped back a strep, earning an A-. All of this is really just a tempest in a teacup, as both movies are the same. This franchise is filler, designed to earn a few bucks theatrically, and then live on as a boxset and sell some ancillary products. Early returns show Insurgent is up overseas versus Divergent, so even if the domestic take drops, the overseas increase should save it.

Finishing second this weekend is last weekend's champ, Cinderella, which had to face off with another female-oriented feature with The Divergent Series. To avoid a 50%+ drop, Cinderella needed a weekend gross of $34 million. Maleficent fell 51% after opening to a similar $69.4 million, Alice in Wonderland dropped 46% after opening to a much higher $116.1 million, and Oz the Great and Powerful fell 48%. Cinderella's second Friday came in $9.5 million, off a significant 59% versus its opening Friday, which means it would need an excellent Saturday and Sunday to not drop more than 50%. In the end, the second weekend gross for Cinderella came in at $34.5 million, off 49% compared to its opening frame.

One might think that this high of a drop is bad news for Cinderella, but it is really not. Since the onset of the Thursday preview, blockbusters have had the deck stacked against them even more in terms of keeping that percentage drop low in the second weekend. The Disney flick crossed the $100 million mark on Saturday, its eighth day of release, Maleficent crossed the same mark one day earlier, but Cinderella still did it a day faster than The LEGO Movie and in the same amount of time it took Pixar films like The Incredibles, Up and Finding Nemo. The $95 million Cinderella will be a hit for the Mouse House, as $200 million domestic is still in play, but where this ends up overseas remains a bit of a mystery (although it has earned more than $130 million so far internationally). So far on the domestic side, Cinderella has earned $122 million.

Run All Night, last weekend's aging action star disappointment from Liam Neeson, did the ugly in its second weekend. Run All Night earned only $5.1 million, and despite the low opening at $11 million, still fell 54% in its second weekend. The total for the $50 million R-rated action release has hit $19.7 million, but it won't earn much more than that, likely topping out around $25 million. It will need a significant gross from overseas theaters, and I don't see that happening at this point.

Despite flopping, The Gunman still manages a fourth place finish (which gives you an indication of the sad state of the box office). Sean Penn continued the downward trend of Liam Neeson as an action star, as The Gunman could only find $5 million from 2,816 venues at the box office this weekend. Critics hated it, with a sad sack critical rating of only 14% fresh, and the Cinemascore wasn't much better at B-. From director Pierre Morel (Taken), Penn was looking to increase his exposure (or cash a cheque), but only served to move himself backward career-wise. The Gunman was made for $40 million, a number the film won't come close to domestically, but given the director and some European co-stars, it might get a hand from overseas audiences. Open Road Films is simply the distributor here, as Canal Plus made this dreck and carries the financial exposure.

Fifth is the leggy success story that is Kingsman: The Secret Service, one of the few bright spots amongst the holdovers. In its sixth weekend at the box office, Kingsman earned another $4.6 million and dropped only 26%. The $81 million Fox release has now racked up $114.6 million stateside, and another $180 million overseas. Interesting that this one opened on the same weekend against Fifty Shades of Grey. One of them is still a top five film, and the other is nowhere to be seen.

Do You Believe?, our faith-based movie-of-the-week, is sixth. This is no God's Not Dead, the $9.2 million opener that went on to make $60 million, but it is from the same team. This time around, the faith-based release earned $4 million from 1,320 venues for Pure Flix, giving it a venue average of $3,030 – quite a bit below the $11,800 average that God's Not Dead earned over its opening weekend. Likely made for peanuts, this one will likely earn a profit despite the low tally.

The Second Best Exotic Marigold Hotel drops to seventh, and while this weekend's drop is not excessive, the film is not matching the legs of the original. This weekend, the John Madden release earned $3.5 million, off 39% compared to last weekend's gross. Made for $10 million, this one is still a big success, given the $24.1 million made on the domestic front and $30 million plus made overseas. Maybe Sean Penn and Liam Neeson should have done this film instead.

Focus drops to eighth as its quick exit continues. The Will Smith starrer earned another $3.3 million and fell 42%. The $50 million Warner Bros. release has now earned $49.4 million domestically, and is approaching $60 million overseas. Focus isn't going to make anyone rich, but it's no After Earth either.

Ninth is Chappie, another in a list of holdover disappointments. Chappie earned $2.7 million, declining 54% after falling 57% last weekend. The $49 million release has earned only $28.3 million stateside, and is approaching $45 million from overseas cinemas.

Tenth is The SpongeBob Movie: Sponge Out of Water, which manages to hang on to a spot in the top 10 purely on the weakness of the other holdovers. SpongeBob added another $2.4 million to its domestic coffers, bringing its North American total to $158.8 million. It also has more than $115 million from international venues, so Paramount is obviously very happy with the return of the animated underwater denizen.

Overall, with Insurgent basically tying Divergent and a pack of unexciting holdovers, the box office fell behind where we were last year. This weekend, the top 12 earned $125.8 million, behind the $133.3 million made last year. Next weekend, two films receiving poor advance reviews will try to bail us out of this mess. Openers include Kevin Hart and Will Ferrell in Get Hard and Home,a movie that comes from struggling animator DreamWorks Animation and distributor Fox.