The Amazing Race Season 26 Recap - Episode 4
The Great Amazing Nasty Race
By Kim Hollis and David Mumpower
March 16, 2015
BoxOfficeProphets.com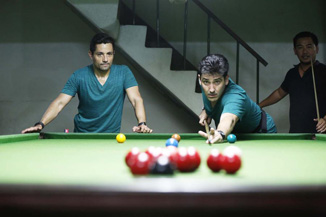 ---
Previously on The Amazing Race, there was a marriage proposal! Yes, Matt asked Ashley to marry him in front of Phil Keoghan and all of the other teams except Harley & Jonathan. She said yes, Bergen & Kurt gave up their date night to the newly engaged couple, and much presumed happiness ensued.

Unfortunately for the aforementioned Harley & Jonathan, dumb airport shenanigans meant that they got on a much later flight than the other teams, which put them in a distant last place for the leg. Yes, it was a non-elimination leg, but it seems as though they are so far behind that the opportunities to catch up are going to be slim. We'd like nothing more than to be proven wrong, because Harley & Jonathan are one of the most likable teams the race has ever seen.

We start tonight's episode with a review of Matt & Ashley's date night on the beach in Phuket, Thailand. Some fire dancers perform for them, and they enjoy some champagne…

…But enough of that mushy stuff. Mike & Rochelle are ready to leave, and their departure time is 3:26 a.m. They are instructed to fly to Bangkok, which means we're going to have a Murray Head earworm all night. Once their flight arrives, they must proceed to a Buddhist temple known as Wat Yannawa, where they will retrieve their next clue.

Mike & Rochelle feel like their victory on the last leg was a surprise to the other teams, but also say that they feel like they are doing really well because they haven't fought at all yet. They note that some of the "blind date" teams are struggling with the stress of getting to know each other, which is starting to play in the favor of the teams who have been together for some time. We don't know about that assessment, as so far some of the "blind date" teams seem pretty strong, but Rochelle's assertion does make logical sense, at least.

The next team away from the Pitstop is Hayley & Blair, who are about 25 minutes behind Mike & Rochelle. She is still griping at him about all the things he got wrong in the previous leg. A lesser person would probably have blown up at Hayley by now, but Blair somehow just manages to either tune her out or let it roll off his back. He says he's trying to let her have some control and let her be accountable for either their mistakes or their success – it doesn't matter to him which one.

One minute behind them are Jenny & Jelani, and Jenny sure hasn't let up any in the intensity department. She's yelling at their driver, who she says is driving slower than a moped ahead of them. Jelani says that Jenny is a Type A personality like a lot of other lawyers he knows, but he wants to be sure that he's doing his part to move them forward in the race. That might be the most words we've heard him string together consecutively so far, which just goes to show how dominant a team member Jenny has been.

Tyler & Laura are having a lot more fun than their previous two "blind date" counterparts. Just two minutes behind Jenny & Jelani, they joke and laugh in the cab and talk about how comfortable they are together. They're like a breath of fresh air comparatively.

Just moments behind Tyler & Laura are Steve & Aly, the Olympians, along with the newly engaged Matt & Ashley, Bergen & Kurt and Jeff & Jackie. As we mentioned at the end of the last recap, all of the teams from position two through eight were bunched very tightly together. They're separated by only about 10 minutes.

It's probably bad news for Harley & Jonathan that we go catch up with Mike & Rochelle at the airport before they are even shown. In all seriousness, why waste a non-elimination leg on a team that seems to have no chance to catch up? Is there going to be bunching that will offset the disadvantage?

The next flight to Bangkok is at 6 a.m., and Mike notes that he imagines most of the remaining teams will be able to book tickets for it… and he's right. The only group missing is Harley & Jonathan. With a Speed Bump ahead of them and a flight who knows how far behind the others, this entire episode seems like an exercise in futility.

Once the teams arrive in Bangkok, there is a lot of jockeying for taxis, and Jenny is now complaining both about their slow driver and the fact that Jeff & Jackie stole a cab out from under them. She's annoyed that Jelani was trying to stand his ground when there were plenty of other taxis available. Whether he's being confrontational or silent, she's just not happy. Maybe Jelani and Blair can commiserate later.

Back in Phuket, Harley & Jonathan are in fact at least three hours behind the other teams. Their taxi arrives at the airport at 7 a.m., so who knows what time their flight is taking off? They say they're going to push as hard as they can. Unfortunately, they're going to need an epic misstep from one of the other teams if they're to have any hope of clawing their way back into this thing.

Bangkok (Oriental setting but the city don't know what the city is getting) is full of traffic, which makes Jenny SO MAD because their driver is in the slowest lane and she just wants him to get out of it. Anyway, the first team's cab to navigate the challenging streets is Tyler & Laura, who find their clue right away. It's time for a Detour, where they'll have to choose between "Wheel" and "Water." Basically, they have to choose which way to navigate the city's traffic in the fastest way possible.

"Wheel" means that they'll be riding in a tuk tuk, which is essentially an oversized motorized scooter. "Water" puts them in a water taxi. The tuk tuk allows riders to weave in and out of the congested areas, while the water taxi avoids the roads altogether, instead using the river system to get them to their destination. Phil says this "race within a race" will include two stops, and if they can get through the Detour, teams will receive their next clue.

Tyler & Laura choose "Water" before the Race cuts to Hayley & Blair. He's letting her call the shots, which is apparently a problem for Hayley, because she wants him to choose where they will go. When he does, she points the other direction and says she wants to go that way instead.

In case you were wondering, yes, the look on Blair's face was priceless in this moment. He smirks at the camera and asks her, "oh, you want to lead?" When she says yes, he follows her.

We're pretty sure that the hot does not outweigh the crazy here, Blair. Don't fall for it.

While Hayley is leading them the wrong way, Matt & Ashley and Steve & Aly find their clue right away. They all choose water taxi. Soon after they depart, Jeff & Jackie, Bergen & Kurt and Mike & Rochelle converge upon the clue box. Everyone chooses to go with "Water," with Bergen & Kurt and Mike & Rochelle agreeing to work together to find the location.

Hayley continues to lead herself and Blair in the wrong direction, and Blair continues to be Mr. Agreeable. He's cracking us up. Eventually, he asks Hayley if she wants to go up some stairs (which is where the clue is), and she assents. He smirks as he opens the box, and then asks what she wants to do. Like everyone else, they select "Water." Unless Harley & Jonathan choose "Wheel," there are going to be some lonely tuk tuk drivers today.

Oh, wait. Apparently, only five teams can choose "Water," and since Hayley & Blair are sixth, they'll have to hoof it on over to "Wheel." Hooray for tuk tuks! As he asks for directions, she screams at him, saying they should just get to the main road and then figure it out.

This might be the first time in human history that a woman has yelled at a man for asking for directions.

Hayley gets a moment to feel a little bit better about herself, because Jenny & Jelani arrive, but they haven't been to the temple yet to get their first clue. They also tell Jeff & Jackie that all the water taxi spots are taken, so those teams are all headed to the tuk tuks. When Blair tries to follow Jeff & Jackie, she yells at him, saying she just wants to get her own directions.

Of course, this means that Jeff & Jackie arrive at the tuk tuks first, but that doesn't stop Hayley from shrilly screeching at Blair some more.

Jenny & Jelani have found their clue at the temple and realize that they'll have to go to the tuk tuks.

Tyler & Laura enjoy their boat ride, giving us a brief reprieve from the drama going on with Hayley & Blair and Jenny & Jelani. In fact, all of the teams on the water taxis seem to be having a blast.

Hayley complains about the traffic, which is clearly Blair's fault. I don't think a person has been so annoyed with a traveling companion since Steve Martin went on that trip with John Candy in Planes, Trains and Automobiles.

For the first stop on "Water," the teams are required to stop at a market and eat a thousand-year-old egg. We think Anthony Bourdain might have eaten one of those once. They are… disgusting. Tyler says that they look like Jello shots but really, they just look like brown slime. Laura gags, and Tyler agrees that they're awful.

Over at "Wheel," the teams are a little better off, as their task is to play a bit of snooker. All they have to do is hit the red ball in the pocket. This is obviously the better option over eating gross brown stuff.

Tyler continues to describe the taste and consistency of the "egg," which is enough to make Laura nearly toss her cookies again. They eventually choke down their eggs and are rewarded with a clue that instructs them to choose an apprentice to help them make a traditional offering at Wat Paknam. When the offering is complete, a monk will give them their next clue.

Matt & Ashley stop for their egg, but they don't choose the thousand-year-old type. They still gag on it, though, possibly because Tyler & Laura have conditioned them to do so.

Bergen & Kurt get to the right egg vendor and talk themselves through the eating process. They are nice enough to talk Matt & Ashley through the eating process, but the guys have very little problem with their eggs. Ashley, on the other hand, is even more grossed out than Laura was.

Jenny continues to mope because she does not handle losing well. She knows that she and Jelani are ahead of Harley & Jonathan, but she wants to win. It's that attorney conditioning, we're sure.

Speaking of Harley & Jonathan, they've finally arrived in Bangkok (and the world's your oyster). They figure the other teams are two hours ahead of them, and although their attitude is good, their situation seems hopeless.

Matt & Ashley finish their eggs. If you like the sound of gagging, this is the episode for you. Meanwhile Mike & Rochelle and Steve & Aly have arrived to eat their disgusting delicacy. The latter team has no trouble with the task, and Mike & Rochelle seem to finish easily as well.

Back at the snooker table, both Jeff and Hayley are able to sink their balls (huh huh, huh huh) and are given their clue for their next task along with a glass container of milk. They're headed to the Caturday Café, which frankly sounds like the greatest place ever in the history of man. But we're cat lovers.

Hayley notes that Blair was impressed with her pool shot and says that she performs better when she's angry. Blair makes a face, his 1000th of the night.

Tyler & Laura have arrived to do their traditional prayer, an activity that they both appreciate for its cultural significance and thoughtfulness.

Harley & Jonathan, aka Team Futility, have at last arrived at their Speed Bump at the 26-minute mark of the episode. They must each make a sort of origami grasshopper with river reeds. Oh, well. At least they'll have a cute souvenir to take home.

Bergen & Kurt begin their prayer, and Matt & Ashley and Steve & Ali are moments behind them. The teams each receive a fortune, and Bergen & Kurt's tells them that they are "Not likely to find a good mate at this stage." Brutal. Fortunately for them, they're not in denial about any potential for a relationship, which actually means they can dedicate themselves that much more to winning the race.

Harley & Jonathan are crafting their grasshoppers, and although the editors of this show have done everything they can to make us think that Jenny & Jelani are struggling enough to allow #TeamNewKid to catch up, we're not buying it. Jenny berates Jelani as they make their way to the snooker parlor in a tone very reminiscent to that that Hayley was taking with Blair earlier. Some of the blind daters have gotten past the need to impress and are reminding us why these kind of setups usually fail.

Mike & Rochelle have completed their prayer and receive a fortune that tells them they may find a person who is their match. Awww.

Now, we head over to the delightful Caturday Café, where Hayley & Blair feed their new kitty friends some cream ("it's called 'cweam!'"). This is possibly the easiest task anyone has ever had to do on The Amazing Race. Jeff & Jackie appear to be right behind them.

Jonathan says that he's terrible at arts and crafts, but he and Harley have finished their grasshoppers and are on their way to their tuk tuk. Jenny & Jelani are still trying to put a red ball in the pocket, and the latter finally makes it happen. They're off to feed some kitties.

This episode seems to be going on forever, but we've still got a Road Block to get through. The clue asks, "Who is feeling clutch?" The challenge sends them to an area where auto mechanics work. The contestant will have to remove the transmission from a faulty engine block and search for a screwdriver left inside of it. The screwdriver will come with a clue. Tyler takes it for his team, and although he's never done anything like this, he says his family has experience with cars.

Jenny has suddenly realized that she's going to a cat café, which means she's about to come into contact with… you guessed it, a bunch of cats. She is deathly afraid of cats for some reason, and she sits as still as she can while they wait for their furry friends to drink their fill of cream.

Tyler gets the transmission torn apart, and all his clue tells him is that they need to head to a "Metal Castle." They also get this week's "date," which will send them on a dinner cruise. Their cab driver seems to know where they're going, so we'll leave them and go visit Steve & Aly and Bergen & Kurt, who are working on their transmissions. Matt & Ashley and Hayley & Blair have also arrived on the scene.

Steve finds his screwdriver (and clue), but the cab driver they approach has no idea where the "Metal Castle" is. Matt is next, but once again their cab driver has no idea what they mean. Steve & Aly ask a nearby local what the clue might mean, and she indicates the Pitstop is within walking distance.

Tyler & Laura's driver has dropped them… somewhere, but it's definitely not the "Metal Castle." Instead, they're at some sort of metro station, but a kindly attendant points them in the right direction. So now, they're headed back the way they came.

Bergen and Blair get their clues at the same time, while Jeff is just getting started on his search. Matt & Ashley have no idea what to do to find the Pitstop, so they just take off running for some reason. Bergen & Kurt and Hayley & Blair are smart enough to ask for help, and they're all smiles as they get into a cab with the actual Thai name written out for them.

Matt & Ashley are wandering through the Road Block area thinking that the Pitstop is there, screaming, "Where's Phil?" They seem to be waaaaaaaaaaaay off track.

Steve & Aly begin to worry that they're in the wrong spot, and a local points them the right way again. They'll need to hail a taxi.

Oh, right. Harley & Jonathan are still in the race (for now). They play snooker (poorly), but at least they seem to be enjoying themselves.

Rochelle and Jelani join Jeff at the car transmission area. None of them have any idea what they're doing. Rochelle finds her clue first. The guys (and their corresponding female partners) are annoyed.

Finally we arrive at the Pitstop, and Bergen & Kurt are first to arrive. They're shocked and thrilled, and they've also won a trip to Puerto Vallarta. Bergen hopes this win energizes Kurt. Next to arrive are Hayley & Blair and then Steve & Aly.

Harley & Jonathan are at the Caturday Café, and Jonathan happens to be allergic to cats. He basically holds his breath while they feed the felines.

Tyler & Laura are checked in at the Pitstop as Team #4, which is a bit of a disappointment considering the big lead they had throughout this leg.

Jelani has finally found his clue, and it's a race between the other teams to find the Pitstop location. Jackie & Jeff find a guy who has a light bulb go off, while Rochelle & Mike also seem to be on the right track. Matt & Ashley are still wandering around, but they enlist the help of Jenny & Jelani. Jenny marches into a store and asks for help, and they are also sent to the Pitstop with what appears to be good directions.

Jonathan takes the Road Block for #TeamNewKid, and isn't it adorable how the editors of this show keep trying to convince us there is any hope for them whatsoever?

Jenny tells Jelani that they need to lose Matt & Ashley because they would lose to them in a foot race. She finds them a cab and they take off, which leads Matt to call Jenny a curse word.

Jelani points out that finishing five minutes ahead of Matt & Ashley when neither one of them is finishing in last place is a dumb play. They might need the other team's help at some point down the line. Jenny defensively states that it's a race and that's it.

We're back at Transmission World, and Jonathan finds the clue directing them to the Pitstop. Sigh.

Jeff & Jackie and Mike & Rochelle are checked in as Teams #5 and #6. Jenny & Jelani join them on the mat. Phil says he senses some tension between them, but they put a positive spin on it and manage smiles.

It's down to Matt & Ashley and Harley & Jonathan. Jonathan hopes an engine fell on someone's foot.

But of course, it did not. Harley & Jonathan are the last team to arrive for the second leg in a row and have been eliminated from The Amazing Race. They're positively lovely in defeat. We'll miss them completely.

And now we take a two week break as March Madness is upon us. See you back here in April!