Weekend Wrap-Up
Cinderella has a Ball at the Box Office
By John Hamann
March 15, 2015
BoxOfficeProphets.com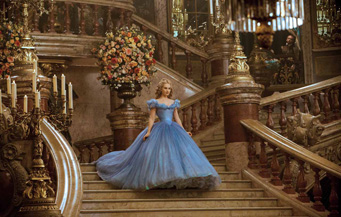 ---
With Cinderella, Disney has once again robbed their classic animation vault only to find more treasure by transitioning a classic from animated to live action.

Like with Alice in Wonderland and Maleficent, the Mouse House has once again found fortune in updating classic cinema. What better way to produce a successful picture than replicate success the studio has already had? Disney's latest release is Cinderella, Kenneth Branagh's live action update of the 1950 animated classic. Disney found huge success with Alice in Wonderland, enjoying a surprise $116 million opening and billion dollar worldwide gross after remaking the 1951 trippy toon. Maleficent had the same live action success but to a lesser degree, opening to $70 million before turning in a $758 million worldwide take. The stage was set for Cinderella. All she had to do was show up at the ball.

Also opening this weekend was Run All Night, the direct opposite of Cinderella. The R-rated actioner trotted out Liam Neeson protecting his fictional family (again). The question coming into the weekend is whether audiences are growing tired of Neeson breaking the arms of his family's oppressors, as we seem to get the same movie every time Neeson's name appears above the title.

Number one this weekend is Cinderella, the long-simmering family film that has been waiting in the wings for its chance to burst onto the big screen. That it did this weekend, starting on Thursday with an eye opening $2.3 million from previews. That was bigger than some other Disney Thursdays such as Big Hero 6 at $1.4 million, but with some schools already out for Spring Break last week, those numbers could have been skewed higher due to youngsters being able to stay out later during their holiday. The combined Thursday preview/Friday gross came in at an impressive $23 million, and at that point, Disney knew it had another event on its hands.

That first Friday was in the same ballpark of what both Maleficent ($24.3 million) and Oz the Great Powerful ($24.1 million) earned on their first days. Given that Maleficent had a late-May release date, and Oz carried the weight of being connected to one of the biggest fantasy films released in the history of mankind, I would think Disney is pleased to be in the same conversation as these two films.

Released to 3,845 venues and with Spring Break now in full swing for most kids, Cinderella had a chance to shine, as there hasn't been a release for kids since SpongeBob hit screens on February 6th. Dominate it did, earning $70.1 million over the weekend, benefitting from extra viewing opportunities on Sunday night and getting many screenings in IMAX, which carries an increased ticket price. That gives Cinderella an impressive venue average of $18,219 and an extremely strong domestic start for a film that cost a relatively small $95 million to make. Maleficent, which cost $180 million to make, debuted at $69.4 million, and Oz the Great and Powerful cost $215 million to make and opened to $79.1 million. Cinderella opened in the vicinity of these huge films and cost less than half on average. It would also appear that marketing costs were kept in check as well; I didn't see the ambush marketing that we saw for either Maleficent or Oz.

The biggest difference between Cinderella and the two earlier fantasy films is quality. Reviews have been marvelous for Cinderella, thanks to Branagh's soft touch and Cate Blanchett's performance as the wicked stepmother. RottenTomatoes has Cinderella at 84% fresh. Comparatively, Oz came in at 59% fresh (31% from top critics), and Maleficent at 49% (44% from top critics). The A Cinemascore for Cinderella was also welcome news, as it matches Maleficent, which had strong legs, opening at $69 million and finishing domestically with $241.4 million.

Cinderella is also going to have some decent legs. Tying the Frozen short to Cinderella was brilliant, as was announcing the Frozen sequel prior to Cinderella's opening. On the international front, Cinderella also earned $62.4 million, so Disney won't have to worry about losing money on this one.

Coming in second is Liam Neeson and Run All Night, but audiences appear to be tiring of his usual "protect the family" thing. After three Takens, Non-Stop and A Walk Amongst the Tombstones, Liam Neeson films are beginning to wane like found footage horror. Run All Night earned only a few hundred thousand from Thursday night previews before going on to a weekend gross of only $11 million, well off of the $38 million average of the Taken films, and below the $28.9 million that Non-Stop earned on its opening weekend. This opening is more along the lines of Walk Amongst the Tombstones, a more serious action film that opened to $12.8 million. Made for $50 million, Run All Night will have to be picked up by Neeson's international fame; otherwise this ends as a loss.

Critically, Run All Night received better reviews than the Taken franchise, but that's not saying much. Its 58% fresh rating was in line with Non-Stop's 60% fresh rating, but not enough for anyone to sit up and take notice. The addition of Ed Harris to a Liam Neeson actioner goes a long way for me, and it may have worked for audiences as well. The Cinemascore came in at a decent A-, better than all Taken films except the first, and the same score as Non-Stop. The good news is that Non-Stop was a very leggy action film, and if Run All Night can match that multiplier, this one will at least approach the budget stateside and then get bailed out overseas.

If estimates hold, Kingsman: The Secret Service moves from a fourth place finish last weekend, to a third place finish this weekend despite two new films opening above it. The legs for Kingsman improve every weekend, with this weekend being its fifth. After opening to $36.2 million, the British actioner fell 49% in weekend two, 35% in weekend three, and 30% in weekend four. This weekend, the Mathew Vaughn picture earned another $6.2 million, again falling a decent 25% versus the previous frame. Kingsman crossed the $100 million domestic mark on Wednesday and now sits with an impressive $107.4 million at the domestic box office. Overseas, the $81 million release has also picked up over $150 million, putting Kingsman into a potential franchise position.

That puts Focus down to fourth, as the Will Smith starrer has questionable legs. Focus started with $18.7 million three weekends ago, and dropped 46% last weekend. This weekend, Focus falls another 42%, earning only $5.8 million. The $50 million Warner Bros. release has now picked up $44 million stateside and a similar amount overseas thus far, putting Focus in position to stay out of the red.

Chappie gets wiped out, falling from a weak first place finish last weekend all the way down to fifth this weekend. Chappie earned only $5.8 million and fell a severe 57%. The Neill Blomkamp sci-fi flick cost $49 million to make and has a domestic gross so far of $23.3 million. Chappie is going to need a serious assist from overseas audiences to ensure it avoids the disaster tag.

Sixth goes to The Second Best Exotic Marigold Hotel, which was hoping to see a solid hold as Fox Searchlight added 449 venues to the run. The move only partially worked, as Second Best picked up another $5.7 million but still fell 33%. Still, this sequel was made for only $10 million and has a domestic gross so far of $18.1 million. The gross in the United Kingdom for this one is similar to that of North America, and despite being out to only a few territories, the Second Marigold Hotel has already earned over $25 million from overseas theaters.

The SpongeBob Movie: Sponge Out of Water holds on to a top ten position despite the entrance of Cinderella. The Nickelodeon release earned $4.1 million, dropping 38% compared to last weekend. Over six weekends of release, the animated icon has made $154.7 million domestically and another $110 million and counting overseas, all against a budget of $74 million.

McFarland, USA continues its strong run, not making huge sums of money, but showing it's got great legs, just like the cross country runners in the film. The Kevin Costner starrer earned another $3.7 million in its fourth weekend, getting the film to a domestic total of $35 million. Made for $17 million, McFarland looks like it will top out around $45 million, which is great considering the budget.

Ninth goes to American Sniper, which continues to hang around the top 10 after becoming the top domestic grossing film of 2014. The Clint Eastwood military movie earned another $2.9 million, down just 33% from the previous weekend despite having been in theaters since January. Its domestic total has now come to a marvelous $341.5 and it looks as though there is still a bit of gas left in the tank yet.

The Duff finishes 10th as the teen comedy from CBS Films and Lionsgate continues to show strong legs. The Duff earned another $2.9 million this weekend, which means the $8.5 million film has brought its total up to an impressive $30.3 million.

Eleventh is Fifty Shades of Grey, the $85 million plus opener that has left the top ten after only five weekends (depending upon estimates, of course). Fifty Shades earned another $2.89 million this weekend, dropping 48%. That gives it drops of 74%, 53%, 48% and now 48%. The domestic total for Fifty Shades has now reached $161.4 million. Overseas, the $40 million film has earned more than $370 million.

Overall, the box office recovers from its devastation last weekend, when the top 12 could only ring up $78.3 million. This weekend, the top 12 – thanks only to Cinderella – improves to $123.9 million, significantly ahead of last weekend. The top 12 is also ahead of last year's top dozen, when Mr. Peabody and Sherman led the weekend to $102.3 million, as Need for Speed flopped, at least domestically. Next weekend brings Insurgent, the sequel to last year's Divergent, which opened to $54.6 million, as well as The Gunman, with Sean Penn, and Do You Believe?, which gets Ted McGinley and Mira Sorvino off the unemployment line and a likely date for the Razzies.