Weekend Wrap-Up
Chappie Short Circuits, Unfinished Business Implodes
By John Hamann
March 8, 2015
BoxOfficeProphets.com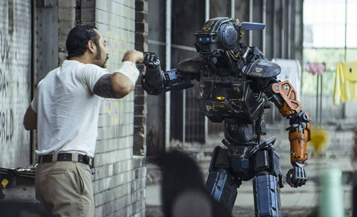 ---
After last weekend's box office dip with Focus, I thought we would be back in business this weekend with Neill Blomkamp's Chappie, but the sci-fi flick starred something that sounded like Jar Jar Binks, and we are left with our third consecutive box office disappointment.

It could have been a big box office weekend. Chappie, the new sci-fi actioner from District 9 and Elysium director Neill Blomkamp, debuted this weekend. This is the type of March release that should work regardless of quality. If John Carter can debut to $30 million plus, one would think Chappie could, too. Also opening this weekend was Unfinished Business, a comedy with Vince Vaughn. Regardless of quality, if this was released prior to 2009 it would have been huge, but this is Vince Vaughn now, coming off of films like The Internship, The Dilemma and Delivery Man, all films that crashed and burned at the box office, and now audiences have caught on. Our last opener is the small piece of good news this weekend in The Second Best Exotic Marigold Hotel, a film for the old and beautiful. This is a sequel to a film that never had a weekend over $7 million, so you knew it wasn't going to break out over its opening frame. Still, at least one demographic was served well this weekend.

Our number one film of the weekend is Chappie, Neil Blomkamp's robot movie that looks like a mix of Short Circuit and Robocop. That combination, along with some scathingly bad reviews and word-of-mouth, led to a disastrous debut at the box office this weekend. For the second weekend in a row, what should have been a big opener did Thursday preview business of less than a million, which at least preps us for the weekend failure. Last weekend it was Focus, earning $900,000 on Thursday night, which was followed by Chappie, which earned only $750,000 on Thursday night. Given that Focus failed to hit the $20 million weekend mark after a soft Thursday, things were not looking good for Chappie. This was not good news for Neill Blomkamp, who burst onto the scene with District 9 in 2009 before seeming to take a step back with Elysium in 2013.

On Friday, Chappie earned only $4.6 million, a much softer than expected opening day figure. Chappie was expected to open to over $20 million, but to do so it would have needed an opening day amount of at least $7 or $8 million. The Cinemascore for Chappie came in at only a B, which gives an indication that legs aren't likely for the sci-fi film, and the opening weekend take proved that. Chappie, which opened at 3,201 venues, recorded a weekend gross of only $13.3 million, well below where tracking had it opening.

Why did it fail? Reviews were horrible, as Chappie earned only a 30% fresh rating at RottenTomatoes from all critics. From the site's "Top Critics," Chappie did even worse, scoring an 18% fresh rating. The Hugh Jackman star power failed at least domestically, as Wolverine played the villain in Chappie and was almost unrecognizable with the mullet. The ad campaign seemed confused at best and seemed to change strategies constantly. Sony certainly tried turning Chappie into a success, advertising on what seemed to be every TV event program over the last month and a half. I'm thinking someone should have watched the movie first.

Sony spent a moderate $50 million making Chappie, an improvement on the $115 million spent on Elysium, as that one opened to $29.8 million and took in $93 million domestically, but found $286 million worldwide (likely not profitable after marketing expenses). This time around, with the smaller budget, Chappie likely needs to find $150 million worldwide to get to the black, so it has a long way to go. I am looking forward to what Blomkamp does with the recently announced Alien sequel, as it will likely force him out of the similar themes presented in District 9, Elysium and now Chappie, which was based on a short film he made years ago. Here's hoping for a better result.

After a soft opening, Will Smith's Focus was looking for legs, and had an opportunity this weekend due to poor results from the new releases. Unfortunately, the con man rom-com did not hold, and after an $18.7 million debut, it falls an unrecoverable 46% to $10 million in its second frame. Warner Bros. has to be thrilled they spent only $50 million on Focus, as even with worldwide results, this one has a long way to go to get out of the red. The B Cinemascore is rearing its ugly head this weekend, and with a gross so far of only $34.6 million, Focus looks like it will top out at around $55 million, which would be the lowest gross of Will Smith's career where he was the name above the title.

Third spot is the only good news story at the box office this weekend. The Second Best Exotic Marigold Hotel got off to a great start considering it was released to only 1,573 venues. The octogenarian dramedy earned a weekend take of $8.6 million from that low screen count, giving it a decent venue average of $5,467 – the best in the top 10. The first film in the series was a hit – it was a platform release in 2012 that played as strong counter-programming to summer blockbusters, and earned $46.4 million despite never finishing higher than sixth at the weekend box office. It cost only $10 million to make, received good reviews, and played forever, earning more than $1 million for 9 consecutive weekends. It also grossed $90 million away from home, making it a worldwide hit at $138 million.

The sequel to The Best Exotic Marigold Hotel continues the success of the original, but brings more dollars than the original did in its first three weekends of platform release. Reviews were again good at 64% fresh, but down a bit from the original (74% fresh). The Cinemascore was a B+, which indicates that this one could see similar legs that the first one did. While budget data is unavailable, one would have to surmise that this one cost double the original, but even at $20 million, Marigold 2 is in very good shape to finish as strong as the original did.

Fourth goes to Kingsman: The Secret Service, now in its fourth weekend. The British spy thriller with a twist earned another $8.3 million this weekend, and drops a relatively small 30%. Since opening, the Matthew Vaughn flick has played strong, starting with $36.2 million before dropping 49% and 35%. The take this weekend brings the total for the $81 million Fox release up to $98 million, with $100 million to be surpassed over the next couple of days. Kingsman has also pulled in $133 million overseas, putting this one in position to provide a sequel.

Fifth is The SpongeBob Movie: Sponge Out of Water, one of the films that has been propping up overall box office results in the first quarter. SpongeBob picked up another $7 million this weekend, dropping 35% in the process. Since opening to $55 million four weekends ago, the Nickelodeon character has been able to ring up $149 million at the domestic box office and another $100 million from overseas theaters. Paramount is reaping the benefits, as this one cost only $74 million to make.

Fifty Shades of Grey, another film propping up the overall box office, finishes sixth this weekend. As significant as the $85 million opening was, the weekend-to-weekend declines since then have been just as noteworthy. Fifty Shades lost 74% in the weekend following its debut and another 54% last weekend. This weekend, the Universal release earned $5.6 million and fell 47%. So far, the $40 million release has picked up $156.4 million stateside and over $370 million from overseas venues, which means it has surpassed the half-billion mark worldwide.

Seventh goes to McFarland, USA, as it holds nicely again this weekend. The Kevin Costner starrer earned another $5.3 million this weekend, dropping a reasonable 32% compared to last weekend, when it fell only 29%. Made for only $17 million, the Disney release has now picked up $29.4 million stateside, and could still see $50 million before its long distance run is over.

Eighth is The Lazarus Effect, last weekend's new horror title. After opening to $10.2 million last weekend, the writing was on the wall for a big plunge this weekend. Thanks to some poor openers, the Olivia Wilde/Mark Duplass starrer actually holds better than expected, earning $5.1 million and falling 50%. The $3.3 million film has now earned $17.4 million.

Ninth is The Duff, the teen dramedy from CBS Films and Lionsgate. In its third frame, The Duff earned another $4.9 million, giving it a small drop compared to last weekend of 29%. Like McFarland, USA, The Duff has a small budget at $8.5 million, legs, and a decent total so far of $26.1 million.

Tenth is Unfinished Business, Vince Vaughn's latest disaster, as this is his fifth consecutive miss. Unfinished Business earned only $4.8 million this weekend, the lowest opening for a Vince Vaughn film debuting on more than 1,000 screens. With only a 13% fresh rating and a B- Cinemascore, this is a disaster, as it carries a $35 million production budget. Following Delivery Man, The Internship, The Watch and The Dilemma, Vaughn is going to need something quick (True Detective) to revive a flagging career.

Finishing outside the top ten for the first time in seven weekends is American Sniper. The Bradley Cooper starrer earned another $4.5 million this weekend, falling 39%. The domestic total for Sniper has now reached $337.2 million, meaning that it has passed The Hunger Games: Mockingjay Part 1's $336.8 million to become the top grossing film released in 2014.

Overall, things are not great at the overall box office. After a strong start to 2015, things have lagged since Fifty Shades opened. Compared to last year, totals really take it on the chin this weekend. A year ago, 300: Rise of an Empire and Mr. Peabody and Sherman combined for $77 million, leading the top 12 to $131.2 million. This weekend, the top 12 was way off that amount, amassing only $79.4 million. Next weekend brings real hope, as the very well-reviewed Cinderella opens on more than 3,600 screens for Disney and is joined by Run All Night, another Liam Neeson action movie.