Friday Box Office Analysis
By Kim Hollis
March 7, 2015
BoxOfficeProphets.com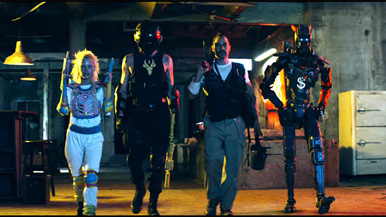 ---
The 2015 box office hot streak comes to a crashing halt this weekend as audiences decided they had much better things to do than see a movie about a crimefighting robot or the latest comedy from the guy who used to be Vince Vaughn. Thank goodness for Cinderella and Insurgent in the coming weeks.

Chappie, Neill Blomkamp's latest science fiction film with a message, simply couldn't draw the attention of audiences as it earned only $4.5 million on Friday. Perhaps the issue was the muddled marketing, which positioned the film as an actioner for all ages despite the fact that it was in fact an R-rated comedy. Maybe people are wary of Blomkamp's preachiness, which was a minor complaint people had about District 9 and a major one for Elysium, the director's previous films. Or it could be that more discerning audiences paid attention to the dismal reviews, as the film has only a 31% fresh rating at Rotten Tomatoes and has been described as "Robocop starring Jar Jar Binks."

Whatever the reason for the misfire, Chappie is looking at a debut weekend of only $12.1 million, which will be enough to win the weekend, sadly enough. The good news for Sony and the production companies involved in the making of the film is that its budget was reported at just $50 million, so it may wind up okay once international box office and home video is added to the mix. Domestic revenue certainly isn't going to get it done.

The Second Best Exotic Marigold Hotel never had to be huge in order to be a success. The original film was rolled out slowly but gained a lot of steam as it picked up theaters, eventually amassing $46.4 million domestically and $90 million internationally. The second one could be seen to have enough of a following that a mild wide release into 1,573 theaters was appropriate, and the play appears to have been a good one for Fox Searchlight. The genial comedy earned $2.7 million on Friday - almost enough to bypass the Will Smith-led Focus for second place. Given the fact that its target demographic is primarily art house denizens and senior citizens, it's bound to hold well over the entire weekend. An $8.1 million tally will be a fine start, though it may not be able to maintain enough steam to match the domestic gross of the first film.

Vince Vaughn is thanking his lucky stars that he was cast as one of the leads in Season 2 of HBO's True Detective, because fans who once flocked to see him in theatrical comedies have left him behind. His latest release, Unfinished Business, managed a dismal total of just $1.8 million. A lukewarm marketing campaign and absolutely awful reviews (13% fresh at Rotten Tomatoes) doomed this one from the start. It's looking at a weekend total of $5 million and will then completely fall off the face of the Earth.

Last weekend's big release Focus fell 55% from last Friday to $2.9 million. That's probably a lot worse than Warner Bros. was hoping for, but also appropriate given the mostly indifferent reception the film has received so far. It should just get over the $10 million mark for the weekend.

The Lazarus Effect, which was also new last weekend, fell 59% to $1.6 million. Considering that it debuted with about $8 million less than Focus, the distance separating them in weekend two is not nearly as much as it ought to be. Its weekend total will be right at $5 million.