March 2015 Box Office Forecast
By Michael Lynderey
March 6, 2015
BoxOfficeProphets.com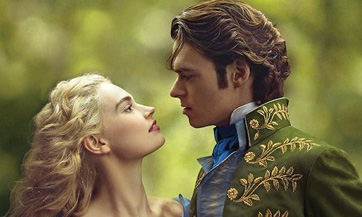 ---
March 2014 was a rarity as far as Marches go, in that none of its films outgrossed the biggest earners of both February (The LEGO Movie) or April (Captain America: The Winter Soldier), though native son Divergent at least eked out a mild win over January's Ride Along. 2015 looks to continue the tradition, with none of this March's would-be blockbusters being likely to overcome Fifty Shades of Grey (February), the upcoming Furious 7 (April), and, in particular, American Sniper (which, for argument's sake, we'll naturalize as a January release, though it was really born in December. It even grossed at least 1.3 million of its 300+ million dollars then!).

March week-to-week openers still look stronger than any other early year month. But it seems like studios are keeping the real biggies out.

1. The Divergent Series: Insurgent (March 20th)
The first film in this soon-to-be quadrilogy somewhat surprisingly won last March's box office sweepstakes, thereby single-handedly reversing the 2013 tide of failed young adult adaptations (thanks, Shailene). Divergent opened big, it had relatively solid legs, and its target audience, of which I am evidently not a member, seems to have enjoyed it. There's no particular reason to think franchise fatigue will set in the second time around. Needing no lengthy introductions or world-building this time, the film looks lively enough, with promotional material highlighting the action elements, and a more tolerable running time of 119 minutes (a merciful 20 less than the last go-around; don't spend it all at once). The presence of Oscar-oriented actresses Kate Winslet, Naomi Watts, and Octavia Spencer in some key roles probably won't do much for the bottom line. What might help, though, is the higher profile that series stars Shailene Woodley and Ansel Elgort now enjoy because of their other joint venture, The Fault in Our Stars. While some mild spillover audience may attend, there's likely a ceiling on this enterprise, and splitting the third and final book into two parts might cost this series some annual income, as it did the last Hunger Games movie. The total numbers for both series ought to be higher as a result, of course, making the splitting strategy essentially impossible to scowl at from a box office perspective (I speak only for myself).

Opening weekend: $71 million / Total gross: $153 million

2. Cinderella (March 13th)
Betting on a sure thing, Disney brings us yet another adaptation of a classic fairytale. The film's obvious antecedent and inspiration, Alice in Wonderland, was a starling success, but it had Tim Burton at the helm and Johnny Depp helping steer, while the studio's other big fairy tale winner, Maleficent, was a non-traditional adaptation buoyed by Angelina Jolie's star power and a relatively weak summer for family films. Cinderella has no particularly strong draws in the cast (though director Kenneth Brannagh has successfully helmed two Shakespeare adaptations - Henry V and Thor), and it may experience some fairy tale film fatigue (although I have no particular evidence that this is the case). Still, Disney is Disney, and if the film is liked enough, it might stage an insurgency of its own against the name currently at #1 on this forecast.

Opening weekend: $43 million / Total gross: $135 million

3. Home (March 27th)
Here's an animated DreamWorks film pushed back from last year (it switched spots with Penguins of Madagascar). The studio's CGI slate is not infallible - the excellent Mr. Peabody & Sherman just crossed $100 million last March, and the Madagascar penguins didn't reach that number. Still, the film looks cute and inoffensive enough, and it's always nice to see - hear - Steve Martin in a big hit movie. Prestigious animated releases like this have a floor, and Home has made no mistakes that I could see to put it out of the average. Looking forward, the April movie slate is bereft enough of kids' movies that this one ought to have at least a couple of good weekends.

Opening weekend: $37 million / Total gross: $128 million

4. Get Hard (March 27th)
Kevin Hart's second film of the year, and yes, it's possibly if not certainly his last until Ride Along 2 opens in January. Hart's resume is a mixed streak of breakout hits (Ride Along and Think Like a Man) and modest if relatively successful grossers (About Last Night, The Wedding Ringer). Get Hard is clearly aimed at bringing his brand into the absolute mainstream, and gives him comedic legitimacy by teaming him with his biggest co-star yet, Will Ferrell, who comes into the equation with a generally successful recent line of films (The Other Guys, The Campaign, and Anchorman 2). The plot seems like a generic fish-out-of-water or buddy comedy, but the level of star power (the month's strongest) means the film is fixed at a fairly high opening weekend range. It's the quality of the picture that will dictate legs, or lack thereof. I think it'll be short of Ride Along's $134 million, a striking number that was hard to predict and difficult to replicate.

Opening weekend: $42 million / Total gross: $115 million

5. Chappie (March 6th)
The month's first potential action blockbuster slot is taken by this somewhat mysterious robot-themed title. It's from Neill Blomkamp, a director who's clearly built a reputation for ambitious and action-packed science fiction action films that usually take place in garbage-strewn future versions of earth (see his District 9 and Elysium). Chappie continues the tradition more or less directly. Hugh Jackman, in a supporting role, contributes some name recognition, and Dev Patel and frequent Blomkamp colleague Sharlto Copley are also on hand. Chappie is the rare action film these days that isn't based on a known quantity or brand, and as such, it will sink or swim based on the old rules: how well it's received, and how commercial and approachable the filmmaking is. It's perhaps the month's biggest wild card, and the toughest to pinpoint, but that's the Blomkamp brand.

Opening weekend: $27 million / Total gross: $64 million

6. Run All Night (March 13th)
Just like Kevin Hart, prolific thespian Liam Neeson returns very soon after a prominent January film (Taken 3, which did well enough against the American Sniper onslaught). This time out, Neeson doesn't have the theoretical reliability of a franchise name behind him, and it's likely Run All Night will perform less like one of his conventional action films and more like another of his recent darker thrillers, A Walk Among the Tombstones; that film struggled at the box office, even with the help of positive critical notices (for lack of a better joke, I will say that Run All Night should pick up the pace). The supporting cast - Ed Harris, Common, and rising star Joel Kinnaman - is strong; and between this film and The Gunman, it's nice to see two somewhat old-school thrillers with a dynamic actor as lead opening almost against each other, even if they might chew away at the other's numbers.

Opening weekend: $15 million / Total gross: $41 million

7. Unfinished Business (March 6th)
The name of the film is very ambiguous, but it's definitely a comedy. Star Vince Vaughn has lately delivered some relatively underseen movies (The Internship, Delivery Man) that, for my money, were funnier than most of his higher-profile mid-2000s titles. And in Unfinished Business, he's got some fun and unexpected co-stars - Dave Franco, building a solid resume, Tom Wilkinson, in a rare comic relief part, Sienna Miller, recently of American Sniper, and Nick Frost, who's always good to see. I don't expect a box office juggernaut, but the film looks like unpretentious entertainment and might play more or less along those lines, perhaps carrying the audience that recently passed over the Hot Tub sequel (can you blame them?).

Opening weekend: $13 million / Total gross: $41 million

8. The Second Best Exotic Marigold Hotel (March 6th)
I assume this pleasant-seeming British sequel's release date is not meant to near-mark the one-year anniversary (March 7th) of the Oscar-winning Grand Budapest Hotel. The original Marigold Hotel, which served as (much-welcome) counterprogramming to The Avengers, took in a decent $46 million (in fact, as best as I can recall, it was just a few dollars shy of matching The Avengers!). While this film has one of the few titles I can think of that literally promises the audience an inferior product (regardless of whether that's actually the case), this follow-up should bring in solid numbers, even if it won't really come close to matching its predecessor. Among the returning stars is Dev Patel, whose Chappie opens on the same day (it would be unexpected, though amusing, if this film outgrosses Patel's other). And the additions of Americans Richard Gere and David Strathairn ought to at least make this a solid enough earner, perhaps even inspiring another sequel (but what will they call it?).

Opening weekend: $10 million / Total gross: $33 million

9. The Gunman (March 20th)
This action-thriller from the director of Taken (the promotional material ceaselessly emphasizes this fact for whatever reason) represents a rare commercial starring role for two-time Oscar winner Sean Penn. It's a film that's reminiscent of one of his other more mainstream roles, The Interpreter, his collaboration with Nicole Kidman (that one was certainly a success, grossing $72 million in 2005). Penn has picked up a more than respectable supporting cast of toughs here - Idris Elba, Ray Winstone, and Javier Bardem (although in a test of sheer physical strength, Kidman could probably take them all). Not to repeat myself, but the level of critical support is again what will likely be the defining factor in how well The Gunman does opposite its bigger-budget, flashier competitors, of which this month has plenty.

Opening weekend: $9 million / Total gross: $24 million

Also out at some hitherto unknown locations on March 27th is Serena, a 1930s period piece that's another collaboration between two of the top ten movie stars of this decade, Jennifer Lawrence and Bradley Cooper. The film starts slow (very, very, slow) but builds to some particularly effective drama; Cooper is, again, fantastic. It's unlikely Serena will crack wide release, but it's a worthwhile watch for fans of the actors and material.