Weekend Wrap-Up
Box Office Lacks Focus; Low Point for 2015
By John Hamann
March 1, 2015
BoxOfficeProphets.com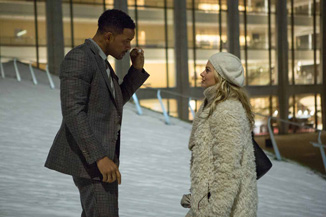 ---
It should have been an easy win this weekend as we have a Will Smith movie in Focus and a PG-13 horror flick in The Lazarus Effect. However, teen horror and Will Smith ain't what they used to be, and we are left with a softer than expected overall weekend box office.

A few years ago, a Will Smith movie and a horror film with a PG-13 rating would have combined for an $80 million opening weekend double-punch, but that was then. Now, with only two Will Smith films released in the last eight years (and one of them being After Earth) the Fresh Prince brand is damaged, and it looks like it will take some time to recover. Focus, his follow-up to After Earth, is a strange choice for a redemption project. A complicated, romantic, poorly-marketed grifter movie doesn't immediately draw people to theaters, after all. Focus did draw this weekend – somewhat – but was well off Smith's $35 million opening weekend average. The other opener this weekend is The Lazarus Effect, a long dormant horror-thriller starring Olivia Wilde and Mark Duplass. This one should have stayed dead, but as a $3.5 million pickup for Relativity, even a small opening should make this one profitable.

Our number one film of the weekend is Focus, the new film from Will Smith and Warner Bros. Some call it a comedy, some a thriller, and some a romance. Focus's genre was so broad that no one could figure out what it was trying to be. The marketing seemed only to tell us that the movie starred beautiful people, and it was about conning people out of… something (Their money? Their clothes? Our money? I don't know).

Moviegoers gave Focus the collective shrug, as it had previews on Thursday that came in at less than a million, followed by a combined Thursday/Friday of $6.5 million. Smith's 2006 drama, The Pursuit of Happyness, had a first day take of $9 million, so Focus wasn't reaching that amount. It was only barely able to beat the $5.2 million first day of Seven Pounds, Smith's poorly-reviewed 2008 drama. It is never good news when your unhappy films beat your party time, con man film.

Over the rest of the weekend, Focus was able to drum up only $19.1 million, a couple million off the low side of the pre-weekend estimate of $21 million. Out to a big venue count of 3,323 screens, Focus could only muster an average of $5,748, leaving theater owners without a big draw for what feels like eons. Seven Pounds, at $14.9 million, was Will Smith's lowest opening since Ali in 2001, which debuted to $14.7 million but opened on Christmas Day, a Tuesday, and had a six-day gross (Tuesday to Sunday) of $34.7 million. This opening resembles more of the start of Will Smith's career (Enemy of the State's $20 million opening, Bad Boys $15 million opening), than what should be the middle piece of the actor's career.

Will Smith says he no longer cares about box office, following the implosion of After Earth. Oddly enough, After Earth didn't really implode at the box office. Sure, it cost $130 million to make, and only earned $60 million domestically, but it was a worldwide earner of $243 million, and while it didn't make its marketing costs back, it wasn't that big of a production side loser (see: Blackhat - $70 million budget, $17 million worldwide gross).

Reviews for Focus were of the middling variety - nothing offensive or dire, and none really glowing. It came in at 56% fresh at RottenTomatoes, with 80 to the good and 63 to the bad at the time of this writing. The Cinemascore was also a middling B, which would be good news except for the fact that After Earth earned exactly the same score. Focus was made for $50 million, an amount it should earn stateside before finding a decent profit from overseas theaters. Smith is still a superstar internationally.

The race for second will likely be decided when actual numbers are released, as three films are closely bunched together currently. Estimated to be in second place is Kingsman: The Secret Service, which has held significantly better than fellow opener Fifty Shades of Grey. In its third frame, Kingsman earned $11.8 million, which means it was off 46% from last weekend's $18.3 million haul. The $81 million actioner from Fox is heating it up both here and away, as it has a running tally of $85.7 million on the domestic side, and has just reached the $100 million mark overseas. The results for Kingsman are good news in general, as this is an expensive, non-sequel idea. After the carnage caused by Jupiter Ascending, we needed a strong original to come forward.

The SpongeBob Movie: Sponge Out of Water winds up in third place according to estimates, meaning that it slipped ahead of Fifty Shades of Grey this weekend. The SpongeBob animated flick earned $11.2 million, down a decent 32%. This weekend's earnings bring The SpongeBob Movie's domestic haul up to $140.3 million and with another $75 million overseas, the $74 million-budgeted movie will be a good investment for Paramount and Nickelodeon.

Estimated at number four, then, is Fifty Shades of Grey, which spends another weekend in freefall despite righting the ship a little compared to last weekend, when it fell 74%. The BDSM blockbuster earned another $10.9 million and was off 51% from the previous frame, when Fifty Shades was able to blame the Oscars for its precipitous drop. The total now for the tawdry title has reached $147.8 million domestically, not great considering its $85.2 million opening a few weekends ago. The $40 million film is still a windfall for Universal and partners, as it has earned more than $330 million overseas and is already approaching the half-billion mark worldwide.

Fifth goes to The Lazarus Effect, which failed to engage its target audience this weekend. Made back in 2013, Lazarus was originally going to be a Lionsgate release, but eventually landed at Relativity, which seems to be the go-to studio for low budget releases (Woman in Black 2, Black or White). The Lazarus Effect had decent stars with Olivia Wilde (House) and Mark Duplass (the awesome Safety Not Guaranteed), but they couldn't get it together to make this Dr. Frankenstein horror flick work. The Lazarus Effect opened on 2,666 screens and could only manage an opening frame of $10.6 million. Critics hated it (14% fresh) and so did audiences (C- Cinemascore), so I think we can all move along and hope for better from both stars going forward.

McFarland, USA drops to sixth place debuting in fourth last weekend. McFarland, USA earned another $7.8 million this weekend, dropping a terrific 29%. This one was made for $17 million, and while it has beat its budget with a gross so far of $22 million, it still has work to do to earn those marketing costs back, as this one is not going to play away from home.

Seventh is American Sniper, which won only a sound editing Oscar despite having eight nominations and more box office earnings than the rest of the field combined. This weekend, Sniper earned another $7.7 million and fell 23% despite losing 300+ screens. The $60 million film has now rung up $331.1 million stateside, and has another $100 million plus from overseas audiences.

The DUFF is eighth this weekend. With a sophomore score of $7.2 million and a decline of 34%, it's holding up decently. Since The DUFF cost only $8.5 million to make, it will finish quite well domestically. Its current total is $20 million and although overseas revenue will be tough to come by, it's going to bring in great home video revenue.

Still Alice moves up to ninth, as Sony Classics adds another batch of screens to this little scrapper. After a Best Actress Oscar and a widening of release, Still Alice racked up $2.7 million, up 24% compared to last weekend. Made for $5 million, Sony Classics has turned this one into a real winner, as it has a gross to date of $12 million and given the subject matter, it can literally play anywhere.

Tenth is Hot Tub Time Machine 2, last weekend's car accident. This attempt at comedy earned $2.4 million, which gives it a drop of 60% versus last weekend's opening take of $6 million. Made for $14 million, this Paramount loser has a gross to date of $10.3 million.

For Oscar oriented films, the big winner - Birdman – despite being out on home video – still managed to earn $2 million, up 125% compared to last weekend. The Imitation Game, which only won one Oscar, went the other way, dropping 24% and earning only $1.9 million. Both films are box office winners, as Birdman cost $18 million to make and has a worldwide gross approaching $80 million, and The Imitation Game has earned $180 million worldwide against a $14 million budget.

Overall this weekend, the box office takes a bit of a dip, but leaves things wide open for some big releases coming over the next two weekends. With Focus on top, the top 12 films earned only $93.4 million, which doesn't compare well with last year's top 12 haul of $107.5 million, when Non-Stop was on top. Next weekend, three potentially big films debut. Chappie, from Neil Blomkamp and starring Hugh Jackman opens, as does The Second Best Exotic Marigold Hotel (one of my favorite sequel titles ever), as well as Unfinished Business with Vince Vaughn, a title where I have actually laughed at the trailer. The following weekend brings a live action Cinderella to the ball, along with Liam Neeson in Run All Night.