Weekend Wrap-Up
Fifty Shades Fades to Grey
By John Hamann
February 22, 2015
BoxOfficeProphets.com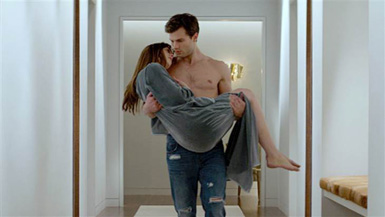 ---
After setting numerous records and completely dominating the box office globally, Fifty Shades of Grey was bound to drop in a very big way this weekend. The only question was how much.

Valentine's Day and President's Day took the box office to new heights last weekend, setting a record for overall box office in February. However, a batch of weaker openers this frame and the Oscars on Sunday limited any carryover from last weekend. Fifty Shades of Grey and Kingsman: The Secret Service both struggled after using the date night of the year to prop their numbers up last weekend. Openers this weekend don't carry the cachet that last weekend's did. Openers include The DUFF, a teen angst comedy with Mae Whitman, McFarland, USA, a Disney sports drama with Kevin Costner, and Hot Tub Time Machine 2, a sequel that moviegoers chose to roundly ignore. Oscar weekend is no longer what it used to be, but we still have three Oscar players in release – American Sniper, The Imitation Game and Still Alice, which expanded nicely.

Our number one film of the weekend remains Fifty Shades of Grey, the BDSM blockbuster from Universal. After earning $85.2 million over three days last weekend and $93 million over four, things came crashing back to reality for the R-rated drama. On Friday, Fifty Shades earned $8 million, off 74% from its opening Thursday/Friday take of $30.3 million. With some moviegoers home on Sunday night watching the Oscars, the impact on the weekend is even higher, and Fifty Shades had to settle for a weekend take of $23.2 million. That gives it a drop compared to last weekend's $85.2 million haul of 73%. While significant, the drop does not set a record. For films on more than 3,000 screens, the record belongs to the 2009 reboot of Friday the 13th, which also opened the day before Valentine's Day in 2009. It debuted to $40.6 million, and dropped 80% in its second frame, earning only $7.9 million.

The drop for Fifty Shades of Grey likely indicates that it will not earn $200 million from domestic theaters by the end of its run. Still, for a $40 million film that is dominating the globe ($410 million worldwide), there is very little to be upset about here. The C+ Cinemascore indicated this drop was coming, and with the calendar configuration, there was no stopping it. Regardless, it still only took six days to reach $100 million, only one day shorter than fellow February release, The Passion of the Christ. The thing to watch for with Fifty Shades of Grey is now the global box office. We'll be looking to see if it fades as quickly there as it does in North America. For now, Fifty Shades has a North American cumulative total of $130.1 million after only 10 days of release.

Last weekend's other big opener, Kingsman: The Secret Service, also finds itself in the same position it was last weekend, but doesn't see the big drop that Fifty Shades did. After a first to second dollar gap of almost $50 million last weekend, Kingsman narrows that advantage significantly this weekend, as it earned $17.5 million and fell 52%. Considering what was going on last weekend and what's happening this frame, this hold has to be considered pretty darned solid. Matthew Vaughn appears to have another hit on his hands (I watched X-Men: First Class again last night and damn, that's a good movie) as this should at least approach $100 million stateside. This one is also lighting it up overseas, where it had pulled in $58 million before the weekend began. The Fox actioner cost $81 million to make, so will need to cross the $200 million mark globally for the studio to see a profit.

Third is The SpongeBob Movie: Sponge Out of Water. After crossing the $100 million mark on Monday, SpongeBob earned another $15.5 million this weekend, off 51% from last weekend's frame, when Sunday acted more like a Saturday. The total for the $74 million film has now reached $125.2 million stateside and is approaching the $50 million mark overseas.

Fourth goes to McFarland USA, the new sports themed movie from Disney. Like Remember the Titans and The Rookie, Disney was looking for a decent start for their long distance running movie, but got more of a Million Dollar Arm kind of result. The Kevin Costner flick got started with a weekend take of $11.3 million, a little ahead of the $10.5 million debut for Million Dollar Arm and the $9.8 million opening for Costner's Draft Day. The good news for McFarland USA is that it did earn an A Cinemascore, and reviews were quite good at 77% fresh at RottenTomatoes, so legs should be in store. With a production cost likely in the $25 million area, McFarland USA is going to need a killer multiplier to find any kind of success, but because Disney has made a good film, this should be a winner long after the theatrical window has closed.

Finishing fifth is The DUFF. The teen movie about the "designated ugly fat friend" resonated with teenagers this weekend, as it did a little bit better than it was supposed to. The DUFF got started with a not-bad $4.3 million on Friday and was able to turn that into a weekend take of $11 million from only 2,575 venues. Made for only $8.5 million, this Lionsgate release is going to be profitable, as this is a good weekend to open low cost, non-adult features, given the two big R-rated releases last weekend. The Cinemascore was fantastic at A-, and even the reviews were decent, with a 62% fresh score at RottenTomatoes. If The Duff can find an opening-to-total multiplier similar to the 4.0 of She's All That, it will finish as a $50 million winner for Lionsgate.

Sixth goes to top ten stalwart American Sniper, as it spends its fifth weekend of wide release in the top ten. The Oscar nominated war flick earned another $9.7 million this weekend, off a not bad 41% compared to the long weekend. With $319.6 million in the domestic kitty so far, Sniper has joined the top 40 biggest domestic earners of all time. Should it win a couple of Oscars tonight, who knows where it could finish up. If not, Sniper should finish with about $340 million domestic and another $100 million coming from overseas.

Seventh is Hot Tub Time Machine 2, which couldn't get John Cusack back, and pays for it. The original comedy cost $36 million to make, and opened to $14 million. It went on to earn $50.3 million domestic and another $14.3 million overseas. That was somehow enough to greenlight a sequel at a much lower cost of $14 million, but the new film only opened to $5.8 million, making this a very questionable decision, especially given the scads of advertising. Obviously, someone thought there were more fans of the original than there actually are. The sequel earned a screechingly bad Cinemascore of C- and deplorably bad reviews, coming in at 14% fresh at RottenTomatoes. This was a bad decision from those at Paramount, and we are all just better off moving on.

Jupiter Ascending continues its freefall to eighth this weekend, as the Wachowski's film is getting chased from cinemas. After a long weekend gross of $9.3 million, Jupiter earns only $3.7 million this weekend, dropping a nasty 60%. The $175 million Warner Bros. flick has now earned $39.5 million domestic and another $60 million overseas.

The Imitation Game stays in the top ten for its eighth consecutive weekend and could stay there longer with some big wins tonight. This frame, it earned another $2.6 million and fell 26%. The Weinstein Company release how now earned $83.9 million, putting it in the top four releases of films that never ranked higher at the box office than number five.

Paddington takes the number 10 spot as it loses more screens. Paddington earned another $2.3 million and was off 43% compared to the previous frame. The Weinstein pickup has now earned $67.7 million domestically to go with the $154 million earned overseas.

Still Alice, the Oscar nominated film with Julianne Moore, expanded further this weekend, bring its venue count up to 765. The Sony Classics release earned $2.2 million , and brings its domestic take up to $7.9 million.

Overall, despite the big drop from Fifty Shades of Grey, the box office keeps up its pace versus last year. A year ago, the top 12 films were still being led by The LEGO Movie, which finished at number one for the third straight weekend. Last year, the top 12 earned $98 million, which was the last time the top 12 earned less than $100 million until the end of August, six months later. This weekend, the top 12 films earned $108.2 million, keeping the hot streak in 2015 alive. Next weekend brings Focus, the Will Smith/Margot Robbie comedy-thriller, and The Lazarus Effect, the new horror flick with Olivia Wilde and Mark Duplass.