If I Were an Academy Member: Kim Hollis
By Kim Hollis
February 20, 2015
BoxOfficeProphets.com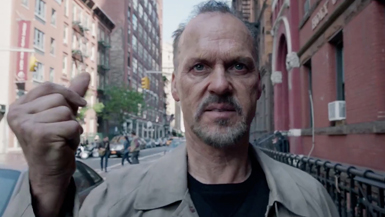 ---
2014 is one of those glorious years when I believe that the Academy (mostly) got it right with their eight nominees for Best Picture. I'd be genuinely excited to see any of five films win this year, and two of the other three wouldn't offend me. In a preferential ballot, ordering matters. If I had the real opportunity to vote this year, this is how I stack up the Best Picture candidates.

1) Birdman

When I walked out of the theater after seeing Birdman, I leaned over to my husband and whispered, "That movie was like jazz." Part of that feeling was because of the relentless percussion that made up the score of the film, but it also came from Alejandro González Iñárritu's taking a genre (comedy) and riffing on it in a way that made it fresh and engaging. Of all the movies I watched in 2014, Birdman is the one I've thought about (and read about) the most. One article that I discovered on the Electric Literature website specifically discusses "what Birdman… says about short story writing," and as a writer of fiction, it has haunted me. I feel confident that I will discover new interpretations and nuances on repeated viewings of the film. I do admit to a bit of sentimental attachment to the project because Michael Keaton, a favorite of mine dating back to his first film role in Night Shift (corndog!), and I doubt if any other performer could have brought Riggan Thomson to life in such spectacular fashion.

2) Whiplash

If Birdman is my top pick (and indeed it was my favorite film of 2014), Whiplash is 1a. Once upon a time, I was an aspiring musician trying to be in the best, most high quality band in a group of students that numbered somewhere between 200-300. I was a member of the top-tier wind ensemble and we were expected to be near perfect. By no means am I saying that our director was as intense (or inappropriate) as J.K. Simmons' Terence Fletcher, but there were those moments… like the time he threw his baton in frustration that someone wasn't staying on the beat. Or his angry glowers at someone who came in too early. Whiplash was relatable, but more than that, it was a thrilling dance between two men with specific artistic ideals. I love that Whiplash was nominated, because it deserves every bit of attention that it has received.

3) Boyhood

Although I'd agree with my fellow site members who have said that Boyhood is too long and over-indulgent, I really enjoyed the ride. Naturally, I appreciate the craft and ambition of the film. To undertake a 12-year project and edit it so seamlessly (while eliciting memorable performances from all of the major cast members) is almost awe-inspiring. Sure, the "Up" series also spanned a number of years (and Boyhood director Richard Linklater acknowledges the influence), but I am more impressed by the fact that Linklater was able to pull it off in a fictional format. I really liked hanging out with these characters, warts and all.

4) The Grand Budapest Hotel

So here it is. Wes Anderson is one of my favorite directors, and yet here he is in fourth place on my list. How is this possible? It by no means indicates that I didn't love The Grand Budapest Hotel, because I did. And I actually have vacillated several times between swapping this film and Boyhood. I found GBH to be funny, bittersweet, and a joy to look at. It's also probably about my fifth favorite Wes Anderson film, behind The Royal Tenenbaums, The Life Aquatic With Steve Zissou, The Fantastic Mr. Fox, and Moonrise Kingdom. I'm really, really glad that Anderson's work is finally getting some love. I'm just a little taken aback that The Grand Budapest Hotel is the film that made it happen. Even so, I'm excited to watch this film, which features what I think is Ralph Fiennes' finest work, over and over again.

5) Selma

Selma was hard to watch. It's also a brilliant bit of filmmaking. I particularly admire that Ava DuVarnay chose to focus on a very specific episode from Martin Luther King Jr.'s life rather than try to do justice to his life in a long, overblown biopic. David Oyelowo gives one of the best performances of the year, and Carmen Ejogo is a revelation as Coretta Scott King. I appreciate that the film had to be brutal and unflinching in its observations, but watching such brutality and cruelty in humanity is tough to handle. I believe that Selma is an important film that deserved more attention than it received, though I'm not sure it's one that I'd ever want to watch again. Under any circumstance, every film from #1 through #5 was in my top 10 movies of 2014, so as far as I'm concerned, there aren't many ways the Academy can go wrong this weekend.

6) The Imitation Game

Even though I don't love The Imitation Game, I'd be okay with it winning the top prize on Sunday night. I think it has some terrific performances (Benedict Cumberbatch, Keira Knightley, Matthew Goode and Mark Strong are all memorable), but that it's a fairly straightforward, uninspired telling of a story that probably would be more interesting to me in book format.

7) The Theory of Everything

While I really enjoy Felicity Jones in this movie, I found it to be an over-long, manipulative, paint-by-numbers biopic. Maybe part of the problem is the fact that the film purports to be about Stephen Hawking, but is really more focused on his wife, Jane. I was interested in Jane's story, but Hawking is such a fascinating figure of science that it feels like there is so much that is missing from the story. The Theory of Everything is perfectly okay, and I wouldn't be angry if it won or anything, but it's not a very worthy candidate.

8) American Sniper

I hated this movie. In 2014, I generally shielded myself from watching terrible stuff. Thus, I missed things like Transformers 4, Hercules, and the like. Now, I want to make clear that I'm a huge supporter of veterans and active members of the military. I closely follow groups like IAVA and have an intense interest in making sure that the men and women who have served our country receive the respect and care they deserve.
I don't count myself among the people who believe that American Sniper glorifies war. In fact, I'd argue that it does not. However, I don't believe that the film offered anything new or worthwhile to say about the Iraq War or the plight of the men and women who served there. In fact, I was actually bothered by the fact that "the enemy" was consistently portrayed as evil, with no real nuance or grey area to be seen. I've read since watching the film that Clint Eastwood intended it to be almost a modern western, straight down to the film featuring black hats versus white hats. If that was his intent, Eastwood did in fact succeed, but I simply don't find something as fresh (and ongoing) as the war in the Middle East to be deserving of that kind of genre interpretation. Also, I believe that there is probably a pretty interesting film that could be made about Chris Kyle. American Sniper is not that movie.