Weekend Wrap-Up
Fifty Shades of Box Office Glory
By John Hamann
February 15, 2015
BoxOfficeProphets.com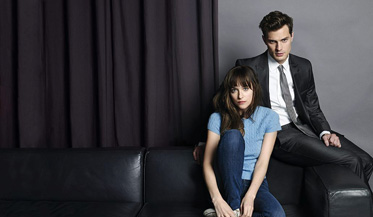 ---
2015 continues its torrid pace at the box office this weekend, as it gets three gifts: Valentine's Day on a Saturday, President's Day on Monday, and Fifty Shades of Grey.

For the box office, Valentine's Day on a weekend is like a steroid. When Valentine's falls on a Saturday, movies for adults end up playing like films for kids, where the Saturday is the big earner of the weekend instead of the usual Friday night date movie for the grownups. In 2009, the last time Valentine's Day fell on a Saturday, the weekend box office was the second biggest of the time frame between January 1st and May 22nd. In 1997, Titanic's ninth weekend was Valentine's Day, and the James Cameron film earned more that weekend than it did in its sixth weekend, and was within a million of what it earned over its opening frame. Titanic earned 128% more on Valentine's Day Saturday ($13 million) than it did on that frame's Friday ($5.7 million). Valentine's Day can be one of the most powerful moviegoing days of the year. This notion is accentuated by the fact that should Valentine's Day fall on a weekend, it also lands within the President's Day long weekend, which inflates box office even further.

This perfect storm of holidays made Fifty Shades of Grey the perfect fit for release this weekend, better than a prime summer release date or even a debut at Christmas. The weekend was good news for all films in release, not just date flicks, as our other newcomer, Kingsman: The Secret Service also over-performed. The Colin Firth starrer was forced to live in the shadow of Fifty Shades, but in the end, provided solid counter-programming against the female-centric Fifty Shades. Early year predictions had the first quarter 2015 box office lagging behind the strong start that 2014 received, but thanks to American Sniper and a couple of others, the box office has stayed strong versus last year. That trend continues that this weekend despite the dominance of The LEGO Movie, Ride Along and Frozen last year.

Our number one film of the weekend is Fifty Shades of Grey, the film based on the bestselling novel. You would have to be living under a rock to not know the erotically charged romance was coming this weekend. Universal deftly handled the ad campaign and the story that went with it, as they seemingly pushed a story about bad blood between the director and the writer and successfully controlled the rollout of the almost unanimous bad reviews without hurting the opening weekend. Reaction to a critical embargo would have turned the conversation on this one, and the fact that Fifty Shades received such poor reviews was almost a non-issue before opening. The film was bullet-proof heading into opening weekend and only cost $40 million to make, so there was almost zero risk to the filmmakers and Universal.

Things got started for Fifty Shades on Thursday, when the film earned a ridiculous $8.6 million from Thursday previews. That amount showed how much the book affected the reader. Like the film, critics hated the book, but it sold over 100 million copies and spawned two sequels, ensuring that the film's release would be extremely well attended. The Friday take came in at $21.6 million, so Universal reported a combined first day of $30.2 million, a record for the biggest opening day in February. This amount handily beat The Passion of the Christ's first Friday number. That film opened on February 25, 2005 and earned $26.6 million.

Fifty Shades of Grey's opening Friday was just a few thousand behind that of American Sniper, which debuted to $30.3 million a month earlier. We now have two films in 2015 within the top 60 opening days of all-time and we are only 47 days into the year. The debut of Fifty Shades of Grey was bigger than people were expecting, and Valentine's Day hadn't hit yet.

The question, then, became how Fifty Shades of Grey would do on Valentine's Day. Was it front-loaded due to the success of the book like the Twilight films were? Did some fans wait until the 14th to check out Fifty Shades with their Valentine? Finding a comparable for something like this is difficult, but when 50 First Dates debuted on a Valentine's Saturday in 2004, it earned $10 million Friday, $20 million Saturday and then $10 million again on Sunday. One doesn't have to be a mathematician to figure out that 50 First Dates was the opposite of front-loaded, but A) Thursday previews didn't exist in 2004, and B) 50 First Dates was not based on a poorly written bestseller (it was just a poorly written movie). In the end, Valentine's Day for Fifty Shades of Grey earned $36.7 million on Saturday, a slight uptick from the previous day (including previews). So, it did receive a bit of a Valentine's Day bump, though it was probably impacted slightly with a Friday night rush.

Over the three-day portion of the weekend, Fifty Shades of Grey earned an out-of-hand $81.7 million from 3,646 venues, which was a record location count for an R-rated release, but smaller than your standard blockbuster, as they go out to 4,000+ screens. The venue average was stellar at $22,400. The opening weekend couldn't beat the February record held by The Passion of the Christ, which earned $83.8 million in 2004, but is a very solid second, ahead of The Lego Movie's $69.1 million debut last year. It is the fifth biggest R-rated debut ever, behind The Matrix Reloaded ($91.8 million), American Sniper ($89.3 million), The Hangover Part II ($85.9 million), and The Passion of the Christ. It is easily the biggest President's Day weekend release ever, well ahead of Valentine's Day, which earned $56.3 million in 2010.

Fifty Shades of Grey opened huge without costing its makers a fortune. The film was made for $40 million, a tiny amount compared to most blockbusters. A debut weekend like this one will pay back the production budget, while the first 10 days should easily recover the marketing costs. Overseas, Fifty Shades has had the same ridiculous kind of success, as it has already earned $158 million from those venues.

The question is how front-loaded Fifty Shades of Grey is going to be. Word-of-mouth isn't going to be much according to the usual indicators. At RottenTomatoes, Fifty Shades is 26% fresh – expected in my mind - but the Cinemascore of C+ is bad news, as regular moviegoer commentary is not good. This score would have come from fans of the book, which has helped Twilight's Cinemascores in the past, but couldn't prop up Fifty Shades. As much as we are seeing a record this weekend, this erotic drama could have a lot in common with the Friday the 13th reboot. That one opened on Valentine's Day weekend where the big day fell on a Saturday and was huge with a $40.6 million opening, but then dropped 80% in its second weekend. The same thing will likely happen here.

Finishing a very respectful second is Kingsman: The Secret Service, a project that was based on a comic book instead of a book. The 20th Century Fox release starring Colin Firth, Sam Jackson, Michael Caine and Mark Hamill (!), got off to a strong start, pulling in $10.5 million on its opening day. From Matthew Vaughn (X-Men: First Class, Kick-Ass), Kingsman is an R-rated flick due to Vaughn's love of ultra-violence (see: Kick-Ass). Kingsman burned brightly, benefitting from President's Day and Valentine's Day, as it was able to turn in a weekend gross of $35.6 million from 3,204 venues. Anything over $28.6 million put it into the top 10 of President's Day earners.

Kingman: The Secret Service was the exact opposite of Fifty Shades of Grey. It was aimed at men instead of women, is violent versus erotic, and critics and audiences thought it was good instead of bad. At RottenTomatoes, Kingsman is 71% fresh, with many reviewers repeating the same word - fun. Audiences found the fun as well, as the Cinemascore came in at B+. Made for $81 million, Kingsman may have cost twice as much as Fifty Shades, but it should have much better legs. It will also play very well outside of North America, and has picked up over $20 million overseas so far. Save for X-Men, Kingsman is the biggest opening of Vaughn's career, whether as a producer, director or writer. It will be interesting to see what he comes up with next.

Third spot goes to SpongeBob SquarePants: Sponge Out of Water, which rounds out the big three. After debuting to a huge $55.4 million last weekend, continuing that pace over the weekend was going to be difficult. It fell behind American Sniper on Thursday, which showed how young this one was playing, and settled for a Friday gross of $6.5 million, more than 50% behind its opening day. However, with the President's Day weekend, Sunday acts like a Saturday, so it was able to come back somewhat, earning $30.5 million for the weekend. While off 45%, it was able to bring its 10-day domestic gross up to a powerful $93.7 million against a $74 million budget. Overseas, SpongeBob has also picked up $46 million, so it is in a very good position moving forward. This one should make $150 million domestic and then will need only $75 million overseas to find a theatrical profit for Nickelodeon and Paramount.

American Sniper drops to fourth with a gross of $16.4 million and a decline of 29%. Considering R-rated releases are taking up 6,850 new screens this weekend, we knew that American Sniper was going to be targeted. Add to the equation that this one has already pulled in $300 million further complicates any chances at a hold in its fifth weekend of wide release. Nonetheless, it continues to play strong for North American audiences. So far, Sniper has earned $304.1 million domestic and another $85 million overseas.

Fifth is Jupiter Ascending, which has the rug pulled out from under it. After an $18.4 million flop debut against its $175+ million budget, Jupiter crumbled, falling 49% and earning only $9.4 million. That is likely the last nail in the coffin for the project from the Wachowskis, as overseas revenue is not going to be able to bail this one out. Jupiter Ascending has a domestic gross so far of $32.6 million and has picked up another $59 million overseas.

Sixth is last weekend's other flop, Seventh Son. The Jeff Bridges flick went from a $7.2 million gross last weekend to a puny $4.1 million this weekend. That gives the $95 million flick a weekend-to-weekend drop of 43% and a sad gross so far of only $13.4 million. Worldwide, Seventh Son has matched the production budget, but it won't see much more than that.

Paddington is seventh this weekend as it holds well again versus SpongeBob. The film about the British bear earned another $4.2 million and fell 21% despite being in its fifth weekend of release. The $55 million Weinstein/Dimension import has now earned $62.3 million stateside and a sizzling $154 million overseas.

The Imitation Game is in its eighth weekend of wide release and finishes in eighth place. The leggy Oscar nominee pulled in another $3/5 million this weekend and declined only 25%. Never in the top five, The Imitation Game has now picked up $80 million in North America and nearly the same amount from overseas theaters.

Ninth place goes to The Wedding Ringer, which has turned in a tidy little profit for Screen Gems. It earned another $3.4 million this frame, a decline of just 28%. Thus far, the Kevin Hart comedy has accumulated $59.7 million from domestic venues and just a small $3.2 million overseas.

Project Almanac falls to tenth this weekend. The teen time travel flick earned $2.7 million and fell 48%. The $12 million flick from Michael Bay's Platinum Dunes has picked up $19.6 million.

Overall, the box office continues its hot pace thanks to a top three that pulled in over $145 million. The top 12 this year took in a mighty $197 million, which is well ahead of a strong weekend last year. A year ago, there were four openers vying for Valentine's Day dollars along with The LEGO Movie, and the top 12 rang up $160.4 million. Next weekend looks like it might be soft, as openers include The DUFF, McFarland USA, and Hot Tub Time Machine 2. None of these flicks debut on more than 2,600 screens, so it will be interesting to see what happens with them, along with second weekends of Fifty Shades and Kingsman.