Weekend Box Office Forecast for February 13-15, 2015
By Tim Briody
February 13, 2015
BoxOfficeProphets.com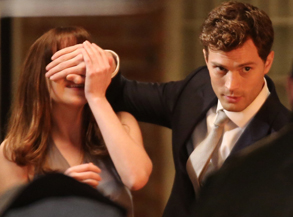 ---
The weirdest box office year ever continues as we head into Valentine's Day with a much anticipated film that I'm still surprised anyone would willingly admit to buying tickets for.

Fifty Shades of Grey has its earliest roots as, of all things, Twilight fan fiction, before morphing into a wildly successful ebook that simultaneously launched the word processors on million of computers in 2011. Picked up by a major publisher in 2012, the series has sold over 100 million copies worldwide, though I dare you to find a copy sitting out on a home bookshelf or coffee table.

Oh, what about the plot, you say? Well, that depends on who you ask. It might be the story of Ana Steele (Dakota Johnson), a young college student who interviews the wealthy entrepreneur Christian Grey (Jamie Dornan) for an assignment and finds herself intrigued by him as they begin a relationship where he gradually introduces her into his preferred lifestyle, which is that of a heavily controlling relationship and BDSM. Or it could be something that's pretty close to porn. Your call.

There seems to be virtually no middle ground when it comes to discussing Fifty Shades of Grey. It's either a modern romance for the current age or it's a horrible misrepresentation of sadomasochism and the dominant/submissive lifestyle. It's either setting women's rights back several decades or it's what every woman secretly wants from their man. The book could be just barely above fan fiction quality writing or it doesn't really matter because damn, that's sexy. Like I said, no middle ground. Oh, and have I mentioned there are two more books in this series?

What's not at debate here is that Fifty Shades of Grey is a legitimate box office heavyweight this weekend, which when you sell that many books, is kind of to be expected. Reviews are mostly negative, but they could not be less relevant for this opening frame. Neither lead is well known by any stretch of the imagination, with Johnson presently most famous for being the daughter of Don Johnson and Melanie Griffith and Dornan (selected after Sons of Anarchy's Charlie Hunnam dropped out) is probably most known for a role in the tv show Once Upon a Time. But again, none of this matters when there is a mob of repressed(?) housewives breaking Fandango records.

If not for The Passion of the Christ, Fifty Shades of Grey would probably be a lock for the February opening record, which is $83.8 million and has held for ten years now. But it's sure going to make a serious run at that total over the weekend. Valentine's Day proper is actually a very good box office day, especially for romantic(?) films. There's a chance the perfect storm is there and we have two monthly opening records shattered in the first two months of 2015, but I think it falls just short and earns a still dominating (sorry) $81 million.

Completely lost in the Fifty Shades of Grey hype is Kingsman: The Secret Service, a British action/comedy starring Colin Firth and Samuel L. Jackson and directed by Matthew Vaughn, of Kick-Ass and X-Men: First Class fame. In it, a young man is introduced to the secret agency that his father belonged to and is suddenly thrust into service when an evil genius threatens the world.

Based on a comic book, The Secret Service is actually an MI6-type of organization and not the American version that one would assume. Kingsman has already been a hit in its native country and clearly hopes to be the start of a franchise. Reviews are actually good and it's likely to be a good alternative to Fifty Shades of Grey and, well, just about everything else in theaters. It's going to have the quietest $25 million weekend you've ever seen.

Last weekend saw the SpongeBob SquarePants sequel open to $55.3 million, showing that there's some things that a fanbase just doesn't grow out of. This weekend is also President's Day weekend, meaning it might actually end up with a smaller decline than you'd expect. A second weekend of around $35.7 million is what it's shooting for as the wild and wacky year that is 2015 box office continues.