Weekend Wrap-Up
SpongeBob Surprises; Sniper Down
By John Hamann
February 8, 2015
BoxOfficeProphets.com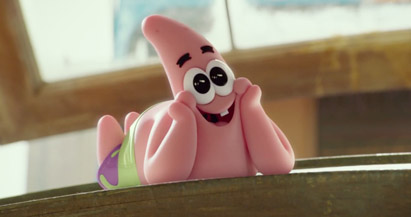 ---
After taking in 45% of the top 12 weekend box office since going wide, American Sniper – the literal savior of the January box office - falls to second this weekend. SpongeBob SquarePants is the guy responsible.

While SpongeBob surprised and American Sniper continued its dominance, the box office story of the weekend is two very expensive flops that are going to make headlines. Opener Jupiter Ascending, with its $176 million production budget (some say $190 million) and sub-$20 million domestic opening, is in real trouble for Warner Bros. With this kind of price tag, the new film from the Wachowski siblings would need to hit at least $500 million worldwide, and it looks like it will struggle earn 10% of that domestically. The other disaster is Legendary Pictures' Seventh Son, which cost $90 million (some say more) and barely earned $7 million. The only good news for Seventh Son is that it has earned $82 million overseas already, which will lessen the blow. SpongeBob is the man this weekend, as he saves the box office from flaming out badly.

Our number one film of the weekend – a new film for the first time in three weekends – is The SpongeBob Movie: Sponge Out of Water. As ridiculous as the title sounds, the Paramount and Nickelodeon release popped, getting started with a $15 million Friday night and blowing away expectations as tracking was calling for a $30 million weekend. The Friday take was $5.5 million more than the first SpongeBob movie earned back in 2004. Released over the same weekend when The LEGO Movie popped last year, SpongeBob found some of the same magic, but it plays too young to match the $69 million debut of the LEGO sendup.

Over the rest of the weekend, SpongeBob continued to play well as the kids ate up the sponge out of water story. The film, which cost $74 million to make, finished the weekend with $56 million from 3,641 venues, many of which were 3D, giving the animated release the benefit of that markup. The score this weekend completely obliterates that of the first SpongeBob movie, which earned $32 million over three days back in 2004; however, that one cost $30 million – less than half of the follow-up release. The original earned $140 million worldwide in an era prior to the global dominance of Hollywood releases; it accumulated more domestically ($85 million) than it did overseas ($55 million). This time around, SpongeBob should see at least $150 million domestic, and in a global marketplace hungry for 3D entertainment, this one should do better this time around overseas than the original did.

Why did The SpongeBob movie break out? There has been a lack of movies for kids so far this year, with only Paddington released for the kiddies so far in 2015 (I don't count Strange Magic, which has grossed all of $11 million so far). The Nickelodeon ad campaign for SpongeBob was great and included a Super Bowl spot, but the focus of the campaign was on SpongeBob's time out of the water, which I understand is a very small portion of the actual film. This fact may be why the film received only a B Cinemascore; however, if we isolate the grade to just those under 18, it rises up to an A-.

Reviews for SpongeBob were also very positive, at 74%, slightly better at this point than the 2004 original, which received a 68% score. Nickelodeon was smart having Paul Tibbet direct and write the story for the film, as he has been writing for the series since 1999. Should the sequel match the opening-to-total multiplier of the original (2.66), Paramount is looking at $135 million domestic from their $74 million feature. That tells me SpongeBob would only need another $75 to 100 million from overseas theaters to see a profit, where it has $8 million already. Eleven years after the original, I expect at least twice what the first film made, which will make this a very lucrative entry for Paramount and Nickelodeon.

Finishing second this weekend is American Sniper, now in its fourth weekend of release and its seventh frame overall. After a $30.7 million Super Bowl weekend (where it saw the biggest drop of its run so far at 53%), Sniper held much better this weekend with no football, earning $24.2 million and falling only 21%. Sniper has brought its domestic gross up to $282.3 million – a truly surprising amount. What is even more surprising is that Sniper had earned another $68.3 million overseas prior to the start of the weekend, which is not the norm for an American war film. The Bradley Cooper release is looking like it will come in with $325 million domestic, which would put it into the top 35 earners of all time. Remember, this one cost $60 million to make, so Warner Bros. has a complete windfall on its hands.

Third spot goes to Jupiter Ascending, the new film from the Wachowski siblings that cost $176 million to make. Financed by Village Roadshow and Warner Bros., The Wachowskis were looking to combine the thrill and concept of The Matrix with the epic storytelling of Cloud Atlas, and instead just made a mess. But what a beautiful mess it is. Jupiter Ascending took in $6.4 million on Friday night and we don't have to look any further than that to see huge losses coming on this one. Over the weekend proper, the Mila Kunis/Channing Tatum starrer earned $19 million, sealing its doom – at least on the domestic front. Warner Bros. opened Jupiter at 3,181 venues, but not even IMAX and a big count could save this one.

Abysmal reviews and loud delays doomed Jupiter Ascending. In this day and age there is no hiding the when a film needs reshoots to get to release and then is delayed six months so that the filmmakers can finish the special effects (translation: it did poorly in test screenings). Its original release date was July 18, 2014, and the move to February left three lesser films room to duke it out on their own. Without a big release on the schedule, another weekend during Summer 2014 pulled an epic fail. Had the release date held, Jupiter Ascending still wouldn't have blown anyone away, but the debut would likely have been double what we saw this weekend, and the damage would be less.

Reviews didn't help, as Jupiter Ascending is only 22% fresh at RottenTomatoes, with only 33 good reviews out of a possible 116. Most reviewers found it to be beautifully made, but say that the story lacked any of the originality of The Matrix. The Cinemascore wasn't much better at B-, which indicates this one is going down in flames quickly. Hope for Jupiter is still small, though. It must be noted that Cloud Atlas, with its C+ Cinemascore and similarly poor reviews, earned $103 million overseas after a $32 million failure stateside. If this one can get to $40 million stateside and then earn $150 million overseas, the pain will be much less for the companies involved.

Finishing way back in fourth is Seventh Son, our next great flop of the weekend. Legendary Pictures, the production company behind Seventh Son, had already provided an $85 million write down against the film before it had even opened domestically. That $85 million is an amount Seventh Son won't come close to earning stateside, as it debuts with a paltry $7.1 million from 2,875 venues. Seventh Son cost $90 million to make and can at least point to the $82 million it has already earned overseas. The film is only 10% fresh at RottenTomatoes and like Jupiter Ascending, earned the ugly B- from Cinemascore.

Seventh Son actually started production in 2012, with Jeff Bridges and Julianne Moore starring. In a sign of bad things to come, Seventh Son's first visual effects house went bankrupt, and the film's original release date of February 2013 was delayed. Then, Legendary broke up with Warner Bros., leading to further delays. Much has been written about the stink of this one, and there is no saving it this weekend. Jeff Bridges has now been in two ugly flops for Universal, as he was also in R.I.P.D., which cost $130 million and earned only $78 million worldwide.

Paddington is fifth, as the release of SpongeBob impacted the film slightly. Paddington earned $5.4 million, off 35% from last weekend. The $50 million film from Britain has now pulled in $57.3 stateside to go with the $150 million it has accumulated from overseas venues.

Sixth goes to last weekend's new release, Project Almanac. The found footage release that debuted to $8.3 million last weekend actually held okay this weekend with the implosion of Jupiter Ascending and Seventh Son. Almanac earned another $5.3 million, giving the time travel flick a drop of 36%. Made for $12 million, the Michael Bay misfire now has a total of $15.8 million.

The Imitation Game is seventh, as the Oscar wannabe loses 400+ screens this weekend. The Benedict Cumberbatch film earned another $4.9 million and was off only 3% despite the loss of screens. The Weinstein release has increased its take to a remarkable $73.7 million stateside and $65 million away from home.

The Wedding Ringer dropped to ninth, as the Kevin Hart comedy is running out of steam. The Screen Gems flick earned another $4.8 million, dropping 16%. The $23 million comedy has now pushed its total up to a decent $55.1 million, and has brought in another $3 million overseas.

Black or White drops from fourth last weekend to ninth this weekend. The Kevin Costner flick could only muster $4.5 million as it fell 27%. This $9 million-budgeted film has now brought its total up to $13.1 million.

The Boy Next Door moves from fifth last weekend to 10th, as this one weekend wonder has faded fast since opening in second a few weekends ago. After opening to $15 million, it dropped to $6 million last weekend. This weekend, it held up a bit better, falling 33% to $4.1 million. The film enjoys a gross so far of $30.9 million.

Overall, the combination of The SpongeBob Movie and American Sniper was enough to match that of last year's debut of The LEGO Movie. The top 12 films this weekend earned $139 million, which is just ahead of last year's $138.4 million. Next weekend brings Valentine's Day on Saturday night and President's Day on Monday, which means the weekend could be big. We know that Fifty Shades of Grey is going to be huge, but can Kingsman: The Secret Service also open large as well? With the wobbles this weekend, the marketplace has room for two big openers, but the marketing for Kingsman may not be where it needs to be for it to break out next weekend.