SpongeBob Wipes the Floor with Wachowskis
By Kim Hollis
February 7, 2015
BoxOfficeProphets.com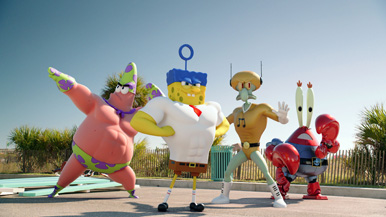 ---
SpongeBob SquarePants jumped into the third dimension, and audiences sopped up the latest offering as 2015 continues its early hot streak of boffo blockbusters.

Eleven years ago, the original SpongeBob movie broke free from television and had a first Friday of $9.6 million, leading to a debut weekend of $32 million. The franchise follow-up features the residents of Bikini Bottom traveling through time to battle an evil, Antonio Banderas-voiced pirate over a recipe for Krabby Patties, and tracking estimates had it opening securely in the same range as its predecessor. As is so often the case with tracking for movies targeted to kids (with a secondary counter-cultural demographic), these forecasts were... off.

The SpongeBob Movie: Sponge Out of Water had a dazzling opening Friday of $15.1 million. To say that the suits at Nickelodeon and Paramount are ecstatic this afternoon would be an understatement. Given that The SpongeBob Movie is the first true choice for families in several weeks (we'll just disregard Strange Magic), it's going to hold up extremely well over the weekend, particularly since people who have been snowed in with their kids a lot lately are looking for activities outside the house.

If we use the first SpongeBob movie as a model for the weekend number, we are looking at a Friday-to-Sunday multiplier of 3.33. Given that families might be cancelled out slightly by 20-somethings who rushed out to see the film on Friday night, that 3.33 is probably pretty close to being correct. I believe that the SpongeBob sequel will finish the weekend right around $51 million.

You may be wondering what the heck happened to the latest big budget outing from the Wachowskis. Well, let's just say that Jupiter Ascending, which had a reported budget of $176 million, is not even going to finish in second place for the weekend. American Sniper is going to hold that spot even though it is now in its fourth weekend of wide release. Jupiter Ascending managed just $6.4 million on Friday, barely ahead of American Sniper's $6.3 million.

The worst news of all is that Jupiter Ascending is probably front-loaded, as fans of science fiction and the Wachowskis are likely to rush out to see these kinds of films on Friday night. The higher profile failures from the Wachowskis, Speed Racer and Cloud Atlas, have had better multipliers than you might expect, but we're talking about something in the 2.8 range as a best-case scenario. What is likely to happen is that the studio will estimate it at $18 million - slightly more than a 2.8 - but that actuals will come in lower.

Of course, Jupiter Ascending has to be feeling pretty good about itself compared to Seventh Son. Delayed for two years, the fantasy epic featuring Jeff Bridges and Julianne Moore finally received wide release this weekend and managed only $2.3 million. The stink of failure has been around this one for a long time, so this isn't a particularly shocking turn of events. It should finish with about $6.4 million.

At this point, we usually like to talk about the previous weekend's releases, but... ugh. Okay, here goes. Project Almanac, the best of the bunch, dropped 53% from last Friday to $1.5 million. A $4.6 million second weekend finish is in the offing. Kevin Costner's Black or White had a decline of 43% to $1.3 million and will have a weekend total of $3.8 million. And The Loft barely even registered, with a Friday total of $463,000 and a sharp drop-off of 63%. Let's call it $1.3 million and never speak of it again.