February 2015 Box Office Forecast
By Michael Lynderey
February 5, 2015
BoxOfficeProphets.com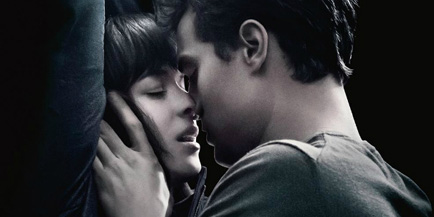 ---
February 2015 presents a battle between Fifty Shades of Grey on the one hand and a diverse selection of genre films and cartoon crustaceans on the other. At the moment, the lurid and decidedly inappropriate choice leads the month. Also, February has a somewhat atypical distinction: at least five of the 10 films listed below were pushed back from concrete 2014 release dates.

1. Fifty Shades of Grey (February 13th)
Little need be written about Fifty Shades of Grey. If you know what it's all about, you're covered, and if you don't, you're better off. Details of the film's plot, casting, re-casting, and choice of director have pre-occupied some minds for years or even months. Reviews likely won't matter. The only question is just how high this book adaptation - a sort of Twilight for the particularly bored - will go? And how low will the box office sink to, to accommodate it? Between the famished fanbase and the singularly-inappropriate Valentine's Day release date, it's obvious the film will probably make more than half of all it's ever going to make right there in its first weekend. I'll be relatively conservative in my opening prediction, but given how far the box office can go when you get a demographic all riled up, I could be low-balling.

Opening weekend: $70 million / Total gross: $80 million (just kidding - maybe. Let's say $150 million)

2. Kingsman: The Secret Service (February 13th)
Along with Jupiter Ascending and Seventh Son, Kingsman is one of the three big action movies this month (some people say that Fifty Shades of Gray also has a lot of action). The film's director, Matthew Vaughn, usually alternates between niche genre movies for niche audiences (Kick-Ass) and niche genre movies for the mainstream (X-Men: First Class). Kingsman will likely play more like the latter. The film's getting good reviews so far, and it wouldn't be a bad wager that Kingsman ends up the best-reviewed movie of the month (although, to be fair, many critics have already given Fifty Shades of Grey two fingers up). Star Colin Firth, in his most prominent role since The King's Speech, is not exactly an established lead of explosion-laden motion pictures (although his fistfight with Hugh Grant in Bridget Jones 2 was well-choreographed and performed with conviction). But he does seem to settle nicely into this rather distinctly English character, while Samuel L. Jackson appears entertainingly loopy as the villain. Kingsman may open lower than Jupiter Ascending, but I'd assume it will have better legs.

Opening weekend: $30 million / Total gross: $88 million

3. The SpongeBob Movie: Sponge Out of Water (February 6th)
Cartoon stalwart SpongeBob returns in a follow-up 10 years after the first film (speaking of which, where is that South Park sequel?). I have to admit I know very little about film's lead and his escapades, although the subject matter seems at least somewhat more wholesome than the month's current frontrunner for highest-grossing film. The trailers are kind of fun, and it's likely that fans of the material will make SpongeBob 2 at least almost as big a hit as the first one (SpongeBob 1 took in $85 million, impressive, particularly in 2004 money). The target audience for this is children... right? And so if I call a late 20s opening, I'd have to assume kids movie legs will apply?

Opening weekend: $28 million / Total gross: $83 million

4. Jupiter Ascending (February 6th)
This one's a science-fiction action extravaganza yanked suddenly out of the July 2014 slate and moved into more shallow waters. February is not a month particularly conducive to action blockbusters (March is a better fit). The film does, however, have some star power in its corner, namely Channing Tatum, the biggest movie star of his generation (that's a fact), and Mila Kunis, who's ended up in her share of big films. What's dragging Jupiter Ascending down, however, is the basic inescapable oddity of its existence: with its costumes, sets, and hard-to-explain premise, it looks every bit like a companion piece to the Wachowski siblings' previous film, the well-reviewed and equally atypical sci-fi drama Cloud Atlas, except on a bigger scale (but with just as many extravagant visual flourishes). Jupiter Ascending may well outgross Atlas' total of $27 million in just one weekend, but it's hard to see this as a leggy film without at least a solid critical reception.

Opening weekend: $25 million / Total gross: $55 million

5. Focus (February 27th)
Focus is a film that's perhaps more interesting for what it represents than what's on screen: a comeback vehicle of sorts for Will Smith, once the undisputed box office champion of planet Earth (and if you adjust some numbers, maybe the entire universe). Other than a Men in Black sequel, Smith hasn't headlined a $100 million grosser since Hancock in 2008. The reasons for this fact range from circumstance (he's chosen not to work as often) to misfortune (After Earth). While Focus clearly won't rank among Smith's biggest films - and isn't meant to - just how well this middle-of-the-road con artist picture does in late February might tell us a bit about Smith's current star power. The trailers and release date aren't distinctly promising, but I'd say Smith's name is still such as to give Focus an above-average run.

Opening weekend: $19 million / Total gross: $53 million

6. Seventh Son (February 6th)
The month's last big-budget release is this high fantasy film, with Narnia star Ben Barnes headlining opposite Oscar winner-in-waiting Julianne Moore (as a villainess) and mentor figure Jeff Bridges, who spearheaded another youth genre film with the underrated The Giver. Somewhat surprisingly, fantasy films don't really do particularly well outside of the big names (Harry Potter, Lord of the Rings). And with competition from Jupiter Ascending and a lack of familiarity with the source material (The Wardstone Chronicles series of books upon which it's based), Seventh Son will probably play somewhat like the similarly witch-busting Hansel & Gretel. This film is a lot more appropriate for family audiences, though, which ought to help somewhat.

Opening weekend: $17 million / Total gross: $42 million

7. Hot Tub Time Machine 2 (February 20th)
Here's a sequel to the 2010 film, which took in $50 million (since that film had to overcome the hurdle of being titled "Hot Tub Time Machine," that's a more than fair number). Tub 2's presence on the release calendar is clearly somewhat belated (or at least that's what SpongeBob told me). The original is an entertaining picture and a cult classic of sorts, so there's a lot of goodwill for this film, even if a sequel's not been virulently demanded. The trailer is moderately amusing even without original star John Cusack, but barring a positive critical consensus, HTTM 2 will probably play like February filler.

Opening weekend: $15 million / Total gross: $38 million

8. McFarland, USA (February 20th)
Kevin Costner has been churning out many middle-of-the-road star vehicles lately (some of them are quite good - see the well-written Draft Day). McFarland's the first cross country film in the filmography of Costner, who has headlined movies about almost every sport (does Dances With Wolves qualify as archery?). The film's original release date of November is better suited for this kind of feel-good story, although the Disney machine behind McFarland is out to move it to numbers that at least somewhat resemble their own Million Dollar Arm from last summer.

Opening weekend: $13 million / Total gross: $35 million

9. The Duff (February 20th)
This light comedy seems determined to introduce a new term into the lexicon, and indeed, many people are perhaps unfamiliar with what a "Duff" is (ask someone in Fifty Shades to explain it to you - just kidding, I think). All humor aside, it's entirely possible that The Duff will be very well reviewed, but as a teen film with largely unknown actors, it has an uphill box office climb to make. The high school genre, which last truly flourished around 1999, has produced few hit films in the last decade. Star Mae Whitman does seem to follow naturally in the footsteps of Zoey Deschanel, Aubrey Plaza, and other leads of vaguely indiesh films about high school and college students. So as far as vaguely indiesh goes, The Duff shouldn't do too badly at all.

Opening weekend: $8 million / Total gross: $25 million

10. The Lazarus Effect (February 27th)
Here's what looks like the month's token horror film - albeit not filmed in shaky-cam style, thank heavens - about medical students dabbling in resurrection of the dead and other forms of unpleasantness (yes, shades of Flatliners). The Lazarus Effect does have an intriguing cast (Olivia Wilde, Mark Duplass, Evan Peters, and, in his biggest film role yet, Donald Glover), but it's out on a weekend that's often treated as a wash with studios, and the film seems unlikely to change that tradition.

Opening weekend: $7 million / Total gross: $20 million

Also on the release schedule are two films I've already seen: David Cronenberg's Hollywood-set Maps to the Stars, which plays as hilarious, stone-faced, gothic melodrama, and The Last Five Years, an unpretentious and amusing musical starring Anna Kendrick, who's done her fair share of singing on film. Despite the name actors and pedigree (Julianne Moore earned raves for the Cronenberg film), I doubt either movie will crack wide release, but they're worth seeing.