Weekend Wrap-Up
American Sniper Dominates Super Bowl Weekend
By John Hamann
February 1, 2015
BoxOfficeProphets.com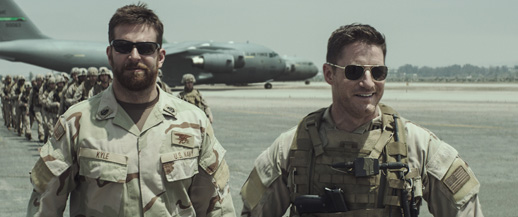 ---
Like what Seattle will do to New England today, American Sniper did to the rest of films in release this weekend. For the third straight weekend, the Clint Eastwood film dominated, almost doubling the combined gross of all three weak openers.

It's Super Bowl Weekend, a box office frame that has become much like Labor Day, the first weekend in December, or any late-August weekend. It's a box office dead zone because the Super Bowl has become the event that attracts all quadrants of the demographic landscape. It is no longer just men who watch the game - my sister and her girlfriend seriously considered buying scalped tickets and traveling thousands of miles to Arizona to see Seattle win consecutive championships.

The box office should lag significantly this weekend, much like it did last year, when the top12 films earned $70.9 million, or in 2013 when the top 12 took in $68.9 million. We would have one of those bottom-dwelling weekends this year as well had it not been for American Sniper, which dominated for the third weekend in a row despite having earned $217 million domestic before the weekend began.

Openers were an odd lot, much like last weekend when Mortdecai and Strange Magic debuted, both of which have been either thrust out of the top 12 (Mortdecai) or are hanging by a thread (Strange Magic). The same will be said of the frame's three newbies next weekend, as there is nothing to see here. Openers included Project Almanac, a found footage nightmare that was dumped into Super Bowl weekend that was shot back in 2013, Black or White, the latest from Kevin Costner that looks like it wanted to be Oscar worthy but wasn't, The Loft, a dumped, 2011-shot thriller starring Karl Urban and some C-listers about an apartment rented for trysts (I would have used it to watch the game, and then no one gets hurt), and finally, Game of Thrones, where IMAX screened the last two episodes of the previous season. You know it's slow out there when a repeated TV show draws the biggest crowds on a per-theater basis.

Our number one film, for the third consecutive weekend, is American Sniper, the much talked and written about war flick starring Bradley Cooper. After an amazing run that completely dominated the month of January, one had to wonder if the Super Bowl would slow its progress this weekend. After dropping only 28% last weekend (which is mind-numbing given the $64.6 million weekend gross), Sniper fell off a bit this weekend, the first sign of which came Friday night. The Warner Bros. flick earned $10 million on the first day of the weekend, a decent enough number, but it fell 45% from its previous Friday, Sniper's largest Friday-to-Friday drop so far in its run. Still, the Friday number put it in position to become the biggest earner ever on a Super Bowl weekend, as the previous film to hold that record was Hannah Montana: The Movie at $31.1 million.

Over the remainder of the weekend, American Sniper continued its push toward glory, pulling in a weekend take of $31.9 million. That gives it a drop of 51% compared to last weekend's monster take of $64.6 million. The total for American Sniper has reached a mind-boggling $248.9 million, just short of the $250 million mark unless actual box office numbers come in a bit higher.

The question now is where American Sniper finishes. The war flick has now enjoyed three weekends with very little competition. That changes next weekend, as Jupiter Ascending and Seventh Son will take over any IMAX theaters, and The SpongeBob Movie: Sponge Out of Water will gobble up the large venues across the country. These new entries into the marketplace will make it more difficult for American Sniper to hold onto its dominance.

The following weekend brings Kingsman: The Secret Service, an action-oriented, R-rated flick that looks like it may receive excellent reviews and word-of-mouth. Given the competition coming, I am going to predict that American Sniper will finish with around $330 million, which would put it into the top 35 domestic releases of all-time. Add to that the $50 million it has made overseas so far, and Warner Bros. has an excellent return against its $60 million investment.

Coming in second this weekend (much like the New England Patriots) is Paddington, the now three-weekend-old kids' flick, which really shows the lack of drawing power from the openers. The Brit-kids-flick earned another $8.5 million, off a not bad 31% compared to the previous weekend. Paddington has struck a chord in North America, having earned $50.5 million away from home, padding its $146 million overseas gross. Paddington could hit $70 million stateside, and the worldwide gross should be enough to auto-greenlight a sequel.

Third spot goes to Project Almanac, the found footage flick from Paramount. After being delayed for more than a year, Paramount finally found a weekend where they thought it would work like Chronicle did back in 2012. Over that Super Bowl weekend, Chronicle, another found footage sci-fi flick, earned $22 million against the big game. Project Almanac did not find the same success, settling for just $8.5 million from 2,893 venues. It was only 36% fresh at Rotten Tomatoes and earned only a B Cinemascore. The found footage concept is long since dead, but given the shelf life of Almanac, we have the proof of that fact this weekend. Made for $12 million, nobody will get too hurt by this one, even if it taps out with less than $20 million. It will pick up some scraps overseas and through VOD.

Fourth is Black or White, the new film with Kevin Costner and Octavia Spencer. This one has been on my death watch since I read the initial review in December, and after we all watched Costner fail in Draft Day, 3 Days to Kill and the Jack Ryan misstep. Black or White is an even tougher sell with poor reviews, and opened to only $6.5 million this weekend thanks to a rotten rating of 35%, even worse than the found footage Project Almanac. The A- Cinemascore gives it a small hope for legs, but those hopes are small. It wouldn't need much, as Black or White carries a price tag of only $9 million, putting it in position for a win despite poor reviews and a slow opening weekend.

The Boy Next Door, last weekend's number two film, drops to fifth. The Jennifer Lopez starrer earned $6.1 million, off a large 59% compared to last weekend. Remember though, this "thriller" cost only $4 million to make, so with a gross so far of $24.7 million, everything is coming up roses for this one.

Sixth is The Wedding Ringer, the latest Kevin Hart comedy. Now in its third weekend, The Wedding Ringer earned $5.7 million, dropping another 50%. The $23 million Screen Gems release has now pulled in $48.1 million, giving Hart another win.

The Imitation Game spends its sixth weekend in the top ten, and has another decent hold despite its longevity. The WWII flick earned another $5.2 million, dropping 26% in the process. The Weinstein Company has always been shrewd about releasing its Oscar hopefuls, and The Imitation Game is no different. This film has never been ranked above sixth, yet has a domestic gross to date of $68 million to go with an overseas gross of $58 million so far.

Taken 3 is eighth, as it has had a bumpy ride down after opening big. The Liam Neeson starrer earned $3.7 million and fell a woeful 51%. The $48 million film has now reaped $81.4 million stateside and over $130 million away from home, or more than four times its production budget worldwide.

Ninth place goes to the George Lucas animated mess Strange Magic, which earned $3.4 million as it declined 38%. It has yet to cross the $10 million mark with a running total of $9.9 million, but it may find some small saving grace from overseas grosses once it hits those venues.

The Loft, the shot in 2011 hot potato that both Universal and Warner Bros. considered releasing before it landed at Open Road, opened poorly in 10th. Made for $14 million (in 2011 dollars), The Loft opened to a disastrous $2.9 million from a venue count of only 1,841 venues. This one is our first 0% fresh film of the year and earned a sad B- Cinemascore.

Warner Bros. put a couple of episodes of Game of Thrones out to 205 IMAX theaters and cashed in. Despite the low screen count, the hit TV show earned $1.5 million at these screenings, giving it an average of $7,322.

Overall, American Sniper once again bails the box office out of what could have been a black hole, and has bridged the box office into February. A year ago, the top 12 films earned $70.9 million as Jason Reitman's Labor Day flopped. This year, the top 12 earned significantly more at $93.4 million.

Next weekend, some big hitters come to the screen albeit on some shaky ground. Jupiter Ascending from Andy and Lana Wachowski opens after being pushed back from summer 2014. It cost $175 million to make, and Warner Bros. has indicated they would spend an additional $100 million on marketing. It has the stars and the visuals to work, but word-of-mouth is similar to what happened at Sundance, where audiences called it "puzzling." Also opening is Seventh Son, a $77 million effort from Universal. It has two ugly reviews at RottenTomatoes so far, from influential critics. Lastly, The SpongeBob Movie opens, 11 years after the last SpongeBob flick earned $85 million domestic. It cost $66 million to make, so studios have $318 million in production costs on the line next weekend.