Top Chef Power Rankings
By Jason Lee
January 27, 2015
BoxOfficeProphets.com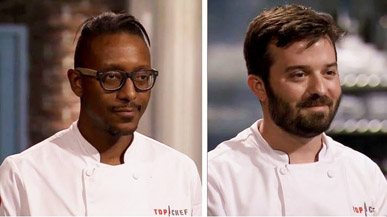 ---
1) Melissa

Did anyone reading last week's Power Rankings expect Melissa to retain the top spot? I will candidly admit that the author of last week's Power Rankings thought it'd be little more than a blip - one funky weekly ranking made possible by Melissa's securing a spot in the finale before any of her three *cough cough* more talented competitors. I was wrong. Though I disagree with Melissa winning last week's Elimination Challenge (it was an innovation challenge, for Pete's sake), the fact remains that she came out on top in the last two Elimination Challenges and is heading into the finale with some solid momentum.

2) Mei

Tough episode for Mei. She wins her first Quickfire but gets edged once again by Melissa. In other words, she won a trip to Napa but lost out on $10,000. That said, Mei is probably your best bet for taking home the title at this point. The appearance of Melissa's A-game has been infrequent overall, and her lack of consistency could hurt her in the finale. Moreover, Mei has thoroughly out-cooked Greg in the last couple of weeks. It'll be interesting to see if she can replicate the success that her boss, Michael Voltaggio, achieved in Top Chef: Las Vegas.

3) Greg

It's tough to know what to make of Greg's recent downward slide. Not only has he not cooked well, he essentially ignored the whole point of last week's challenge - incorporating crispy skin does not an innovative dish make. It's entirely possible that after a few months away from Top Chef, he'll come back rejuvenated and dominate the finale like he did earlier this season. Let's just hope the Top Chef producers have a lot of coconut milk on hand for him to use in his forthcoming curries.

4) Doug

Doug is this season's "gone too soon" cheftestant. He managed to slip by Adam in the previous Last Chance Kitchen despite totally botching his steak - to me, that win says a lot. I wouldn't be the least bit surprised to see Doug fight his way out of Last Chance Kitchen and make a solid run for the title. He has some work ahead of him first, though, before he can look that far afield.

5) George

Ah, George. I'm glad you feel satisfied with how your second chance on Top Chef turned out. Though your roared back into the competition after winning your way back in, you've failed to make much of an impression in the last couple of episodes. I hope you enjoy your time in Mexico for the final installment of Last Chance Kitchen - I'm thinking it'll be short lived.