Weekend Wrap-Up
American Sniper Downs Johnny Depp and George Lucas (at the Box Office)
By John Hamann
January 25, 2015
BoxOfficeProphets.com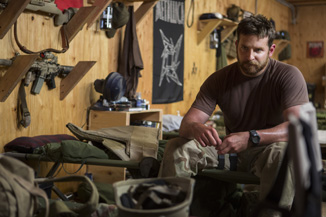 ---
What a difference an American Sniper makes. Without the Clint Eastwood release, the overall box office would be bottoming out, as Mortdecai and Strange Magic flopped badly this weekend. Instead, overall first quarter box office results are coming up roses.

Our number one film by a mile is once again American Sniper, as in wins another weekend by a ridiculously large margin after taking last weekend by an almost $70 million margin. After earning $90 million over three days last weekend, $107 million over four, and $132 million since going wide, one had to wonder if American Sniper might drop drastically this weekend simply due to burnout. However, this movie is now a cultural phenomenon, with the conservative right embracing it for its accurate portrayal of the military and the left taking it in as an Oscar hopeful (or to eviscerate it). So, the Bradley Cooper Iraq war film held well despite three new wide releases coming on the scene.

American Sniper earned $18.3 million on Friday night, off a ridiculously low 40% from its previous Friday of $30.3 million. Why is a 40% drop ridiculously low? Sniper earned $5.3 million from Thursday night previews that get added into last Friday's number. That means that last weekend's "true Friday" was about $25 million, which lowers the Friday-to-Friday drop to only 27%.

Similar successes are not easy to find. The comparison that analysts want to make is to The Passion of the Christ, which had a first Friday of $22.9 million before falling 40% in its second Friday to $13.7 million. A better analog is Avatar, which had the meat of its run in January, although its numbers are skewed by its second Christmas Day falling on Friday. Its opening Friday was $26.8 million, and it fell 14% to $23 million on Christmas Day in 2007.

Another example is Harry Potter and the Sorcerer's Stone. Back on November 16, 2001, the original Harry Potter film had a first Friday of $32.3 million. It fell 29% on its second Friday to $23 million and went on to earn $317.6 million domestically.

Over the rest of the weekend, American Sniper also held nicely, as older audiences are attending - and not necessarily on a Friday or Saturday night. Over its second weekend of wide release, American Sniper earned another massive haul of $64.4 million, dropping a relatively tiny 28% in the process. The weekend take is the eighth biggest ever for a second weekend.

The question now is where American Sniper ends up. It hit $200 million mark today, eight days after going wide. The $300 million mark is certainly achievable, and $350 million will be dependent on how it holds next weekend against what looks to be very little competition. For now, American Sniper has earned $200.1 million domestically, and has another $30 million from overseas theaters.

The Boy Next Door is second this weekend but is almost $50 million behind American Sniper. The Jennifer Lopez/Blumhouse Productions movie didn't have to do much this weekend, as it cost only $4 million to make. The Boy Next Door took in $5.7 million on Friday night (a half-million coming from Thursday previews). Given the production cost, that was more than enough for The Boy Next Door, as even a 2.0 weekend multiplier would put this one into the black for its domestic run.

The Boy Next Door was front-loaded on Friday, but did earn a weekend multiplier of 2.6, giving it a weekend take of $15 million, or just short of four times its production budget. For Jennifer Lopez, this is her best opening since Monster In-Law, which debuted to $23.1 million in May 2005. Lopez has struggled finding successful films since that, but her movie career may see a boost from the fact that she opened a film to double digits. The Boy Next Door is 13% fresh at RottenTomatoes (which, believe it or not, is the top score amongst openers). It earned a B- Cinemascore and will fall into the discount bin at Target shortly. However, for the king of the low-budget release, Jason Blum, this is another win on his resume.

Third goes to Paddington, released in the US by the Weinstein/Dimension combo. Paddington did okay this weekend, keeping in mind that we are coming off of a long weekend where Sundays are inflated, because there is no school for most on the Monday. After debuting to $19 million last weekend, Paddington held decently considering, earning $12.4 million and dropping 35%. As we discussed last weekend, the North American release for the British kids flick is almost unnecessary, as it has earned $130 million overseas (including $52 million from the UK alone), all against a $55 million budget. Add $40.1 million from North America so far, and Studio Canal has a decent sized hit on its hands - and a potential franchise. Now that it has pushed Strange Magic to the side, it has a weekend free to itself before SpongeBob Square Pants arrives on February 6th.

The Wedding Ringer drops to fourth and sees a deeper drop than that of Paddington. The Kevin Hart starrer earned another $11.6 million as it fell 44%. Made for a slim $23 million, The Wedding Ringer will do okay domestically. It is almost assured to cross the $50 million mark stateside. Currently, the Screen Gems release has pulled in $40 million. Next up for Hart is the March release Get Hard, co-starring Will Ferrell.

Landing in fifth is Taken 3, which has virtually imploded after its unexpected $39.2 million opening. Last weekend, the Liam Neeson starrer fell 63% to $14.7 million, and things don't get any better this weekend. In its third frame, Taken 3 earned only $7.6 million and had another wild drop of 48%. Normally, when a film opens close to $40 million, a $100 million plus finish is virtually guaranteed, but not with Taken 3. The $48 million Fox/Europa release looks like it will top out with about $90 million, but away from North America, the thriller has already eclipsed the $100 million mark.

The Imitation Game is sixth for the third straight weekend, as word-of-mouth, Oscar nominations and additional theaters have kept this one thriving. This weekend, the Benedict Cumberbatch starrer earned another $7.1 million, increasing 5% compared to last weekend. The Weinstein Company flick has brought its domestic total up to $60.6 million, and the overseas take has now eclipsed the $50 million mark as well.

Seventh is Strange Magic, the weird movie from LucasFilm, written and produced by George Lucas himself. Strange Magic is an out and out flop, recording a weekend gross of only $5.5 million. It shouldn't be too much a surprise, as it was only 11% fresh, and earned a B- Cinemascore. Budget data was not released, but a number around $50 million has to be expected. This one will be lucky to make $10 million, and will be forgotten quickly.

Selma is eighth this weekend, as being in the post MLK frame is like standing in a shadow. Selma took in $5.5 million this weekend, off 37% from last weekend, where it earned $8.8 million over three days and a remarkable $13.9 million over four. The $20 million release distributed by Paramount has now brought its total up to $39.2 million.

Ninth is Mortdecai, another new release flop. With a cast that includes Johnny Depp, Ewan McGregor, Gwyneth Paltrow, Paul Bettany and Olivia Munn, this eccentric comedy should have been able to open to $10 million, but failed to do that despite a strong marketing campaign. Instead, it earned just $4.1 million from its 2,648 venues.

Why? Mortdecai is 12% fresh at RottenTomatoes and earned a C+ Cinemascore – about the lowest score a comedy can earn. One does not have to be a rocket scientist to figure out that Mortdecai was going to flop this weekend. Whoever thought a farce should have a $60 million budget should be banned from greenlighting films, as I highly doubt that overseas audiences are going to bail this one out.

Tenth goes to Into the Woods, which is now in its fifth weekend. The musical earned another $3.9 million this weekend and fell 43%. The $50 million Disney release has now pulled in $121.5 million stateside and has picked up another $26 million from overseas theaters.

Jennifer Aniston's Cake didn't have much impact on the box office this weekend. The small film opened in 492 venues, and without an Oscar nomination for Aniston, earned only $1 million.

Overall, thanks almost entirely to American Sniper, the box office has its third "up weekend" versus last year already. This weekend, the top 12 films in release earned $142 million, which compares positively last year when the top 12 films earned $97.9 million as I, Frankenstein flopped. Next weekend, openers include Project Almanac from producer Michael Bay, Kevin Costner's Black or White, and Open Road's The Loft. It is almost a no-brainer that American Sniper will be number one again.