Weekend Forecast for January 23-25, 2015
By Reagen Sulewski
January 23, 2015
BoxOfficeProphets.com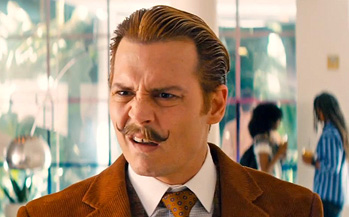 ---
So that happened. One of the strangest events in recent box office history occurred last weekend, and still Hollywood insists on releasing new movies, as if we want to talk about them, and not the Great Box Office Quake of '15. Sigh. Let's oblige them, I guess.

Leading the way of the trio of wide releases, at least in star power, is Mortdecai, an art-theft detective caper headlined by Johnny Depp, Gwyneth Paltrow, Paul Bettany, Ewan McGregor and Olivia Munn. Depp is doing his level best Peter Sellers impression as a fey detective (with a ridiculous mustache) in search of a painting that may have a link to lost Nazi gold. Between the accent, the facial hair and the mincing, that's basically the entire joke of the film, and that's asking a lot from viewers. If your comedy circuits are wired in a particular way, this probably gives you a nice zap, but it's going to be firing at a mighty small segment of the population that's willing to put up with absurdist farce.

Of course, Depp might bring along his own fans too, which is likely the reason this was made. In the past decade or so, he's run the gamut from mega-box office/critical acclaim (Pirates of the Caribbean), through mega box-office/terrible reviews (Alice in Wonderland), low-box office/critical acclaim (Finding Neverland) and on to just straight up flops (Transcendence, The Lone Ranger, Dark Shadows). Worryingly, it's been increasingly more frequent to find that last category of films in his repertoire, as the creative freedom he's earned from the Pirates films has led to awful creative decisions. Hence Pirates 5, I suppose.

Mortdecai has resulted in some of the worst reviews of Depp's career, and has the potential to be a lead weight around his neck for future projects. That director David Koepp was responsible for Depp's first big post-Pirates disappointment, Secret Window, likely doesn't help things, though he's largely anonymous in this, perhaps to his great relief. This reminds me to some degree of Steve Martin's attempt to relaunch the Pink Panther franchise, but without brand recognition. I'd expect maybe $11 million this weekend.

Thriller The Boy Next Door is next, starring Jennifer Lopez as a high school teacher who finds an attraction with a younger man only to – surprise – find he's enrolled in her class and now stalking her after she decides their dalliance was a mistake. The film does gymnastics that Michael Bay would be proud of to make that initial encounter legal (not to mention having a 28(!) year old play the teenager), but then proceeds to run through every other thriller cliche possible.

While I would have liked to have seen the epic rochambeau match between Lopez, Halle Berry and Jennifer Aniston for this role, the film itself looks to be entirely pointless, a Lifetime movie that escaped onto theaters. It's been about 10 years since the last Lopez film you could rightly call a hit (and no, voice performances don't count), and it's questionable just how much of a star you could really call her. Her double career as a singer and an actress has certainly been lucrative for her, but hasn't yielded more than a couple of real notable films in box office terms. What's a name worth for movies when it can't open a movie? Dumped in the mire of January, this should find about $9 million worth of business.

George Lucas once again finds one of his brainchildren abandoned in a dead time of the year, this time the animated film Strange Magic. Loosely adapted from A Midsummer Night's Dream, it's a quasi-musical tale set in a land of fairies and goblins and such and such, which is sent into chaos after the introduction of a magic potion. It looks like nothing more than a comedy version of 2013's Epic (which made over $100 million – admit it, you're surprised too), but with a relentless, dayglo assault on the senses.

A second-rate voice cast doesn't help things – although as I often mention, the target audience for these things doesn't particularly care about that. It does stand as a bit more of a bellwether, and Alan Cumming, Evan Rachel Wood, Kristin Chenowith and Maya Rudolph don't inspire much as top line names.

Released by Disney, but notably without that name posted anywhere near the project, this feels like a contractual orphan. Aside from last year's Legends of Oz, which was almost a fraud lawsuit waiting to happen, we haven't had a proper animation bomb since 2011, which gave us Mars Needs Moms and Hoodwinked 2, both of which killed careers. Between this and the news that came out that Disney rejected all his advice for the new Star Wars films, it's not been a good week for George Lucas. I'd look for just $6 million this weekend for Strange Magic.

Leaving aside that rather pathetic group of films, we get to the real box office story – American Sniper, and its insane, unprecedented, unpredictable $89 million weekend. Just by dint of inertia, and nothing to challenge it, it should be at the top spot of the box office for at least two more weekends. It's not a settled question that it'll have legs, despite this shocking show of support from what appears to be a bunch of very infrequent moviegoers making a yearly pilgrimage to the theater.

The last comparable black swan film might be The Passion of the Christ, which opened to similar shocking numbers, but still fell back at a traditional rate – maybe a little less than normal, but not dramatically so. The trouble with turning a surprise opening weekend into legs is one of sheer numbers – you've exhausted the audience in one go, and finding a wealth of people who weren't already convinced by the people who you somehow reached without realizing it is extremely difficult. While there will undoubtedly be some amount of interest from people who are curious what all the fuss is about, these are drop-in-the-bucket numbers. Will this have some effect on the Oscars? Very possibly, as it's difficult to ignore these results. Money talks, but it doesn't always have the final say in this regard (see: Avatar). A second weekend of $53 million is probably in the cards here.

The Wedding Ringer couldn't repeat Kevin Hart's last January result with Ride Along, debuting to $20.6 million. Of course, the film looked miserable, gross and lazy, so that's quite the achievement in itself, and certainly proves Hart's ability to open just about anything right now. Cultivating a loyal audience is important for a comedian, but many before him have seen that disappear with bad choices (see: Murphy, Edward; Sandler, Adam; Myers, Michael). Use this newfound power wisely. In the meantime, look for an $11 million weekend.

A similar number should be in store for the "no seriously, it was okay" Paddington, which is a respectable amount for gentle family entertainment, and especially so when one adds in it that it's from an origin that's poorly known in the US.

A big increase failed to materialize for Oscar nominated Selma, though it did show something in the way of legs, dropping by just a fifth over the holiday weekend. The snub effect might have been in play, but didn't amount to much. I'd expect about $6 million this weekend.