Weekend Wrap-Up
Sniper Dominates MLK Weekend; Blackhat Bombs Ugly
By John Hamann
January 18, 2015
BoxOfficeProphets.com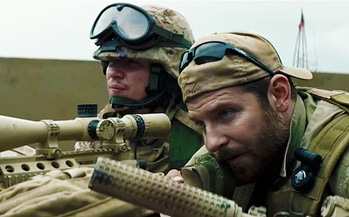 ---
Our first two big surprises of the box office year are upon us, as American Sniper leverages strong limited play, Clint Eastwood's name, and a long weekend, to turn the January box office record book on its head. Blackhat, the $70 million thriller does the opposite, and bombs ugly this weekend.

What a big weekend it is, with three brand new wide releases and American Sniper platforming from four screens last weekend to an ultra-wide 3,555 venues this frame. Add to that 11 films expanding in one form or another following Oscar nominations and last weekend's big opener, Taken 3, having another helping this weekend. New films this weekend include The Wedding Ringer, the latest buddy comedy with Kevin Hart, Paddington, the British import that had already earned more than $120 million before opening on our shores, and Blackhat, the new film from Michael Mann that stars Thor himself, Chris Hemsworth.

Our number one film of the weekend – by a mile – is American Sniper, the Clint Eastwood war flick starring Bradley Cooper. Analysts were looking for $40 million over four days, and instead American audiences turned out in droves, and the Warner Bros. release ended up earning more than double that amount in three days. This was another success story that was telegraphed by Thursday preview gross, as Sniper took in a surprisingly strong $5.3 million from preview screenings starting at 7 p.m. Taken 3 took in $1.6 million on Thursday on its way to a $39.2 million opening, and Interstellar earned $3.5 million on its way to $47.5 million. The Thursday preview figure remains elusive at targeting weekend grosses, but $5.3 million for American Sniper indicated big things were coming.

The Friday (combined with the Thursday preview figure) came in at an awesome $30.5 million, easily the biggest single day for the month of January and the 57th biggest opening day of all time. If American Sniper had reported only its Friday gross for the weekend, it would have been the 10th biggest January frame on the books. American Sniper ended up bigger than anyone imagined, and that was only Friday.

Over Saturday and Sunday, the $60 million film earned much more, and finished the three-day portion of the Martin Luther King holiday weekend with $90.2 million. Half of American Sniper's weekend ($45 million) breaks the January record - and so does the other half. Yes, it has more than doubled the former record holder for January, Ride Along, which earned a comparatively puny $41.5 million over the same weekend last year. The debut blows away Clint Eastwood's biggest box office weekend, as Gran Torino was his high point in 2009 when it earned $29.5 million. Bradley Cooper is the only one without a new record - but only just barely, as Guardians of the Galaxy debuted with $94.3 million in August of 2014.

How did American Sniper manage such a completely dominant weekend? Warner Bros. played their cards wisely after seeing how strongly Sniper played for test audiences. They put it out in limited release at only four venues for 22 days. There, it set records for a movie in limited release, pulling in venue averages of $158,364, $169,227, and $144,880 before going wide in its fourth weekend. This result tells me than Sniper was one of the hottest tickets in New York and Los Angeles for weeks, allowing it to earn $3.4 million before going wide. Its per location average for this weekend was a mighty $25,374, which is an amazing hold considering the scale and massive numbers involved.

Warner Bros. employed a similar strategy with Gran Torino, using a platform model over four weekends before taking it out to 2,808 over the pre-MLK weekend before widening it further over the next two weekends. Like Gran Torino, Eastwood made a movie audiences seem to like more than critics, as Gran Torino earned an A Cinemascore and was 79% fresh. Sniper took it further, earning an A+ Cinemascore while being a similar 73% fresh. Audiences, regardless of red or blue state, seem to be rushing out to see – and enjoy – American Sniper.

Going wide following Oscar nominations also helped American Sniper, as it was able to turn its six somewhat unexpected nominations into gold. This was the piece that Gran Torino missed, as despite audiences loving it, the Academy did not. That film was shut out from any nominations despite being in the sweet spot on the Oscar calendar.

Lone Survivor, the last war picture to open big in January, also employed the American Sniper model, as it spent two weekends in limited release before going wide on MLK weekend. The weekend before it received two Oscar nominations, it moved from two screens to 2,875, and earned $37.8 million, which is now the fifth biggest January opener. It also earned an A+ Cinemascore and went on to earn $125 million at the domestic box office. That's where the rub comes in for American Sniper. Lone Survivor was a breakout hit at home, but earned only $25 million overseas. Similarly, international box office for a film named American Sniper is up for debate, but it has already earned $16 million from overseas venues, and Eastwood's name has some pull for those audiences. At this point, the big question is whether American Sniper will reach $250 million domestic, and we'll monitor its overseas success as well.

The race for second spot was close between The Wedding Ringer and Paddington, as the January box office has seen some strong openers this year. The Wedding Ringer didn't do Ride Along type business, but it did enough to succeed and keep the "Kevin Hart roll" going nicely. The Wedding Ringer earned $7 million on Friday night – combined with a few hundred thousand earned on Thursday night. We have to go back to Kevin Hart's supporting role in Grudge Match to find a lower first Friday, as that one earned $7 million over its entire opening weekend in 2013. The Think Like a Man series, About Last Night, and Ride Along all opened bigger than The Wedding Ringer, but we still can consider this one a success, due to the $23 million production budget on the Screen Gems release.

Over the weekend proper, The Wedding Ringer pulled in an okay $21 million, but given the size of the American Sniper success and the fact that there were four films earning almost $15 million or more this weekend, we can gather that this one did more than okay. Ringer was given a wide release by Sony's Screen Gems, putting it out to more than 3,000 venues. The Wedding Ringer was also R rated, so a direct comparison to the PG rated Ride Along, which debuted to $41.5 million, isn't completely fair. Audiences liked it, as it earned an A- Cinemascore, but critics like this more than the 17% fresh Ride Along. The Wedding Ringer earned a 33% score.

The Wedding Ringer is going to match its budget over its first four days and will likely be profitable before it goes overseas. However, Kevin Hart films have the same problems as American war films – Ride Along may have earned $135 million stateside, but tallied only $19 million from international venues.

Third spot goes to Paddington, the extremely well reviewed kids' flick imported from Britain. Picked up for release in the United States by The Weinstein Company, there wasn't a huge marketing push for this one, but it still found success. Paddington took in $19.3 million from 3,303 venues, a solid start for a film with an A Cinemascore and a 98% fresh rating, but very little built-in audience like it had in Europe. Made for a relatively cheap $55 million by Europe's Studio Canal, Paddington already had the success it needed over there, earning $122.2 overseas, including $50 million alone from the United Kingdom.

Given the critical and Cinemascore success it has seen, Paddington could still see some solid legs stateside. It has to compete with Lucasfilm's Strange Music next weekend, but I think we all know how that's going to go, so there is no competition until SpongeBob SquarePants shows up on February 6th. I will be extremely interested to see how this one performs next week, whether it has legs, or if those who wanted to see it took it in this weekend.

That pushes Taken 3 all the way down to fourth after its $39.2 million open last weekend. The threequel earned a surprisingly soft $14.1 million in its second frame, giving it a serious 64% plunge in weekend two. Obviously, the audience for Taken 3 turned heel and went to American Sniper, leaving the Liam Neeson actioner in the dirt. It is still all coming up roses for Fox and Liam Neeson, though, as Taken 3 has now earned $62.8 million stateside and more than $65 million overseas, all against a $48 million budget.

Fifth is Selma, and after an $11.3 million expansion last weekend, the film gets pushed to the middle of the pack this weekend. Still, it doesn't lose a huge percentage of its audience, despite receiving only two Oscar nominations. In its second weekend of wide release, Selma earned $8.3 million over three days, off 27% compared to last weekend. I expect it to finish the long weekend strongly tomorrow but for now, the $20 million Paramount release has pulled in $26 million. In my mind, this has to be somewhat of a disappointment for Paramount, as I expected six to eight Oscar nominations and a bigger weekend this frame than last.

The Imitation Game manages to drop only one spot this weekend, as it turned eight Oscar nominations into an impressive hold despite The Weinstein Company adding only 45 screens. The Benedict Cumberbatch starrer earned another $7.2 million this weekend, dropping only .3% in the process. The Imitation Game cost only $14 million to make and has earned $50.8 million domestically, along with another $41 million overseas. The Weinstein Company has been wise in their release strategy here, as the current venue count leaves it room to grow as its date with Oscar approaches.

Into the Woods breaks away from its usual holdover pack of Unbroken and The Hobbit threequel this weekend, as it was more in the Oscar conversation with three nominations. Into the Woods earned another $6.5 million, and fell 32% despite the entrance of Paddington. After four weekends, the Disney release has earned $114.3 million stateside, and is still just getting started overseas with about $26 million.

The Hobbit: The Battle of the Five Armies drops significantly this weekend. The Peter Jackson film earned $4.9 million, dropping 48% in the process. With this drop, it will now be a close finish between Desolation of Smaug, which finished with $258.4 million, and The Battle of the Five Armies, which has a domestic gross to date of $244.5 million.

Ninth is Unbroken, which also falls hard this weekend due to no Oscar love. Unbroken earned another $4.3 million, and declined 48%. The $65 million flick from Angelina Jolie has now pulled in $108.6 million and is also getting a slower rollout overseas.

Tenth is Blackhat, our lone opening miss this weekend – and miss it did. The $70 million Michael Mann flick with Chris Hemsworth flopped badly, earning only $4 million for Universal. Critics and audiences hated it (C- Cinemascore), so there is no digging out from this pile of dung. Last year, Universal was riding high in January with Lone Survivor and Ride Along. This year they will start with a huge write down on Blackhat, and almost certainly have another one coming soon in The Seventh Son.

Despite all the hand-wringing that 2015 first quarter box office was going to pale in comparison to 2014, we sure are off to a good start. This weekend, the top 12 films earned $185.5 million, way ahead of last year, when the top 12, led by Ride Along, earned $154.5 million. Next weekend brings three strange titles, including Mortdecai, the odd comedy with Johnny Depp, Universal's The Boy Next Door, with J.Lo getting involved with much younger men, and the aforementioned Strange Magic from George Lucas, which simply seems weird.