Friday Box Office Analysis
By Kim Hollis
January 17, 2015
BoxOfficeProphets.com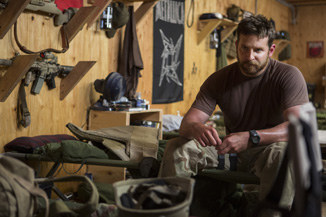 ---
The arrival of the Martin Luther King Jr. holiday weekend means that we have a few new releases entering the market to take advantage of the fact that some people have an extra day off across the United States. But for the 2015 holiday, it's an expanding Best Picture nominee that will dominate the headlines in a big way.

Prior to this weekend, the highest earning Academy Award for Best Picture nominee out of the eight selections for 2015 was The Grand Budapest Hotel, which had a domestic final total of $59.1 million. Yes, a Wes Anderson film was the biggest box office hit amongst the Academy's selections. Much has changed since Thursday morning when the nominations were announced.

American Sniper, Clint Eastwood's adaptation of the autobiography of Navy SEAL Chris Kyle struck a chord with audiences as it expanded from four venues to 3,555. After earning $3.4 million from those four locations through Thursday, the Warner Bros. film about the war in Iraq exploded with a Friday total of $30.5 million, including $5.3 from its previews that began at 7 p.m. on Thursday. It will become the top domestic earner of the Best Picture nominees within its first three days in theaters. In the process, American Sniper has declared itself a serious contender to Boyhood's presumed ascension to the podium at the Oscars.

It's actually very challenging to forecast how American Sniper will perform throughout the course of the holiday weekend. There's a possibility that it may be front-loaded, because it had a lot of pent-up demand during its limited release from a very engaged and diverse group of movie-goers. American Sniper is drawing a combination of conservatives who are supporting Eastwood and the real-life story of a man they view as a hero. Film fans who like to see all of the Best Picture nominees would have been in the audience as well. All of these potential viewers might have rushed out early to see the film.

Additionally, with two conference champion football games on Sunday, it's fair to expect some erosion of the movie's core demographic – men 25-54. One other critical factor to keep in mind is that American Sniper is going to have the biggest opening of January by a long shot – and since we're working with larger numbers, it's much harder to maintain that momentum from Friday through Sunday.

On the other hand, the Martin Luther King Jr. holiday weekend generally has a positive impact on the weekend multiplier for both opening films and holdovers. That extra day off can allow Sunday to perform more like a second Saturday. In the case of American Sniper, I'm going to assume that its potential weekend multiplier will fall somewhere between front-loaded and holiday-inflated, though probably closer to the front-loaded side. $76 million sounds correct, though we wouldn't be surprised to see Warner Bros. estimate it higher. Winning Best Picture would put it on the fast pace to $200 million or substantially more.


To put this opening weekend in perspective, consider that previous films set around the wars in Iraq and Afghanistan have been successful, but nowhere near American Sniper's level. Lone Survivor, which went wide in January of 2014, debuted with $37.8 million. Zero Dark Thirty earned $24.4million in its opening weekend. The Hurt Locker, a previous Academy Award winner for Best Picture, earned $17 million total.

When you put American Sniper up against Best Picture nominees since 2000, its debut becomes even more impressive. It should open higher than such stalwarts as The Lord of the Rings: The Return of the King ($73.3 million), Up ($68.1 million), Inception ($62.8 million) , The Lord of the Rings: The Two Towers ($62 million), Gravity ($55.8 million) and The Lord of the Rings: The Fellowship of the Ring ($47 million). It has a chance to open higher than Avatar ($77 million). If American Sniper pulls that off, it means that the only Best Picture nominee in history to have a bigger opening weekend will be Toy Story 3, which earned $110.3 million. To say that this debut is unprecedented is an understatement. Oscar watchers should be thrilled that a little bit of excitement has been thrown their way, as the upcoming ceremony was looking to be awfully predictable up to now.

There were other movies this weekend, though they admittedly feel like afterthoughts as they sit in the shadow of the behemoth. The Kevin Hart/Josh Gad bro comedy The Wedding Ringer debuted with $7 million, a number that's probably a bit disappointing for Screen Gems considering that Hart had been the driving force behind a good number of hits in the last 12 months. During this same weekend last year, Ride Along opened to $41.5 million, and About Last Night and Think Like a Man Too debuted with $25.6 million and $29.2 million, respectively. The Wedding Ringer won't even match About Last Night's first weekend total, as it should come in with around $20.1 million.

The glowingly reviewed kids' film Paddington offered a family option in a pretty dry market, and earned $4.7 million on Friday as a result. That number is very similar to the amount that The Nut Job earned just a year ago on the same weekend ($4.8 million). It's fair to expect a similar multiplier, which would give Paddington a Friday-to-Sunday total of $19 million.

Our final new opener was the Michael Mann misfire Blackhat. It earned just $1.4 million yesterday and will be all but forgotten after this weekend, as it should manage about $4.2 million for the three-day portion of the holiday frame.

Holdovers are led by Taken 3, which fell a whopping 71% from last Friday. The series is going to wind down in pretty rough fashion despite a decent debut. Its weekend total should be about $13 million. Selma had a rough morning when Oscar nominations were announced despite its Best Picture nod, since its only other nomination was for Best Song. It's down 37% from last weekend and should come in with $8.2 million from Friday-to-Sunday.