Top Chef Boston Power Rankings
By Jason Lee
January 13, 2015
BoxOfficeProphets.com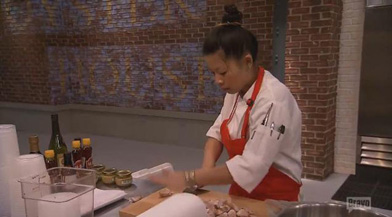 ---
1) Mei
Mei continues her late season charge by winning last week's Elimination Challenge - her second in a row and third overall this season. Of the remaining four chefs, she's the only one to have won multiple Elimination Challenges. If she keeps this up, I anticipate the title to come down to her and Greg.

2) Greg
Yes, I know, I know. You can make a very strong case that Greg deserves to be in the top spot. He narrowly missed out on winning the Elimination Challenge in the last episode and bested Mei in the most recent Quickfire. I personally, however, don't put much stock in the results of that Quickfire, given that it tested few (if any) culinary skills. Moreover, in light of the fact that Greg was on the bottom of both the Quickfire and the Elimination Challenges two episodes ago, I think the momentum (at least for now) rests with Mei.

3) George
Who would have thunk that the first chef eliminated this season would find a way to make it this far? It's amazing when you step back and consider it. George has proved himself more than worthy of making it back into the competition, but I don't believe he's shown an ability to really threaten Mei or Greg for the title. He could have easily gone home for his Dr. Seuss dinner, and he botched his Julia Child dish. He'll be in the finale, but no further.

4) Melissa
Like Mei, Melissa is finding her end-of-the-season form, winning the most recent Quickfire and doing a nice job on her vegetables in the Elimination Challenge (while messing up her braised shortribs). It seems like this is the umpteenth time that I've slotted Melissa at the bottom of the pack. She pulled the upset by avoiding elimination last week (to Doug's detriment) but I don't think she'll cheat death again. I foresee her being the odd chef out this week.