Top Chef Boston Recap
By Jason Lee
January 12, 2015
BoxOfficeProphets.com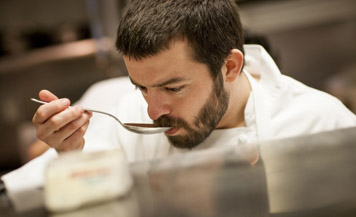 ---
After a couple weeks off, the Top Chef producers bring us back to the cheftestants' loft following the previous elimination challenge. Mei is rocking high-fives, reveling in her performance in the "New England author" challenge, where she put together not only the best dish of the day, but also her best dish of the competition so far. Also recognizing the departure of their lost comrade, Katsuji, the cheftestants give a toast in his honor. Doug notes that he was a pain in the ass, but a great guy and a real loss.

The next day, the chefs start reflecting on the fact that selection of the TC finalists is close at hand. Mei and Melissa have formed a close friendship, sharing similar family histories (neither family approved of their career choices). Off on his own, Greg says that he's "struggling with not winning as much as [he] wants" - an odd statement given that he's won more Quickfires and Elimination Challenges than any remaining chef.

Before we know it, it's time for the Quickfire. The chefs head to the TC kitchen where they spot Padma and… UGH. Andy Cohen and his old college roommate. Just for the record, I cannot stand Andy Cohen, with his smarmy attitude and smug "aren't I just the cutest?" smile. For a pitch perfect parody of his worst qualities, I strongly recommend you check out SNL's "Watch What Happens Live" sketch, if you haven't already.

Andy Cohen immediately starts asking annoying questions of the chefs. He asks who among them will win the title of Top Chef. All chefs raise their hand, but Doug's is the last to make it there. Andy zeroes in on him and asks which chef most intimidates him (Doug says it's Tom). Andy asks the chefs which among them have been hooking up. UGH. Andy Cohen is turning Top Chef into Watch What Happens Live.

Padma FINALLY steps in and kicks off the Quickfire ("Taskmaster," Andy calls her). Today, the chefs will be making a dish that's a part of every college student's life: ramen. They'll have to put their own spin on the ubiquitous, cheap, starchy dish. And yes, they'll be using instant ramen. To make things worse, they'll only be allowed to utilize ingredients that five Emerson College students have rummaged up from their respective dorm rooms.

The chefs select their college student (and accompanying dorm room pantry) and get started on this 20 minute challenge. Within seconds, it becomes eminently obvious that this is going to be the worst Quickfire of the season. No actual culinary skills will be tested - it'll all be about making the best dish out of horrible ingredients. It's reminiscent of Quickfires on early seasons of Top Chef, where the show was more gimmick that gourmet. Anyone remember the gas station Quickfire from Season One? UGH. I hate Quickfires like this.


In order to put together something marginally edible, the chefs are having to scrape and scrounge. Melissa breaks apart old spring rolls, Doug shows off a disgusting, half-eaten jar of salsa, and Greg takes the ingredients from leftover pizza to make a "pizza broth." All of the chefs are lamenting their slim pickings. Melissa samples her dish and comments, "Tastes like college." Yeah, I bet.

All of the food looks and sounds awful. Andy Cohen goes around with Padma trying out what the chefs have made, all the while, doing a bad, culinary version of "On the Red Carpet." In the end, Mei (ramen with spicy tomato, miso sauce) and Doug (ramen with coconut pineapple-water broth) end up on the bottom. Both seem nonplussed. On the top are George (ramen chili with hot dog) and Greg (bacon/pizza-broth ramen with string cheese), alongside winner Melissa (mac and cheese carbonara ramen).

And yes, this challenge was excruciating as those dish descriptions might indicate. I'm glad this whole thing is over and done. Bad premise + bad guest judge = no fun at all.

As a side note, mad props should go out to Melissa. This is, I believe, her first individual win on TC. Good for her. The win nets her $5,000, which she says she'll use to buy a scooter to use in San Francisco.

The chefs are instructed to head back to the stew room, where they find a TV, a remote, and a sign that says "Press Play." The chefs do so and up on the screen pops the warm, generous, and always entertaining Julia Child. It's an episode of Julia and Jacques Pepin Cooking at Home. I have very fond memories of watching this show with my mom, and it appears that the chefs all have similar warm fuzzies. It's a great moment to watch.

When the episode ends, Padma walks in with Jacques Pepin. All the cheftestants are blown away by being in the same room with such a culinary giant. Clutching a copy of Mastering the Art of French Cooking in her hand, Padma notes that Julia Child continues to inspire chefs every day. Jacques remarks that he is still inspired by her. Padma says that for their Elimination Challenge, the chefs are to take inspiration from Julia and her cooking style, and make a dish that's worthy of her legacy - an ode to Julia, if you will. The chefs have three hours in which to prep today, and then one hour tomorrow before service.

Padma then affords the chefs some time to chat with Jacques regarding Julia - to soak up as much Julia-ness as possible. Jacques smiles and describes Julia as a "very big woman with a terrible voice." Most of the questions center around how Julia liked to cook vegetables (prepared, seasoned, and served separately). Doug doesn't ask too many questions - he finds the experience of talking with Jacques Pepin surreal and tries to take it all in.

The chefs start cooking and all make it clear that they're aware of how big a deal it is to be able to cook a dish inspired by Julia Child for Jacques Pepin. Doug declares that he's going to take a big risk and roast whole loaves of foie gras. George and Melissa are going to make short ribs, though both are concerned by the three-hour time limit. George resorts to use of pressure cookers (always dangerous on TC), while Melissa goes down the traditional route of doing an oven braise, declaring that Julia Child "would never touch a pressure cooker." (I bet she's right).

Greg is making a coq au vin, though he's never made it before. He's also struggling a bit with incorporating butter (loads of it) into his dish - something that's anathema to his style of cooking.

Meanwhile, Mei is doing a duck a l'orange, though with a bit of Chinese five spice powder. It's her own little spin on the dish.

The next morning, all of the chefs in the kitchen are visibly nervous. Doug admits that he dreamed that night about cooking foie gras. Oh boy.

The chefs arrive at the kitchen and Greg and Mei, the first two up, go at it. Greg finds that his flavors have concentrated overnight (leading to them being too acidic and salty) and commences re-seasoning. Mei makes sure that all her sauces and purees are ready for her veggies and duck.

At this point, the cameras turn to the diners outside who are sharing memories of Julia. My husband comments that despite all this, no one has seen fit to mention that Julia Child used to live in Boston… a ridiculous oversight given the locale (in fact, I used to live down the street from her old house).

It's time for service and Greg goes first. He offers up coq au vin with glazed carrots. Jacques would have preferred (in the spirit of Julia) if he had separated the veggie garnishes (carrots) from the coq au vin (which does not traditionally include carrots), but finds the dish overall well-seasoned. Tom calls it "solid food."

Mei is next with her take on a duck a l'orange. Tom notes that she "took a lot of license" with this dish, but channeled Julia's spirit and brought a modern sensibility to the dish. Jacques is very happy with how she prepared the duck skin.

George is next and wishes that he had more time to cook his meat. He serves braised veal with pomme puree. Dana Cowen (from Food and Wine Magazine and a frequent guest judge) likes how George united all of the ingredients in his dish, and Jacques agrees. Tom comments that every part of the dish is taken care of "except the meat," which is under-seasoned. Barbara Lynch, a big Boston restaurateur, agrees. Tom further states that he would have liked George's meat to have cooked for 20 minutes more.

Melissa, like George, was worried about getting her shortribs cooked through. She kept them in the oven for her full hour of pre-service prep, but now worries that they've dried out or, worse yet, burned. She serves her red wine-braised shortribs with a brown butter polenta. Tom picks up bitter notes in the sauce, Hugh questions the char on her meat, and Dana says that while she wanted the shortribs to be unctuous and juicy, they came out dry. After Melissa walks away, Tom comments further that she over-seared her protein, leaving the cellular structure dead and unable to retain moisture.


Last up is Doug, who says he's feeling the most pressure he's felt in his whole life. He knows it's a big risk to roast whole loaves of foie gras, and is even more nervous given that he didn't have enough time to rest them. Serving the fois gras alongside roasted peaches, Tom finds the protein both over-seared and undercooked. He chastises Doug for not cooking his meat slower and providing more time to rest. Jacques calls the foie gras flabby and uncooked inside.

With two initial successes and three foul outs, it seems pretty clear which of the chefs will be on top and which will be up for elimination. Judges Table bears this out. Tom opens by saying that Julia Child was not about making a personal mark with her own style, but about teaching people about basic French technique… and that while the food was overall good tonight, technical flaws held some chefs back.

On top, predictably, are Greg and Mei. I'm not surprised. I'm sure everyone following this season knew from the very first episode that Greg and Mei were the class of the bunch, and thus it's wholly appropriate to see them on top this far into the season.

Tom says that Greg made a straightforward coq au vin, while Mei took inspiration from standard duck a l'orange and put her own spin on it. He asks Greg why his dish should win, who responds that trying to recreate what Julia actually made is the "highest form of homage." When asked why she should win, Mei says that she sought to pay homage but also to find a way to put a little bit of herself into the dish.

In announcing the judge's unanimous decision, Jacques says that the two dishes were classic and displayed proper technique - Julia would have enjoyed eating both. However, all of the judges agreed that Mei should win. Mei is overjoyed, as Julia Child was a huge inspiration to her growing up.

Tom does the honor of indicting all three of the bottom dishes, noting that each one featured an underdone protein. George knew that it would be tough to get a proper braise done in three hours. Jacques chides him for taking the meat out of its cooking liquid and them putting it back in - that dried out his protein. Melissa says that in retrospect, she would have chosen a different protein. Jacques didn't like her that meat was crusty on top but not "melty" inside. Finally, Doug admits that he didn't have enough time to properly prepare his foie gras. Hugh Acheson says that his meat was "all charred on top and all raw inside."

Surprising no one, Doug is being sent home. Tom says that the challenge was about "mastering the art of French technique" - something Doug did not do. He says that Doug's foie gras was "not just undercooked, it was practically raw in the center." Doug looks on, totally stunned. You can see the devastation on his face, even as his fellow chefs hug him goodbye.

"It was an ambitious dish that just didn't work out," he laments in his departing commentary. "Disappointment doesn't even come close to describing" what he's feeling. He vows to get back into the competition, though, via Last Chance Kitchen. Good luck to him.