Weekend Wrap-Up
Taken 3 and Selma Strong; Holdovers Not
By John Hamann
January 11, 2015
BoxOfficeProphets.com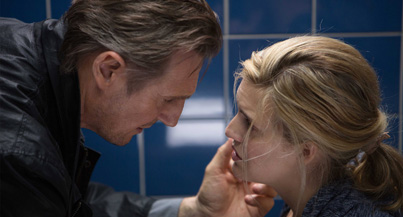 ---
We can always count on Liam Neeson and the Taken franchise to put a little punch into the box office, but the holdovers are dragging us down this weekend.

While we have that punch from Taken 3, which from critical accounts is not a very good film (currently 11% fresh at RottenTomatoes), it is also Golden Globe weekend, which means that some viewers try to catch up on good movies they may not have had access to over the holidays. Selma, which is nominated for four Golden Globes, went wide this frame, and The Imitation Game, with five nominations, moved from 812 theaters to 1,566. Into the Woods added 300 screens after receiving three nominations, while Inherent Vice went wider this although it only has one nomination. So, despite it appearing that there was only one new release, many films are in play, which makes for an interesting Golden Globe weekend at the box office.

Our number one film of the weekend, and the first film other than The Hobbit to be at number one since December 12th, is Taken 3, featuring reluctant action star Liam Neeson. As this is the third Taken film over a six year period, the series is prepping to lag somewhat, as the original opened to $24.7 million and the sequel in 2012 earned $49.5 million. Keeping momentum up on what is simply a set of routine revenge thrillers with little character development is extremely difficult, so one would think the series peaked with the middle story. However, if Taken 3 was able to match the opening of the middle-entry, it would finish the weekend with the biggest January debut of all time, as the leader for the first month of the year is last year's Ride Along, which debuted to $41.5 million. Tracking was looking for an opening in the $30 million area but has not been sharp in recent weeks.

That $30 million tracking number got blown up immediately, as the Thursday preview number was stronger than expected. Taken 3 earned $1.6 million from Thursday night screenings, and unless it was seriously front-loaded like a teen horror film, that kind of number indicates a debut beyond $30 million. The Friday number came in at $14.7 million (including $1.6 million from previews), which is third biggest single day in January box office history. While stronger than expected, it did not approach the $18.4 million opening day that Taken 2 earned. Its opening day was strong and so was its weekend – Taken 3 finished with $40.4 million, which is the second biggest January weekend ever, behind only Ride Along's $41.5 million. Heading into the weekend, few thought that Taken 3 would beat Lone Survivor, which debuted over the same weekend last year to $37.8 million.

Taken 3 becomes Neeson's biggest live action opening since Taken 2 and the sixth biggest live action debut of his career - and some of the higher first weekends are very big films. Neeson will likely never see a bigger start than The Dark Knight Rises, which opened to $160.9 million. His second biggest iconic debut weekend is Star Wars Episode 1 at $64.8 million, while third is the Clash of the Titans remake which started with $61.2 million. Then we have Taken 2 at $49.5 million, which is followed by Batman Begins at $48.7 million.

All of these films save Star Wars debuted in the last decade, which shows why Neeson has become one of the big stars of the day. His voice work is also extremely popular, and includes The Lego Movie ($69.1 million opening) and two Narnia movies, the Lion Witch and the Wardrobe ($65.6 million) and Prince Caspian ($55 million opening). Next up for Neeson is Ted 2, and if it's anything like the original, should debut beyond the $50 million threshold.

The Taken series has been a boon for Luc Besson's Europa Pictures and 20th Century Fox, as they don't cost a lot to make and play well both domestically and abroad. The first Taken film cost only $25 million to make, opened to $25 million stateside, and had tiny declines of just of 17% and 8% over its first two follow up weekends. It went on to earn $145 million stateside and $82 million overseas.

The sequel cost $45 million to make, and debuted to more than that amount, at $49.5 million. It didn't have the legs of the original, but still earned $140 million stateside and a ridiculous $236 million overseas. Taken 3 cost $50 million to make, and with this opening, should have no problem getting to $110 million domestically before going on to dominate the planet. Luc Besson and Europa used the same model for Scarlett Johansson's Lucy, which cost $40 million and made $458 million worldwide.

Finishing second this weekend is Selma, the Martin Luther King Jr. biopic, distributed by Paramount, but made by a group of companies that include Oprah's Harpo Productions and Brad Pitt's Plan B. Having earned $2.3 million over two weekends from only 22 screens, Selma went wide this frame, improving its venue count to 2,179. The increase in the amount of theaters led to a Friday take of $3.8 million, and a strong weekend take of $11.2 million, good for a decent venue average of $5,140. Made for $20 million, Selma is in a good position, given that the Martin Luther King Jr. holiday weekend is happening in the next frame, meaning Paramount can still take this wider. Add to that a potential for a few Golden Globe wins tonight and some Oscar nominations on January 15th, and Selma could have another strong frame next weekend.

Selma is putting a strong case together for a Best Picture Oscar. A strong limited release where the film averaged of $30,000 per screen during the weekends created discussion and strong word-of-mouth, as this is a very good film. At RottenTomatoes, Selma is a rock star, with a 98% fresh rating from all critics, and a 100% fresh rating from the site's "top critics." There have been a lot of "almost perfect" (at least in critics eyes) type of films throughout 2014, so Selma is a rare bird. Along with the great reviews, Selma has a sizzling Cinemascore of A+, which is more good news for a film that needs strong word-of-mouth to propel it forward. So far, Selma has earned $13.5 million against that $20 million budget, and it will be very interesting to follow this one over the next couple of weekends and potentially the next two months.

Third spot goes to Into the Woods, as the now three-weekend-old Disney release begins to struggle after two weekends of Christmas bonuses. This weekend, Into the Woods (and the rest of the middle-tier films) came back to earth, as it earned $9.8 million, off 48% compared to the $18.7 million it earned last weekend. Still, it earned what it needed to over the holidays, and has a gross so far of $105.3 million. It crossed the $100 million mark on Saturday, its 17th day of release. Into the Woods cost a relatively cheap $50 million to make.

That puts The Hobbit: The Battle of the Five Armies down to fourth place after repeating at number one over the last three weekends. Last weekend, Five Armies earned $21.7 million, but the shine has come off, and its audience appears to be, well, Taken. This weekend The Hobbit clincher earned $9.4 million, off a hurtful 57% compared to last weekend. The domestic tally for the Peter Jackson film has now reached $236.5 million stateside. It has also earned over a half-billion overseas.

Angelina Jolie's Unbroken is fifth and like Into the Woods, drops back somewhat. Unbroken earned $8.4 million, off 54% compared to the $18.2 million it earned last weekend. Unbroken hit the $100 million mark on Sunday, its 18th day of release, and now has a total of $101.6 million.

Sixth goes to The Imitation Game, which holds extremely well thanks to an 812 theater expansion. A weekend ago, the Benedict Cumberbatch starrer earned $7.8 million. This weekend, The Imitation Game pulled in $7.6 million, down just 2%. Made for $14 million, this Weinstein release has now earned $40.8 million stateside and about $30 million from international venues. A couple of wins at the Globes tonight and a bucketful of Oscar nominations could make this one an even bigger hit.

Seventh is Night at the Museum: Secret of the Tomb, now in its fourth weekend. After earning $14.5 million last weekend, the Ben Stiller flick got turned on its ear today, as it earned only $6.7 million, and fell a hurtful 54%. The $127 million feature has now picked up $99.5 million domestically and has crossed the $100 million mark overseas.

Eighth is Annie, which also plunges this weekend (thankfully). The musical earned only $4.9 million and declined 56%. Hopefully that's the end of that one, as we have three new releases next weekend and American Sniper expands, hopefully taking out Annie. Give the Sony film a gross so far of $79.4 million versus a $65 million budget.

The Woman in Black 2: Angel of Death falls from a fourth place finish last weekend all the way down to ninth this weekend. It earned only $4.8 million and fell a troubling 68%. This was a $1 million pick up for Relativity, but they had to pay for the marketing in North America, which likely means the $22.3 million gross so far isn't enough.

Tenth is The Hunger Games: Mockingjay Part 1, as the funds wind down for this one as well. In play now for a full two months, Katniss and company earned another $3.8 million, off 50% compared to the previous frame. The holidays made a big difference for this one, as it earned around $40 million from after weekend five to today. The domestic total has now reached $329.5 million, and it should pass Guardians of the Galaxy sometime next weekend or just after to become the top North American release of 2014. The overseas amount has surpassed $370 million, and Mockingjay still has a release date in China to come in February.

Inherent Vice expanded its run to 645 screens this weekend, but audiences did not turn out. The Joaquin Phoenix starrer earned $2.9 million from those screens, giving it an average of $4,496. Made for $20 million, it has a long way to go to find a profit, but could become a cult favorite on VOD. So far, it has earned $4.5 million.

Overall, the box office is down from last year, but still in okay shape. A year ago, Lone Survivor expanded and took in a surprise $37.8 million, leading the top 12 to a total of $122.2 million. This year, the opener matched Lone Survivor, but the holdovers didn't stand up, and the top 12 earned $112.6 million.

The third weekend of 2015 packs even more punch that this weekend did, as we have a trio of openers that should be strong, and an expanding film that could be this year's Lone Survivor. New films include the very well-reviewed Paddington, a film that has already earned more than $100 million away from home; The Wedding Ringer, with Kevin Hart looking to replicate his Ride Along success from last year; and Blackhat, the Michael Mann thriller that stars Thor himself, Chris Hemsworth. Expanding is Clint Eastwood's American Sniper with Bradley Cooper, which has earned almost $3 million, despite being out to only 4 screens.