They Shoot Oscar Prognosticators, Don't They?
Predicting the Globes and the Guilds Sharpen the Oscar Race
January 9, 2015
BoxOfficeProphets.com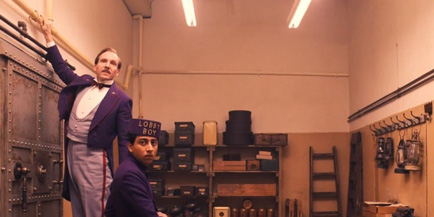 ---
On Sunday, the 72nd Annual Golden Globe Awards will keep the now-quickening Oscar race going. What films will win the major prizes? Indeed, since we last spoke (Happy New Year all!), most of the remaining major guilds have revealed their nominations for the best films of 2014. Thus, we are rapidly building towards an industry consensus just one week shy of next Thursday's early morning announcement of nominations for the 87th Academy Awards. Let's see where we are and where we are going.

Update on Oscar Race: The Guild Consensus Builds

When we last spoke, only the important Screen Actors' Guild had announced nominations. In the last few days, however, the editors, the art directors, the cinematographers, costume designers, the writers, and the all-important producers have named their nominees. Indeed, all but the influential Directors' Guild have yet to speak of their candidates. The producers arguably matter the most because they use preferential voting like the Academy does for Best Picture nominations. Since the expansion beyond five Best Picture nominees, the Oscars have aligned closely with the Producers Guild - but never one to one, so expect a surprise and a snub here and there. Here is a brief tally of where the main films landed with the guilds, alphabetically:

American Sniper: Producers, Writers, Editors, Art Directors.

Birdman: Producers, Actors, Editors, Cinematographers, Art Directors, Costume Designers (not eligible for Writers' Guild).

Boyhood: Producers, Actors, Writers, Editors, Costume Designers.

Foxcatcher: Producers, Actors, Writers, Art Directors.

Gone Girl: Producers, Actors, Writers, Editors, Art Directors, Costume Designers.

The Grand Budapest Hotel: Producers, Actors, Writers, Editors, Cinematographers, Art Directors, Costume Designers.

The Imitation Game: Producers, Actors, Writers, Editors, Cinematographers, Art Directors, Costumer Designers.

Interstellar: Art Directors, Costume Designers.

Nighcrawler: Producers, Actors, Writers, Editors, Art Directors.

Selma: Editors, Costume Designers (not eligible for Writers).

The Theory of Everything: Producers, Actors, Editors, Art Directors, Costume Designers (not eligible for Writers).

Unbroken: Cinematographers, Actors, Art Directors.

Whiplash: Producers, Actors, Editors.


---
| | | | | | | | |
| --- | --- | --- | --- | --- | --- | --- | --- |
| Movie | Producers | Writers | Actors | Editors | Costume Designers | Art Directors | Cinematographers |
| American Sniper | | | | | | | |
| Birdman | | | | | | | |
| Boyhood | | | | | | | |
| Foxcatcher | | | | | | | |
| Gone Girl | | | | | | | |
| Grand Budapest Hotel | | | | | | | |
| Imitation Game | | | | | | | |
| Interstellar | | | | | | | |
| Nightcrawler | | | | | | | |
| Selma | | N/A | | | | | |
| Theory of Everything | | N/A | | | | | |
| Unbroken | | | | | | | |
| Whiplash | | | | | | | |
---


These stats tell us some very clear information about where the winds are blowing in Hollywood for the 2014-2015 awards season.

Two movies - The Imitation Game and The Grand Budapest Hotel - have scored a clean sweeps and appear poised to lead the nominations on Thursday morning. Against all odds, Grand Budapest will become the earliest released Best Picture nominee since I believe Erin Brokovich in 2000. A lack of Best Picture nod for that movie will be nothing less than a complete snub at this point.

Birdman is also strong, sweeping all the categories it was eligible for (don't ask me to explain the quirky Writers' Guild of America rules) so it is also a mortal lock for several nods, including Best Picture.

Boyhood is still strong. It is not expected to get a lot of nominations in the craft categories and, if anything, its nod by the costume designers shows how beloved it is in the industry. With likely no more than six Oscar nominations, it is poised to become one of the least-nominated Best Picture winners in modern history, joining Crash and The Departed who won with six or fewer nominations each. The nomination and win seem assured.

Gone Girl is a contender to keep taking very seriously despite grumblings by some critical circles. It has missed out only on nods from the cinematographers and art directors, but received prestige guild recognition from producers, editors, writers, and actors. Granted, this could be another David Fincher "Dragon Tattoo" situation brewing (that film did very well with the guilds but missed out with Oscar) but I think there is enough passionate support for the movie to land it a Best Picture nomination. It just keeps showing up on lists.

Nightcrawler and American Sniper have to be taken seriously, appearing repeatedly in the guilds lists. Nightcrawler, in particular, has passionate support. I still have trouble seeing it as a Best Picture nominee - and it may be one of the one or two from the Producers' Guild that misses with Oscar - but it appears likely to be one right now. American Sniper is a surprise, but its consistent guild showing is a telling sign.

Unbroken and Interstellar have faded from contention other than in the technical categories.

Whiplash will likely land a Best Picture nod. It has nods from the most prestigious guilds, and has passionate support - likely enough to sneak it through despite an expectedly weak below-the-line showing.

And what about Selma? To be sure, Selma is another later-comer to the race, so it could sneak in like other last-minute releases (Django, Wolf of Wall Street) have. Its late entrance has hurt it, as it has been unable to get screeners to the screen actors and the producers, opting instead to send them directly to Academy members. But will they have seen it in time? I still think Selma will land a Best Picture nod, but it would have to overcome daunting odds to score a win without at least a Producers' Guild nomination and with zero SAG nominations.

The Directors' Guild will announce their nominees early next week, and we will have our final clue as to what names we will hear on nominations morning. In the meantime, let's try and forecast what the Hollywood Foreign Press Association will do on Sunday.

Crystal Balling the Golden Globe Movie Categories

Unlike the Academy, the HFPA is comprised of somewhere between 80 and 100 foreign movie critics. Because they are a smaller group, it makes more sense to speak of "them" as a unity, acting together with a purpose. One hears a lot of theories about what "they" will do. "They" love to reward big stars, "they" try to predict the Oscars, "they" like to go their own way sometimes, "they" love international stars, etc. Let us put some of these stereotypes to use in predicting the Globes.

Best Motion Picture – Drama
This one is Boyhood's to lose. Some note that the HFPA likes to go its own way here - wins for Babel, Atonement, and Avatar over eventual Oscar winners seem to prove it. I'm doubtful. I think the HFPA in those years was trying to predict what the Oscars would do, and did not foresee the shift in tone in favor of The Departed, No Country, and The Hurt Locker, respectively. Or perhaps they did not like the violence of those movies. This year, however, it is clear that Boyhood is the Oscar winner, and there is no violence. They could really shake it up with a pick for Selma and The Imitation Game, the Toronto winner, seems up their alley (British epic like Atonement), but I still think it's Boyhood - the HFPA, like all other precursors, are hysterically and oddly obsessed with predicting the Academy Awards.
Will win: Boyhood
Could win: The Imitation Game

Best Motion Picture – Comedy or Musical
Birdman. They love Iñárritu (see: Babel). Grand Budapest Hotel did well with nominations, but Birdman is more critically beloved. Unlike the Oscars, they can split the difference between the two front-runners (Birdman and Boyhood) and still be right on Oscar night.
Will win: Birdman
Could win: Grand Budapest Hotel

Best Actor – Drama
Eddie Redmayne, The Theory of Everything. There's no real competition to the charm of the Brit here.
Will win: Eddie Redmayne
Could win: Jake Gyllenhaal (Nightcrawler)

Best Actress – Drama
Julianne Moore, Still Alice, is the supposed Oscar front-runner, and she's overdue a movie Globe. Still, because Moore is also nominated in the Comedy category, they could see it fit to give it to Reese Witherspoon's acclaimed performance in Wild, or even Jennifer Aniston for Cake - if only to see Brad and Angelina's reaction from the audience. But I doubt it.
Will win: Julianne Moore
Could win: Reese Witherspoon

Best Actor – Comedy or Musical
Michael Keaton, Birdman. Again, the HFPA won't have to pick between the two Oscar frontrunners of Keaton and Redmayne. They can and will reward both, leaving us prognosticators none the wiser.
Will win: Michael Keaton
Could win: Ralph Fiennes (The Grand Budapest Hotel)

Best Actress – Comedy or Musical
Emily Blunt has received a lot of support for Into The Woods, but they did love Julianne Moore's performance in Map to the Stars. I could also see an Amy Adams upset here for Big Eyes, so this one is a bit close to call. Moore could pull off the first double win since Kate Winslet did it for The Reader and Revolutionary Road.
Will win: Emily Blunt
Could win: Julianne Moore

Best Supporting Actor
J.K. Simmons, Whiplash, can begin his march to the Oscar podium collecting a Globe on Sunday. Although Ed Norton poses an outside threat, his movie will receive sufficient other awards, and this is a great place to reward the critically beloved Whiplash.
Will win: J.K. Simmons
Could win: Ed Norton (Birdman)

Best Supporting Actress
This one is Patricia Arquette's (Boyhood) all the way, as a clear place to reward that movie. Again, Emma Stone is strong in Birdman, but they do like to spread the wealth. The industry has been dying to reward Jessica Chastain, but her part in A Most Violent Year may be too small for them compared to Arquette's leading turn.
Will win: Patricia Arquette
Could win: Emma Stone

Best Director
This is a tough one - it may tell us which movie they think is really the best. Birdman's Iñárritu
did not win when Babel won (Scorsese won instead) so they may want to make it up to him. But Boyhood is popular. It will be close.
Will win: Alejandro González Iñárritu (Birdman)
Could win: Richard Linklater (Boyhood)

Best Screenplay
Although it is tempting to chalk this up to another Birdman/Boyhood showdown, I think this one will be a good place for them to reward Wes Anderson, whose movie they clearly liked a lot.
Will win: The Grand Budapest Hotel
Could win: Birdman

Best Animated Feature Most people are saying The LEGO Movie, but I have trouble believing this from foreign reporters. It is a relatively weak field, but I think the best movie in the bunch will likely be the winner, with the runner-up the potential upset.
Will win: Big Hero 6
Could win: How to Train your Dragon 2

Best Foreign Language Film
Of the ones I've seen, Ida is my favorite, but Leviathan has the "urgency of the moment" feel to it. Force Majeure is also superb, so it's between those three.
Will win: Leviathan (Russia)
Could win: Force Majeure (Sweden)

Best Original Score Although Interstellar deserves it, this is going to go to one of The Imitation of Everything, both of which have moving scores, with the Stephen Hawking score receiving the most acclaim thus far.
Will win: The Theory of Everything.
Could win: The Imitation Game.

Next week we will put our money where our mouths are and give final predictions for Oscar nominations.