Weekend Forecast for January 9-11, 2015
By Reagen Sulewski
January 9, 2015
BoxOfficeProphets.com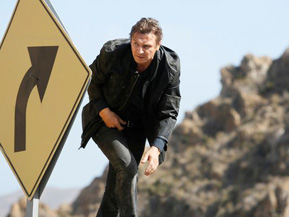 ---
It's the end of an era this weekend, as the film series that revitalized a career and an entire month of the release schedule – in a thoroughly ridiculous fashion – comes to a close.

Seven whole years ago, Taken was just a bit of throwaway action film in the depths of the winter slate, a bit of castoff from the Luc Besson film factory that could have very well been one of those "wait, that actor did *what*? Guess he was desperate" direct-to-video cash grabs. Instead, thanks in large part to one particular and now oft-parodied monologue, as well as Liam Neeson's late-career gravitas, it had a surprisingly strong opening weekend of $24 million ... and then ran...

And ran and ran and ran all the way to $145 million domestic, as notable for its total as the fact that it was a rare reappearance of old-school legs ("Gather 'round kids, as I tell you of a time when films were expected to stay in wide release for more than six weekends..."). And like Die Hard before it, it helped to spawn an entire new subgenre. Instead of "Die Hard on a ____", we had "Taken with a ____", where a series of Very Old Men Who Can Kick Your Ass (often Neeson himself!) kicked your ass in a variety of situations. Ironically enough, Bruce Willis now qualifies as one of those Very Old Men.

Taken 2 got the "promotion" to October and basically matched the production of the first film, when it certainly could have fallen to Earth as people reconsidered whether they really liked this style of film or not. A visibly embarrassed Neeson vowed that there wouldn't be a Taken 3 – not in so many words, but called a trilogy "bad parenting" – but here we are with it back in its original release slot. Perhaps honoring that notion that a third film about an abducted daughter would be a bit silly, Taken 3 has Neeson coming home to find his wife murdered (Famke Janssen: "I still get my full rate, right?") and himself framed for it. Obviously it's one of his many, many, many enemies to blame for this, but while he's trying to figure that out, he has to survive on the run from the police department and many other scary acronymed agencies, preferably without killing them, since they're ostensibly on the same side as him.

Aside from perhaps making a bit more sense plot-wise, it opens up a lot more opportunity for mayhem and close-quarters ass-kicking for its aging star (it's at this point I'm reminded that Death Wish got to five films), as everyone becomes a target/assailant. We're still left with the faint ridiculousness of the now-sexagenarian Neeson besting all comers, but if Non-Stop or Unknown or The Grey didn't use up his mojo, I can't see how Taken 3 will break the spell. However, the series does seem to be making the pertinent decision to not push things too far by promising a conclusion to things. I'd look for an opening weekend of about $28 million and perhaps some closure on this genre.

Another Oscar contender expands into wide release as Selma makes the jump to 2,100-plus venues. Chronicling the three-month period in 1965 when voting rights activists converged on Alabama in order to secure voting rights for its majority Black population. Led by Martin Luther King Jr, the activists survived intimidation, both from private and official sources, up to and including beatings and murder, and marched from the title city to Montgomery in what was eventually a successful campaign to secure federal support to supplant Jim Crow laws.

More than just a civics lesson (I mean, that was Lincoln), it also purports to show the behind the scenes actions of the leaders of the civil rights movement and how they were as people – their struggles, their sometimes differing viewpoints, and the tolls that the movement took on them. As produced by Oprah Winfrey, it's one of this years "Important" Oscar films, although it's been slow out of the gate getting love from the guilds and trades. It's put up some gaudy numbers in limited release to date though, with $2 million in the bank after two weeks in release in just a couple dozen theaters.

The wide expansion is a bold move, then, and is banking on the importance of the subject and the recognition of its main characters more than its actors, who are by and large not that well known. English actor David Oyelowo plays Dr. King, with Carmen Ejogo as his wife Coretta Scott King. Tom Wilkinson plays President Lyndon Johnson and Tim Roth is Alabama governor and avowed segregationist George Wallace. In smaller roles we have such people as Martin Sheen, Giovanni Ribisi, Alessandro Nivola, Dylan Baker, Common, Cuba Gooding Jr and Oprah herself, so it's not without talent, but is probably something we can ignore as far as influencing the box office. It's not as if 12 Years a Slave needed big names to push it to big numbers.

Launching as it does with the idea of civil rights for Blacks once again being a focal point of protests and controversy, although when is it truly not, it has a bit of that "ripped from the headlines" urgency and relevancy, which is sure not going to hurt its prospects. Look for a weekend of about $12 million for Selma.

The Hobbit: The Battle of the Five Armies gives way after three weeks at the top of the box office, and its current total of $220 million is about $5 million ahead of pace of the previous Hobbit film on an even comparison. However, its comparable weekend take is going to be significantly down, and we should start seeing some rather precipitous drops in its weekend box office now that we're entirely out of the Christmas season. International box office continues to step up to take up the slack, but domestically this is continuing to underwhelm. It should see about $11 million this weekend.

Into the Woods and Unbroken matched each other step for step in their first two weekends, both sitting at around $90 million to date. The pair of Oscar contenders, related in no other real way than vying for awards, their release date and eerily similar box office totals, should find their way to about $10 million each this weekend.

Another contender, The Imitation Game, more than doubles its screens after a solid couple of weeks in national release. The story of Alan Turing and his efforts to crack the Nazi Enigma code has earned $30 million to date, and should find about $9 million this weekend.

The glut of returning films continues as Night at the Museum: Secret of the Tomb had a solid first weekend after Christmas with $14 million, pushing its total to near $100 million. It will fall well short of the standard set by the previous two movies, with around a $130 million final figure and $8 million this frame.

Musical remake Annie pulled off a solid third weekend with $11 million to push its total to around $75 million, which gives it a solid chance at $100 million domestic, albeit not much more. $7 million this weekend seems appropriate.

Horror sequel The Woman in Black 2 pulled off a solid $15 million in its opening, but should find the fate of all winter low-budget horror – its severely front-loaded performance points towards a weekend of about $6 million upcoming.