Top Film Industry Stories of 2014 #8:
Angelina Jolie's Year Was Bigger Than Her Horns
By Kim Hollis
January 6, 2015
BoxOfficeProphets.com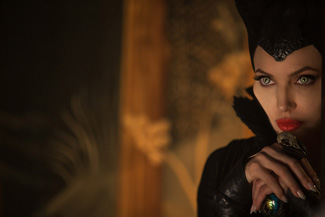 ---
"If you ask people what they've always wanted to do, most people haven't done it. That breaks my heart." --Angelina Jolie

No one would ever accuse Angelina Jolie of a lack of ambition and drive. Since her career kicked off with Hackers in 1995, her movies have an average box office take of $69 million. She has won an Academy Award. Despite the fact that she is one of the hardest working women in Hollywood, she has made her family a priority. And somehow she's managed to do all this while staying entirely true to herself. People may think her odd and spoiled, but there's no arguing the fact that she is one of the industry's true shining stars. When her name is attached to a project, it matters.

And somehow, 2014 was her biggest year ever.

Jolie had dominated headlines in 2013 for a unique and surprising reason. She underwent a double mastectomy as testing had indicated that her genetics marked her as a candidate for breast cancer. Her decision to talk about her surgery publicly increased awareness of the disease and the use of genetic testing as a preventative measure. In March of 2014, Jolie revealed that she would also plan to have an oophorectomy – ovary removal surgery. Because she has inherited the gene known as BRCA1, her likelihood of contracting either ovarian or breast cancer is quite high, and her mother died from the former at the tender age of 56. Once again, Jolie's willingness to be open on such a private and delicate subject was inspiring for women going through similar experiences.

Two months later, Jolie was preparing to return to movie screens for the first time in three and a half years. On its surface, there was not that much to distinguish Maleficent from earlier fairly tale adaptations such as Snow White and the Huntsman, Mirror Mirror, or Hansel and Gretel: Witch Hunters. All three of those films had top-tier lead performers (Kristen Stewart and Charlize Theron for Snow White and the Huntsman, Julia Roberts for Mirror Mirror, and Jeremy Renner for Hansel and Gretel) and saw varying levels of box office success. Given that historically Jolie has been more popular with male moviegoers than women, the belief was that the female demographic might not offer Maleficent enough support to allow it to fully break out.

Whether it was Jolie's higher profile due to her relatable health issues or simply Disney's marketing machine in overdrive, Maleficent debuted with a fantastical $69.4 million. It would go on to show remarkable staying power throughout the summer, finishing its run at the domestic box office with $241.4 million. That amount was good enough for sixth place overall in North America in 2014, meaning that Maleficent bested such tested franchise films as X-Men: Days of Future Past and The Amazing Spider-Man 2. Even better, the film had intense interest from international audiences, earning $516.3 million from overseas venues. Since Maleficent should have just been another attempt to cash in on the fairy tale craze, the credit for its success does seem to fully rest on Jolie's shoulders. She embodied the character completely, so much so that her children even asked her to do the "Maleficent voice" at home.

Although the roaring success of Maleficent was surely thrilling for Jolie to experience, she likely was even more excited by some recognition she received in June. Jolie was appointed an Honorary Dame Commander of the Order of St. Michael and St. George (DCMG) for co-founding the Preventing Sexual Violence Initiative along with the U.K. Foreign Secretary William Hague. Jolie noted that her work as a United Nations envoy to stop sexual violence in war zones was a rewarding experience, saying, ""Working on PSVI and with survivors of rape is an honor in itself," Jolie, who co-hosted a four-day meeting in London this week aimed at stamping out sexual violence in armed conflicts, said in a statement. "I know that succeeding in our goals will take a lifetime and I am dedicated to it for the rest of mine."

Most people don't accomplish as much as Jolie did during the first six months of 2014 in a lifetime, yet her big year was nowhere close to being complete. In August, she took a little personal time out to marry Brad Pitt, her partner of nine years. Her wedding dress had flowers and comics drawn by her children on it. Angelina really was doing 2014 her way.

Jolie would end 2014 with a mighty roar, but not before becoming a piece of another Film Industry Story of 2014, the Sony hack. Although there continues to be debate about whether the hackers were North Korean, former Sony employees, lovers of anarchy, or some combination of all three, a number of potentially embarrassing email messages between Sony Pictures Entertainment co-chairperson Amy Pascal and movie producer Scott Rudin resulted in inflammatory headlines and hard feelings.

Where Jolie comes into the picture is in an exchange between Pascal and Rudin about the Steve Jobs biopic, which Sony was backing (it moved to Universal Pictures later) and Rudin was producing. Rudin was irritated with Jolie because she wanted Fincher to direct her Cleopatra movie while the movie producer wanted Fincher for the Jobs film. He tells Pascal, "There is no movie of Cleopatra to be made (and how that is a bad thing and rampaging spoiled ego of this woman and the cost of the movie is beyond me) and if you won't tell her that you do not like the script - which, let me remind you, SHE DOESN'T EITHER - this will just spin even further out in Crazyland but let me tell you I have zero appetite for the indulgence of spoiled brats and I will tell her this myself if you don't."

Considering Jolie's status in the industry (and the fact that her husband is now an Academy Award-winning movie producer himself), this is a precarious line to be walking. Rudin goes on to say, ""I'm not destroying my career over a minimally talented spoiled brat who thought nothing of shoving this off her plate for eighteen months so she could go direct a movie. I have no desire to be making a movie with her, or anybody, that she runs and that we don't."

We're going to presume that he won't have to worry about being burdened with working her again – and probably not Pitt or Fincher, either.

Jolie got the last laugh, anyway. The movie that Rudin mentions her directing is Unbroken, and this little movie about the triumph of the human spirit defied all expectations to become one of the big stories of the 2014 holiday movie season. Despite having no real stars other than the one behind the camera, Unbroken debuted on Christmas Day with a whopping $15.4 million. Its Thursday-through-Sunday total was $46 million. Its cumulative domestic total through yesterday was $89.1 million.

Although the movie hasn't received overwhelmingly positive critical response, audiences seem to love it. It has received awards attention from the American Film Institute, the Critics' Choice Movie Awards, and the National Board of Review. It remains to be seen if the film with capture the attention of the Academy, but if Unbroken receives a Best Picture or Best Director nomination, Jolie's 2014 story ends on a cliffhanger rather than being tied up with a tidy bow.