Top Film Industry Stories of 2014 #10:
The LEGO Movie is Lord of Business
By Kim Hollis
January 5, 2015
BoxOfficeProphets.com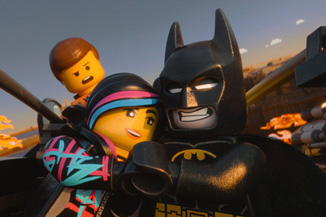 ---
Bionicle: Mask of Light. Hero Factory: Rise of the Rookies. LEGO Batman the Movie – DC Superheroes United. All of these were LEGO films released prior to 2014. Every one of them went direct-to-DVD, along with five other movies that were released by the Danish toy company between 2003 and 2013. In 2009, as the Bionicle films ended and Ninjago became a hot television property, LEGO made a deal with Warner Bros. for a theatrical release. You'd be forgiven if you laughed at the notion at the time. It's one thing to make low-budget, toy-focused films aimed solely at entertaining boys between the ages of four and 12. It's another thing entirely to craft a major motion picture about building blocks that would expand the audience to something more.

After the 2009 agreement between LEGO and Warner Bros. for a feature-length film to be released in theaters, LEGO experienced unprecedented growth. Its sales in 2009 were right around $2.25 billion. Fast-forward to the close of the year in 2013 and that number was approaching the $5 billion mark. Now, not only were kids playing with LEGO building sets, but adults were enjoying them as well. With sets that feature architecture, Marvel superheroes, Harry Potter, hobbits and more, LEGO expanded their audience to include collectors, pop culture enthusiasts, hipsters and nerds. Suddenly, LEGO was cool. Parents could share the joy of building something original with their kids, while obsessives like Comic Book Guy could build a model of Iron Man's Malibu mansion or Batman's tumbler – assuming that they could bring themselves to remove it from the packaging.

In 2010, Warner Bros. brought in Phil Lord and Christopher Miller to write and direct the film. At this point, they were best known for the quirky animated title Cloudy with a Chance of Meatballs, but they were also responsible for the even quirkier (and more subversive) MTV animated series Clone High. Soon after they began work on The LEGO Movie, the duo also delivered another huge hit in 21 Jump Street. The studio could rest assured that they had put the LEGO project in the hands of two guys who were known for delivering quality films and had street cred amongst the very nerds, geeks and pop culture fans that the movie would need to court if it had any hope of appealing past that childish demographic.

When the trailer was released into theaters during the summer of 2013, any apprehension the studio might have had about the box office potential for this project was likely put to rest. Both adults and children chortled at the jokes in the film. People who were on the fence about The LEGO Movie (and people who had no idea they even wanted to see it until they saw the preview) were suddenly penciling in February 7, 2014 on their calendars. The goodwill surrounding the film's release continued to build until its official opening night.

Although Warner Bros. was certainly assured that The LEGO Movie would turn a profit, until the buzz became deafening in the weeks leading up to the film's official release, they likely had no idea what a box office monster they had on their hands. But when the theatrical receipts for Friday, February 7th were reported at $17.1 million, they had to be feeling like everything was indeed awesome. That happy feeling would only grow by the weekend's end, as the Friday-to-Sunday total was a whopping $69.1 million. The LEGO Movie would hold onto the title of highest opening animated film of 2014, coming out ahead of films such as How to Train Your Dragon 2 ($49.5 million opening) and Big Hero 6 ($56.2 million).

That success carried over into the final domestic total as well. The LEGO Movie earned $257.8 million from North American venues, not to mention an additional $210.3 million from international theaters. With this massive domestic total, Warner Bros. became the first studio in six years to steal the title of top-grossing animated film from the Walt Disney Company. It also became the fourth-highest grossing domestic film of 2014, defeating such movies as Transformers: Age of Extinction, X-Men: Days of Future Past, Godzilla and The Amazing Spider-Man 2. And let's not forget that these numbers only take into account theatrical receipts. LEGO released an entire line of LEGO Movie toys that were huge sellers, and we can't ignore the impact and lift that the project had on their other product lines as well. In September, LEGO became the biggest toy company in the world, beating Mattel for the first time ever as revenues from the first half of 2014 totaled $2.03 billion.

How did Lord, Miller, Warner Bros. and LEGO achieve such a mighty feat? Ultimately, the answer is in the fact that when the story was crafted, the collaborators explored all of the things that make LEGO fun. The audience was able to experience the expansive fantasy world through the eyes of the main character, the wide-eyed and naïve Emmet Brickowski. When he falls for a girl named Wyldstyle, who should he discover is her boyfriend but Batman, who is actually kind of a douchey jerk?

Ultimately, the film reminds its viewers exactly what it was like to love LEGO as a child. With Lord Business (Will Ferrell in perhaps the most Will Ferrell role ever) suppressing creativity, maybe LEGO isn't just about preplanned sets with precise instructions. Perhaps, instead, it's about building our own worlds where Robin Hood, Mermaid Lady, Gandalf, Swamp Creature, 1980s Something Space Guy, the 2002 NBA All-Stars and Wonder Woman can all thrive and inhabit the same story. Maybe Dumbledore can live in the Simpsons' house and Abraham Lincoln can fight crime (or vampires) alongside Iron Man.

And everyone, from the keenest collector to the most innovative architect, needs a little reminder of that sometimes.