Top Chef Power Rankings
By Jason Lee
January 6, 2015
BoxOfficeProphets.com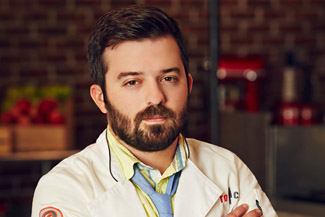 ---
1. Doug
It's been a back-and-forth battle over the past couple of weeks between Doug and Greg for the top spot in our Top Chef Power Rankings. This week, the top dog is clear. In the most recent episode, Doug was yet again his consistent self, making it into the top two in the sausage Quickfire (behind Greg) and the top three in the Elimination Challenge (behind Mei). He has thus been in the top of either the Quickfire or the Elimination Challenge in each of the last four episodes.

2. Greg
Despite the fact that Greg was in the bottom of both the Quickfire and the Elimination Challenges in the last episode, I'm reluctant to drop Greg below the #2 spot. His Thai sausage was dissed by Rob Gronkowski - a football foodie - and while he was technically on the chopping block in the Elimination Challenge, it was mostly due to the overall strength of the cheftestants' dishes. Plus, I'm guessing that had George not won immunity in the Quickfire, it would have been him up for elimination and not Greg. Another shaky performance next week and I'll think about dropping Greg lower... but not yet.

3. Mei / 4. George
Like last week, I find third place to be a tight battle between Mei and George. Yes, George won the Quickfire, but Mei won an Elimination Challenge where the quality of food was arguably at the highest level of the season thus far. To me, that gives her the edge over George.

5. Melissa
It was nice seeing Melissa finally serve up some stellar food in the most recent Elimination Challenge - it's been a long time coming. In fact, this was Melissa's first time in the top three of an Elimination Challenge since Episode 3 at Fenway Park. I don't think this success will be long-lived, though. By my count, Melissa has dodged elimination three times already - her white gazpacho in "It's War," her veggies in the Thanksgiving challenge, and her shrimp in the TC Foodie challenge. It would be a real upset for her to steal one of the finale spots from one of the chefs listed above.