Weekend Wrap-Up
The Woman in Black Starts Strong, Hobbit Three-peats
By John Hamann
January 4, 2015
BoxOfficeProphets.com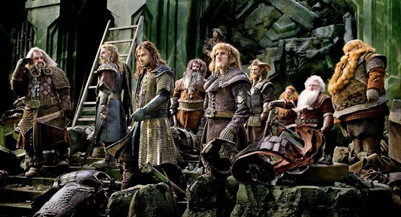 ---
It's the start of a new year, and we start with a minor bang with The Woman in Black 2: Angel of Death, which gets off to a much stronger start than anyone anticipated. In the end, though, it's just like last year, with The Hobbit: The Battle of Five Armies repeating for the third consecutive weekend.

It's the final weekend before everyone heads back to work and school, so the Friday and Saturday portion of the weekend was set to continue its holiday trend, with Sunday shriveling back to pre-holiday numbers. It's the end of the box office lottery season but is enough to allow for a breakout opener, and also means our holiday holdovers would have another weekend above $15 million or more.

To start January, our only new release is the usual – a horror film. This time it is The Woman in Black 2: Angel of Death, a sequel to the Daniel Radcliffe original that opened in early February 2012 to $20.9 million. It earned $54.3 million stateside, but took in $127.7 million worldwide, against a budget of only $15 million. Those numbers obviously begat a sequel and the Angel of Death was born. An opening in the bottom half of the top ten was expected, but it's a new year, so anything can happen.

Our number one film is The Hobbit: The Battle of the Five Armies, on top again for the third straight weekend. The Peter Jackson sequel has been in the top spot for every day of its run so far save one – Christmas Day – when it came in third against openers Unbroken and Into the Woods. Following a stunning opening Friday-to-second Friday drop last weekend of only 6%, reality comes crashing in this weekend, as the third Hobbit had a third Friday decline of 46% compared to its second Friday. With the Friday depreciation and the severe decline on Sunday, not to mention $200 million in domestic sales prior to the start of the weekend, The Battle of the Five Armies was set up to experience a steep drop this weekend.

The Hobbit: The Battle of the Five Armies turned an $8.375 million gross on Friday into a third weekend take of $21.9 million, off 47% from the previous frame. The original Lord of the Rings films all spent their third weekends in the Christmas wrap-up frame, and fell an average of 44.5% in their respective third weekends, so Battle of the Five Armies is continues to trend in the right way. However, the actual weekend take is below the average when compared to the LOTR films, as they averaged $25.4 million after three weekends.

Compared to the first two films in The Hobbit series – keeping in mind that the two earlier films opened a weekend earlier - Battle of the Five Armies earned less in its third weekend due to calendar configuration. Nonetheless, it has easily outgrossed the Desolation of Smaug ($189.5 million) after three frames, and is tracking well against the original Hobbit, which had $221.6 million after three weekends.

The Battle of the Five Armies cleared the $200 million domestic mark on Friday, its 17th day, which is two days quicker than The Desolation of Smaug, and two days slower than the first Hobbit. It has now earned $220.8 million domestically, and has a realistic shot at $275 million, which would give The Hobbit franchise a combined gross of $785 million domestic against the three-film budget of approximately $745 million. While the domestic side may not be the best-case scenario for Warner Bros. and New Line, the worldwide take stands at $2.65 billion as of today, and will finish closer to $3 billion. So, even if Warner Bros. had an expenditure of $2 billion for production and worldwide advertising costs, they will still mint a cool billion off The Hobbit series (and then finally be done with it).

Second place goes to Into the Woods, one of our Christmas season success stories. The Into the Woods and Unbroken rivalry has been a close match throughout the holidays, and the two came in to the weekend less than $3 million apart. Into the Woods opened last weekend with $31.1 million, and fell 39% this weekend to $19.1 million. Interestingly, Into the Woods has kept slightly ahead of Unbroken despite being out to about 600 fewer venues. Into the Woods cost Disney only about $50 million to make, as the star studded cast worked for peanuts. The result will be a huge financial win for the studio. The musical should finish around $130 million, and then do significantly more business away from home. So far, Into the Woods has earned $91.1 million stateside and will be rolling out overseas throughout January.

Unbroken finishes in third place once again this weekend. Angelina Jolie`s biopic about the late Louis Zamperini had a weekend take of $18.4 million, off 40% compared to the December 26th - 28th weekend. That leaves the Universal release with $87.8 million in the kitty so far and should to a domestic total in the range of $130 million. With a budget of $65 million, that puts Unbroken into a very strong position, as it would need only $50-$75 million in overseas business to find a profit after production and marketing costs are considered. Given the global themes within Unbroken, and the presence of Jolie, this should be no problem for the biopic. It is being given a slower rollout overseas, but we should see an indication of where it is headed in those international venues throughout the month of January. Regardless, Unbroken is a win for Universal, as this could have gone either way for the studio since biopics can be tough films to sell.

Fourth spot goes to our new release this weekend, The Woman in Black 2: The Angel of Death. The Woman in Black 2 got started on Thursday night, earning a strong $1.5 million in previews, but that could have been a blip due to the holiday season. The combined Thursday/Friday number came in second overall, at $7.75 million, or just short of what was expected for the weekend ($9-$11 million). Over the weekend proper, the horror sequel expectedly faded somewhat, but still turned in a powerful opening of $15.1 million from only 2,602 venues.

Budget data was not released; however, given that Daniel Radcliffe is not in the sequel, one might assume that The Angel of Death cost less than the $15 million original. Like most sequels, this one's reviews weren't as good as those of the the first film. The Woman in Black 2: The Angel of Death currently sits at only 24% fresh at RottenTomatoes, whereas the original finished at 66%. The Cinemascore was also awful, coming in as a C. The original earned a B-. That said, even if Angel of Death caves completely and can only double its take stateside throughout its run, it will still earn $30 million, putting it fairly close to profitability before it even leaves North America.

Night at the Museum: Secret of the Tomb continues its strange run, as it finishes its third weekend with a total that resembles its first, uninspired weekend. In its third frame, Secret of the Tomb earned $14.5 million, off 29% from the previous frame when it took in $20.2 million. However, that weekend was up from its first one. It earned $17.1 million in that debut weekend, which means it has averaged about $17.5 million over its first three weekends of release. For a $127 million blockbuster, these numbers aren't good enough, but if it had opened to $17.1 million and slid from there, this would have been a disaster for Fox. Instead, Secret of the Tomb has a 17 day cumulative total of $89.7 million, and could match its production budget stateside. Overseas, Secret of the Tomb has accumulated over $91 million, so the end result may not be as bad for this one as first expected.

Annie has unfortunately not been purged from our eyeballs yet. This weekend, the kids' musical earned another $11.4 million, off 31% from last weekend when it picked up $16.5 million. The $65 million Sony release has now out-earned its budget, as it has a total so far of $72.6 million.

The Imitation Game is seventh and is the star of the show this weekend. Despite adding only seven screens to its run and bringing its total number of venues up to only 747, The Imitation Game holds completely earning $8.1 million, just ahead of the $7.9 million it earned last weekend. The $15 million Weinstein Company release is now positioned extremely well for Oscar, as it can be considered a hit despite a domestic gross of only $30.8 million – so far.

The Hunger Games: Mockingjay Part 1 is now earning at a pace similar to that of the second Hunger Games release, Catching Fire (too bad it remains about $100 million behind). This weekend, Mockingjay Part 1 declined 24% to $7.7 million, but eclipsed Catching Fire's $7.1 million earned over the same weekend last year. To date, Mockingjay has pulled in $323.9 million, and has crossed the $370 million mark overseas.

The Gambler is ninth this weekend, earning $6.3 million. That gives the Mark Wahlberg starrer a drop compared to last weekend of 31%, and likely means it won't rise above its current state. The good news for Paramount and its makers is that it met its $25 million budget this weekend, as it has a gross so far of $27.6 million.

Tenth goes to Big Hero 6, which Is in its ninth weekend. The Disney/Marvel mashup earned another $4.8 million this weekend, and despite being around so long, only dropped 4% compared to last weekend. Big Hero 6 crossed the $200 million domestic mark last Sunday and now sits with $211.3 million. The $165 million release has also earned $120 million plus overseas (so far), which pushes Big Hero 6 into the win column for Disney.

Wild is 11th and also holds nicely this weekend. The Reese Witherspoon drama took in $4.5 million this weekend and fell only 16%. The Oscar contender has a gross to date of $25.8 million and still has room to expand.

Overall, the box office stayed on track with where it was last year. A year ago, Paranormal Activity: The Marked Ones opened, but finished second behind the sixth wide weekend of Frozen, as the top 12 earned $127.7 million. This weekend, the top 12 earned $135.1 million, getting this year started on the right foot, as 2015 prepares to trounce 2014. That starts next weekend when Taken 3 opens, alongside expansions of both Selma and Inherent Vice.