Weekend Forecast for January 2-4, 2015
By Reagen Sulewski
January 1, 2015
BoxOfficeProphets.com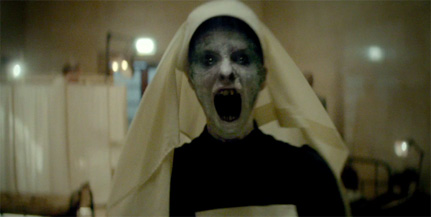 ---
As with most years, the first weekend of the New Year is basically a carbon copy of the last weekend of the old, as distributors rarely bother to release any films outside of a handful of limited, Oscar-qualifying runs during a week with little press coverage of new films. Still, with holiday week business boosting returns for at least another weekend, there's a good bit of money still in play.

There is one debuting film this weekend. The new release is The Woman in Black 2: Angel of Death, a sequel to the 2012 film that marked one of Daniel Radcliffe's first attempts to break out of the Harry Potter mold. Moving the setting ahead from the Victorian era to WWII, the film brings a new set of victims to the spooky old house in the marsh to be terrorized by the title character. Where the first film was a moderately effective atmospheric thriller, The Woman in Black 2 seems to have ditched that approach for a bunch of jump scares, typical of a lot of horror sequels. With no real recognizable names and a dump on the first weekend of the year, I'm not expecting too much from this, and we should get just a modest $10 million this weekend.

Possibly pulling a little bit out of its nose dive, The Hobbit: Appendices and Erratum will spend its third weekend atop the box office charts this weekend, with the Christmas week helping to push it to around $175 million to date. While direct comparisons are difficult with the previous Hobbit movies are difficult due to the difference in release strategies, it is at least ahead of the second film based on number of days of release, and about even with the first. The bad news: for both of those films, that date occurred with lots of Christmas left to go, and with just a few days left for this third Hobbit film.

The Battle of the Five Armies was also one of the few returning films to decline over the Christmas weekend, and finds itself in not great company with those that did (Exodus, Penguins of Madagascar). The final analysis is yet to be written on this series and how much may have been squandered in terms of quality for the sake of quantity, but at the very least, the comparisons to The Matrix trilogy and its dismal returns for its last sequel can be wiped away. The New Year's weekend is not quite as strong as the Christmas one, so there'll be some drop, but to just around $26 million here.

Unbroken and Into the Woods were the big surprises of the Christmas holiday, opening to $30 and $31 million respectively, a formidable one-two punch of probable Oscar contenders forged by box office success. Dealing with the more conventional film first, Unbroken mined the story of a war hero's tremendous survival and its painful aftermath and emotional toll for a film about triumph in the face of adversity, which is like buzzword bingo for Oscar voters. That it did so with no real stars (I remain unconvinced that Jack O'Connell is headed for stardom, but he at least gets to play in the game), and very possibly just on the marquee name of its director, one Angelina Jolie, is what makes this debut so impressive. Perhaps it was just the right message for the right weekend of the year.

Meanwhile, Into the Woods had names to spare, but opened to its figure in a difficult genre. Musicals can often be a tough sell, but with the backing of Disney and an attractive and interesting look to the film, the film found an advantage. With ticket prices increasing at an alarming rate, audiences seem to gravitating towards spectacle and for good reason, as there's little reason to check out a small drama at movie theater prices. Instead, go for something that's really going to zing on the big screen. Into the Woods has done a little better during the week than Unbroken, likely thanks to a more family friendly pitch, but that double-edged sword could start to cut the other way this weekend as families return to routines. I'd look for Unbroken to slide into second place with $25 million, with Into the Woods just behind it with $24 million.

Night at the Museum: The Third One got its as-expected boost from Christmas, with $20 million over the weekend. While this is similar behavior to the first Night at the Museum, which opened in a similar period, let's not get carried away here in our comparisons. After 11 days, the total grosses stand at $59 million for the 2014 film, and... $127 million for the 2006 version. Let's just say that this series is probably ending at the right time, and do not get any ideas, Rebel Wilson. Give it $14 million over the weekend.

Another musical, the remake of Annie, did manage to get an increase over Christmas but just barely, which bodes poorly for its future. Probably the worst-reviewed movie of the holiday period, it's getting by on name recognition, both of its subject and its high wattage stars, whether they can actually sing or not (hint: most of 'em can't). I'd expect this to drop to around $10 million this weekend.

Major Oscar contender The Imitation Game got a Christmas weekend expansion to a little over 700 venues, and parlayed that into almost $8 million, an excellent result. The biopic of Alan Turing, father of modern computing and his quest to crack the Enigma code, should be able to hold its own thanks to good word-of-mouth and the quasi-holiday weekend. Let's pencil it in for another $8 million, and maybe a tiny, tiny increase.

The Hunger Games: Mockingjay Part 1 made a last stab at being the box office champ of 2014 films with a $10 million Christmas performance. It's currently about $23 million shy of Guardians of the Galaxy and ought to grab about $8 million this weekend. With standard declines, this should put it neck and neck, and one expects Lionsgate to throw any muscle it has towards getting it over $332 million.

Mark Wahlberg had one of his most disappointing efforts in the last few years in The Gambler, which opened to just $9 million. He's been able to open just about anything to $20 million or more in the last while, which makes this all the more surprising. However, I think this was a bit of mismatch of actor and role, as Wahlberg doesn't quite fit the "self-destructive academic" mold this movie calls for. Just $6 million seems in store here.