Weekend Wrap-Up
Unbroken, Into the Woods, Hobbit Light Up Christmas
By John Hamann
December 28, 2014
BoxOfficeProphets.com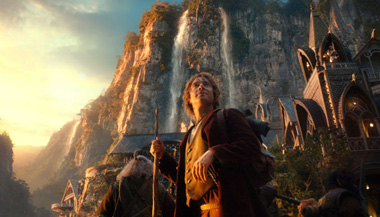 ---
Hail the holidays, as the Christmas box office lottery is paying off big time this year.

After a Christmas Day where both Angelina Jolie's Unbroken and the Disney musical Into the Woods broke the $15 million barrier, the box office kept up its torrid pace throughout the weekend. Films for kids that were lower on Christmas Day, like Annie and Night at the Museum: Secret of the Tomb, rose from their Christmas Day grosses of $4.6 million and $7.4 million respectively, giving solid results over the weekend proper. The Hobbit holdover also ticked up from Christmas Day, and smaller films like The Gambler, The Imitation Game, The Interview, and Big Eyes continued to roll. Finally, limited releases American Sniper and Selma secured riveting venue averages from small amounts of venues. With a plethora of good choices for moviegoers, exhibitors saw good crowds almost everywhere (sorry Exodus) this weekend.

Three films led the charge this weekend - Unbroken, Into the Woods and The Hobbit: The Battle of the Five Armies. The penultimate Hobbit sequel was the eventual winner of the weekend, but all three films performed above expectations. On Friday, The Battle of the Five Armies earned $15.7 million, reclaiming the top spot from Into the Woods and Unbroken, who were the victors on Christmas Day. The Hobbit Part 3 was up almost 20% on Friday from its $13.1 million Christmas Day, setting the stage for a repeat win at the top of the box office. Over the three-day frame between December 26th and 29th, the final Hobbit film reaped $41.4 million, down only 24% from its debut last weekend when it earned $54.7 million.

Over its first 12 days, and removing its $6 million Christmas Eve score, the lowest daily total for The Battle of the Five Armies came on Tuesday, December 22nd when it earned a very solid $9 million. The Return of the King, the final Lord of the Rings release also opened on December 17th, giving it the same Christmas calendar configuration as that of the Five Armies. Return of the King earned $50.6 million over the same weekend in 2003, so Five Armies is closing the gap after trailing Return of the King's $72.6 million opening weekend. After 12 days of release, The Battle of the Five Armies has picked up $168.5 million domestically, crossing the $100 million mark on its seventh day of its release. It will break the $200 million barrier next week. Overseas, it cleared the $320 million mark by Saturday, and now has a worldwide cume approaching the half-billion mark. For The Hobbit series, the worldwide total will cross the $2.5 billion mark before the start of next weekend.

The extremely strong Unbroken and Into the Woods finished the weekend in a virtual tie - with Unbroken just barely securing a victory with estimates (this result may change when actuals are reported). Angelina Jolie's directorial effort earned $12.3 million on Friday, which followed a remarkable $15.6 million opening day on the 25th. Unbroken was able to turn that $12.3 million Friday into a weekend score of $31.7 million, which was again a stronger-than-expected score from the script by the Coen Brothers. With no big headlining name (other than Jolie's), Unbroken depended on the slick advertising campaign from Universal, which seems to have paid off.

The biggest surprise for me is the lack of quality reviews, as Unbroken currently sits at 51% fresh at RottenTomatoes. The Cinemascore was much better at A-, so it will be an interesting race with Into the Woods as the Christmas box office lottery continues. After four days, it has picked up $47.3 million.

Universal made a very shrewd move investing in Unbroken. Originally, Universal had earmarked $120 million for the Laura Hillenbrand book adaption, but turned to Angelina Jolie when she indicated she could do for about half the cost at $65 million. Like Into the Woods, Unbroken will roll out slowly overseas, opening this weekend in the United Kingdom and Spain before rolling out further in January. Given the subject matter and the results so far, Unbroken should have no issue earning $100 million domestically and three times that score overseas.

Third place, then, goes to Into the Woods, the Disney film based on the Steven Sondheim musical. It pulled in $12.2 million on Friday, losing 19% of its opening day draw. It was able to turn that Friday score into a weekend result of $31 million, an outstanding result for a film that cost only $50 million to make (the cast worked for peanuts on this one).

It's a much stronger first weekend than Les Miserables received when it opened on Christmas Day in 2012, but the calendar configuration was different. Les Mis earned $27.3 million over its first true weekend, but had opened a Tuesday, as that is where Christmas fell that year. Following its first weekend, Les Mis had earned $66.7 million over six days, whereas Into the Woods earned $46.1 million over four days. In 2008, the calendar configuration was the same. That was the year that Marley and Me pulled in $36.4 million over its first weekend and The Curious Case of Benjamin Button earned $26.9 million.

This opening for Into the Woods is on par with Enchanted, Disney's family musical that opened on November 21, 2007 to $34.4 million, but was limping by the time Christmas rolled around. Into the Woods opened stronger than Mamma Mia!, which took in $27.8 million when it opened in July of 2008. For the genre, the Disney musical competes very well against its brethren, and is also a very strong Christmas opener. Reviews were decent, with an overall score of 72% at RottenTomatoes, but the nation's top critics liked it more, with a score of 86%. The Cinemascore was only okay coming in at a B, lower than the A that Les Miserables received. It will be interesting to see how that Cinemascore affects its legs going forward.

Overseas, Into the Woods rolls out slowly over the month of January for the most part, but given the $50 million budget, it shouldn't need too much assistance to see a large profit. Les Mis had earned $100 million plus by its second weekend, and Into the Woods should see a similar score.


Fourth spot goes to Night at the Museum: Secret of the Tomb, which has turned a soft opening last weekend into the Christmas Box Office Lottery poster child. After opening to only $17 million a weekend ago, fortunes have changed quickly for the three-quel. It had its biggest day of its run so far on Christmas Day, earning $7.3 million on day seven, only to improve on that score the next day. Day eight was Friday, where it earned $7.4 million, 30% more than it earned on its opening day ($5.7 million). Obviously, people were waiting for Christmas to catch up with Ben Stiller and friends – its second weekend was xx% above its opening frame, as Night at the Museum 3 earned $20.6 million this weekend. Without the 12 days of Christmas Box Office, Secret of the Tomb was doomed, given its $127 million cost and $17.1 million opening weekend. Now it has a chance, as after 10 days of release, the family film has earned $55.3 million.

Fifth goes to Annie, which earned $6.1 million on Friday, its highest daily total of its run so far. It went on to earn $16.6 million for the weekend, up 5% from its opening frame. I find it remarkable that there are two musicals (Into the Woods being the other) both targeting families directly, and both succeeding (it must be Christmas). Annie appears to be awful, but the kids must like it, as it has earned $45.8 million so far against its $65 million budget.

Sixth is another big winner over the holidays, the six-weekend-old The Hunger Games: Mockingjay Part 1. After earning $7.9 million last weekend, Katniss and company had a strong week and weekend and crossed the $300 million mark on Friday as a result. Following a Christmas Day take of $2.7 million – its biggest weekday since December 2nd – Mockingjay Part 1 earned $10 million this weekend, giving the Lionsgate release an increase over last weekend's total of 27%. It crosses $300 million on its 36th day, likely slower than Lionsgate would have liked, but was in fact eight days faster than it took Guardians of the Galaxy to do the same. Mockingjay now sits with $306.7 million at the domestic box office and has also crossed the $350 million plateau overseas.

Seventh goes to another new release, this time Mark Wahlberg's The Gambler. The Paramount release never seemed to be overly embraced by the studio, who released it to only 2,478 venues despite the implosion of The Interview, which had been planned for 3,000 plus theaters. The result led to a $5 million Christmas Day opening, only to fall 31% on Friday to $3.4 million. The crime flick earned $9.3 million over the weekend proper, likely enough for the makers to see their investment returned, but that's about it. Reviews weren't kind to The Gambler, as it came in at 48% fresh and the Cinemascore was an awful C+. Still, this one would have gone adrift outside of the holiday season, so smart placement by Paramount will likely help it eke out a profit.

Eighth goes to The Imitation Game, which expanded this weekend to 747 venues from 34 last weekend. The expansion paid off handsomely, as the Benedict Cumberbatch starrer pulled in a healthy $7.9 million from those 747 screens, giving it a strong venue average of $10,616. Made for $15 million, The Weinstein Company appears to have a healthy hit on their hands, as The Imitation Game already has $14.6 million in the domestic kitty before appearing on 800 screens. Overseas, The Imitation Game has already pulled in $20 million plus from the UK alone, so it is already only a few million away from profitability.

Ninth goes to Exodus: Gods and Kings, which can't even use the Christmas box office bonus to improve its sad fortunes and is just about the only film to not benefit this weekend. Exodus: Gods and Kings earned only $6.8 million, off 17% compared to the previous weekend. The $140 million wannabe spectacle has now earned $52.5 million at the domestic box office, but has earned $60 million plus overseas.

Tenth is Reese Witherspoon's Wild, which adds a few more screens this weekend but still can't find liftoff. Wild earned $5.4 million this weekend, which was up 32% compared to last weekend. Still, considering it has widened past 1,285 venues, this one still has room to grow, and has so far earned $16.4 million.

Big Hero 6 is also on the rise this weekend, as it improves on its $3.6 million take from last weekend. This time around, Big Hero 6 earned $4.8 million, a 33% increase compared to last weekend. The $165 million Disney/Marvel release has now earned $199.9 million stateside and $120 million plus from overseas venues, where it continues to expand.

The last new wide release this weekend, Tim Burton's Big Eyes, stumbled heavily this weekend. Out to 1,307 venues, the Amy Adams/Christoph Waltz flick earned only $3 million, giving it an average of $2,285. The marketing failed this one, as it had decent reviews (73% fresh) and a strong cast. Can The Weinstein Company bail this one out? I doubt it, but it's the Christmas season, so nothing is off the table.

In limited release, there were some big winners this weekend. The Interview, with its arthouse/VOD release, picked up $1.8 million from 313 theaters, which is better than, well, nothing. Selma, the Martin Luther King biopic from Paramount, debuted at 19 venues this weekend, and took in a powerful $590,000, giving it a venue average of $31,053. American Sniper with Bradley Cooper also popped, earning $610,000 from only four screens, giving it an incredible average of $152,500.

Overall this weekend, the box office was amazingly strong. The top 12 films pulled in a hot $189.4 million over three days this weekend, ahead of last year's top 12, which earned $181.7 million. Next weekend, Relativity releases The Woman In Black 2 – this time without Harry Potter – so it should be a rematch of this weekend's top three.