Weekend Forecast for December 27-29, 2014
By Reagen Sulewski
December 23, 2014
BoxOfficeProphets.com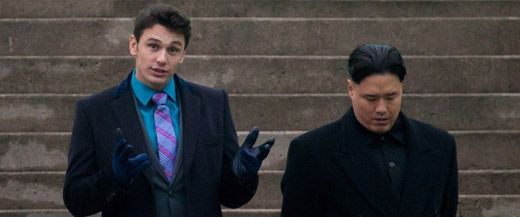 ---
For the second straight weekend, The Interview dominates movie discussion in the greater world, although this time it has the benefit of actually coming out (although it was a close call). That this comes at the expense of the three new wide releases coming out over the most lucrative two weeks of the box office is... a bit of a problem.

Likely to make the most immediate impact is Into The Woods, Disney's adaptation of the Stephen Sondheim musical about fairy tale characters and the consequences of their wishes. Synergy, they has it. Directed by Rob Marshall, who successfully guided Chicago to the big screen, but also, you know, Nine, it's a lavishly shot production of the gothic takes on Cinderella, Jack and the Beanstalk, Little Red Riding Hood and The Baker and the Baker's Wife, among them. After the latter couple, wishing for a child, find out that their infertility is caused by a curse, they must journey into the woods (dun dun dun) to find the items that will lift it and satisfy the old witch who placed it. Encountering a number of famous fairy tale creatures on the way, they discover that a simple wish might lead to many more things that just what is wished for. While Disney stories often have a bit of an edge to them in fairy tale fashion, Into The Woods re-roughens up many of the edges that have been sanded off.

Starring Emily Blunt, James Corden, Anna Kendrick, Chris Pine, Johnny Depp (well hidden in costume) and Meryl Streep, it's a well-respected cast that's a tad light on box office draw (except for the aforementioned Depp, but you can kind of see why he doesn't count). Musicals can also be a bit of a tough sell, though in a strange development, we have two proper musicals in wide release for what might be the first time in decades. The Sondheim connection is probably worth something, although it might be caught in that weird middle space of being too scary for young audiences, while seen as too slight a subject for adult ones. Ultimately, the production values and cast should win over a moderate audience, and I anticipate a weekend figure of around $18 million, with $13 million more on the 25th and 26th.

Arriving as an Oscar contender - but a lower-tier one - is Unbroken, Angelina Jolie's second film as a director. Telling the story of WWII veteran Frank Zamperini, an Olympic champion prior to the war, it follows him through being shot down in the Pacific and held as a POW by the Japanese Army. Subjected to all measure of rough treatment and torture, in large part as a way to break the spirits of his fellow prisoners, it's a tale of will, determination and survival. With a screenplay written in part by the Coen Brothers, the hope is that it is not the typical survival narrative and hopefully brings some deeper meaning to what is, to be completely honest, a slam-dunk cinematic story.

Relative unknown (at least in the US) Jack O'Connell plays Zamperini, which is probably of benefit to the story, if not its box office prospects. There are a few other sort of familiar names and faces present, including Garret Hedlund, Jai Courtney and Domhnall Gleeson, but it largely remains O'Connell's movie, for better or for worse. It's been mostly on the periphery of awards season, with just a handful of minor recognitions and was shut out of the Golden Globes, which, if they can't bring themselves to suck up to Jolie in this situation, well... Reviews have also not been too kind, and it looks as if Jolie has a bit of work to do in her directorial career (her proclaimed preferred one!) if she's to be taken as seriously as she wants to be.

While it's an (spoiler alert!) inherently uplifting film, it's a lot of work to get to that point and may not be exactly what Christmas audiences are looking for after a day of unwrapping presents and turkey. It still has that appearance of quality and importance, however, and should open to a decent $14 million, with $9 million coming from the previous two days.

Thirdly, we have The Gambler, a remake of a 1974 James Caan film, this time with Mark Wahlberg. In it, he plays an English professor (I mean, what else could he teach?) with a gambling addiction, chasing higher and higher scores each time. After getting deeply indebted to a loan shark, Wahlberg attempts to gamble his way out of his hole, proceeding down an ever-self-destructive path until even sinister mob figures are saying to him "are you sure you want to do this? Cause, I don't want to kill you but I will". Throw in the usual girlfriend/student character (played by the better-than-this Brie Larson) and you've got a typical potboiler, although one played with more ease than usual.

Reviews don't quite know what to make of this film, and while Wahlberg has been riding a hot streak of late, this feels like a bit of an over reach. This reminds of nothing so much as last fall's Runner Runner, which saw Ben Affleck not play a menacing figure well and Justin Timberlake out of his depth as a novice gambler. There's little that seems necessary here, and this will likely enter the market with little fanfare at around $10 million on the weekend and $16 million over five days.

While we don't normally discuss limited releases here, there's an exception to be made for The Interview. We had planned to have an empty space to represent its coverage, but Sony's 11th hour finding of its courage (you had it all along, Cowardly Lion!) to release the film, so controversial thanks to the probably-hacked-by-North Korea events of the past couple months, to whomever would take it (around 300 theaters at this point) has rendered our grand symbolic statement a little moot. James Franco and Seth Rogen will get their chance to inflame international tensions after all, and Kim Jong-Un doesn't get to tell us what to see after all. Woo! 'Murica!

The film, as even toddlers living under rocks know by now, is about an idiotic talk show host and his producer enlisted by the CIA to assassinate the aforementioned Korean dictator after being requested by him to do an interview. The rest of the movie barely even matters, as that's the point that seems to have inflamed everything. The subsequent pulling of the movie after (probably) empty threats of violence, the pushback from the American public over said pull and now the reconsideration of it, have dominated entertainment press for the past week. Is the movie any good? ... Probably not. It's Franco and Rogen we're talking about here, and advance reviews weren't that great to begin with.

It's the principle of the thing, however, and the "banning" of the movie has only served to make it the hottest ticket in whatever town it happens to be playing in. A simultaneous release on VOD might blunt the impact of releasing it in theaters, but never underestimate the willingness of the public to make a stubborn, meaningless statement to someone who is trying to prevent them from doing something. I would not be shocked to see really packed theaters in the few places that do get to show it, and we could be talking about $10 million over five days, as Americans tell a small, backwards Asian nuclear power to stuff it.

Which brings us to our returning films, led by The Hobbit: Let's Get This Over With. After opening to a series-low $54 million, there is little question about the fact that people have tired of this franchise. I hesitate to call a likely $250 million earner "limping home," but in relative terms it's a big step down. It will win its second weekend but with around $48 million thanks to the rising tide of Christmas.

Night at the Museum: Secret of the Tomb should benefit the most from the holiday, as it is the most prominent family film out right now, and gets the coveted "well, gotta see *something*" dollar. It should actually see a slight uptick to $24 million over the weekend.

Annie may also get a bit of a boost from some of that same dollar, though with worse reviews and no franchise to fall back on, is in for a tougher haul. I'd look for $16 million over the weekend.

Also making an impact over the next couple of weeks should be the Reese Witherspoon wanderlust drama Wild, The Hunger Games: Mockingjay Part 1, and Exodus Gods: and Kings, all of which should see between $5 and $7 million this weekend.