Top Chef Boston Recap: Episode 9
By Jason Lee
December 22, 2014
BoxOfficeProphets.com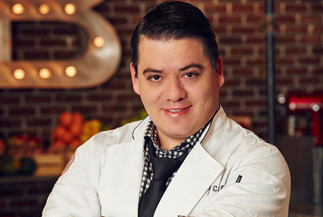 ---
It's evident we're nearing the finale of Top Chef: Boston for two reasons. First, there's the caliber of the chefs. At this point, we're down to Greg, Doug, Mei, George, Katsuji, and Melissa. With perhaps the exception of Melissa, that's a pretty solid group of chefs. Second, the chefs are exhausted. Doug is exhilarated coming off of his second elimination challenge win, but the other chefs just look beat down. They need a vacation.

Except for George. He's still on a back-in-the-competition high. He found the Elimination Challenge "intense" but he's ready to bring it. Perhaps sensing that George could be a legitimate threat to the title, Greg reminds us that he took George down once (during the Sudden Death Quickfire in the first episode) and promises that he'll do so again if need be.

Game on.

While this undercurrent of semi-rivalry simmers away, the producers focus on a blooming bromance between Katsuji and Doug. Doug says that Katsuji is crazy, but also his favorite person in the house. He predicts that the two of them will be friends for life. Katsuji, meanwhile, reminisces about his wife (who is seven-months pregnant) and daughter back at home. He wants to win Top Chef to make his daughter proud. Plus, the prize money would help provide for his family.

As this touching testimonial takes place, alarm bells are going off in my head. Bromance? A wife who's seven-months pregnant? Missing a daughter back home? In my mind, the only reason for the producers to start stirring up all this sentiment around Katsuji is because he'll be going home in about 50 minutes.

But back to business. The chefs arrive in the Top Chef Kitchen to find Padma standing next to an enormous man. My husband informs me that this is Rob Gronkowski, who plays for the New England Patriots. I have no idea who that is, though the same cannot be said of George. George recognizes this football player instantly… because he hates the Patriots.

Rob is Polish and he likes sausages. Standing in the Top Chef Kitchen today, he's got a hankering for a good sausage (everyone involved is doing their level best to ignore the sexual innuendo that is thick in the air right now). The cheftestants, always eager to please, will make him one. They'll have one hour to make the best sausage they can from scratch.

Rob is a big guy. He eats a big plate. Thus, he instructs the cheftestants, "I need a big sausage."

Padma is polite for a second, but her willpower cracks. She can't help herself. "Me too," she chimes in.

The chefs all laugh. That kind of comment was far overdue.

The one-hour clock begins and the chefs bum rush the fridge to find the best meat to fill their sausages. Melissa says that she's feeling the pressure. She wants to represent the girls still left in the competition, especially in this "sausage party."

Yep, Top Chef is now South Park.

Though this challenge seems somewhat straightforward, a number of chefs are having trouble with their KitchenAid mixers. George and Melissa, in particular, can't get their sausages to fill up properly. Both end up ripping their sausage casings and getting little pockets of air stuck inside. George abandons ship, going with a sausage patty instead (a cop out, in my opinion). Melissa, for her part, ends up with itty, bitty, little sausage links. They look a bit like elongated quail eggs.

Doug looks around the kitchen with disdain. He's noticed how many chefs are eschewing making actual sausages in actual casings, which he's doing. He hopes that whoever wins the challenge does so with a real sausage.

Time is up and the chefs offer up their sausages for consumption. Rob and Padma head over to George's station first. George has a pork and veal sausage with a sunny-side up egg. It's basically breakfast with a sausage in the shape of a burger patty. As Rob and Padma dig in, George starts acting like he just took a bit swig of Veritaserum. He notes that he couldn't get his sausage casings to work and thus went with a patty. He tells Rob that he's a big football fan, but "not a huge fan of yours" because he's a Redskins fan. Rob responds diplomatically that he's preeeeeeeetty sure that the Patriots beat the Redskins when they played a few weeks ago.

Though it seemed like George was just begging to be put in the bottom, he doesn't end up there. Instead, we have Melissa and Greg. Melissa served a wild boar and pork sausage with lentils. Rob points out that he specifically asked for a "big sausage," and Melissa's little wieners were simply not satisfying enough. Greg had a pork and boar sausage with kaffir lime - Rob didn't like the spices that he used.

Mei and Katsuji are apparently the middle children in this challenge because the top two dishes in this challenge are George and Doug. Rob wasn't sure whether George made a sausage or a burger, but he loved the breakfast dish he got. Doug, of course, made an actual sausage - a beer-braised pork sausage with onions - and Rob found it delicious.

The winner of this challenge is deemed to be George - Mr. Not-A-Real-Sausage-and-I-Hate-Your-Team. Doug pouts. George beams. After his beat down of Katie and landing in the top three in last week's elimination challenge, he's on a real roll. Plus, he gets immunity with this win - not a trifling prize given how close we are to the finale.

And now we move on to the Elimination Challenge. Boston chef Tony Maws walks in - he'll be this week's guest judge. Tony is pushing a big bookshelf on wheels. Sitting on the shelves are a number of books emblazoned with the name of an author on the front.

Padma notes that a number of "literary legends" call New England home, and this week, the cheftestants will have to draw inspiration from one of the authors in creating their dish. They'll be allowed to use any work by any of these authors, be it a novel, short story, or poem. The judges and diners should, however, be able to "see" the work being celebrated on the cheftestants' plate. Joining the judges in the dining room will be a group of notable writers and literature buffs. Also sitting at judges table will be Francis Lam, a frequent judge on TC.

Padma then invites the chefs to pick the author from which they'll be drawing inspiration. Greg goes with Edgar Allen Poe. Katsuji is keen on Stephen King. George takes Dr. Seuss. Mei picks David Thoreau, though she admits she's not too familiar with him. Melissa goes with Nathaniel Hawthorne. This leaves Doug with Emily Dickinson. He laments this fact to us. "Great, I get the depressed chick poet from the 1800s," he says bitterly.

The chefs get together and strategize a bit before heading off to Whole Foods. Mei is going to do a take on Walden by Thoreau by focusing on nature and doing an entirely vegetarian dish. Greg is taking the obvious route and doing homage to "The Raven" with a bird dish. Doug wants to do something romantic to honor Dickinson. Finally, there's Katsuji. He's gonna put Carrie on the plate, with as much blood splatter and gore as possible.

I sort of love Katsuji. He's always committed to his vision.

Before we know it, the chefs are cooking away and Tom has wandered into the kitchen for his typical walkabout before service starts. He chats with George, who's taking inspiration from Dr. Seuss's One Fish, Two Fish, Red Fish, Blue Fish. A very literal inspiration. Two types of seafood, a red and blue color combo… he says it'll be a "cartoon on a plate." Awesome.

Tom goes over to inquire about what Melissa is doing. Melissa, who has already described this project in detail for us, repeats it for Tom. She's using Hawthorne's The Blithedale Romance as inspiration. As summarized by her, it's about a village of do-gooders and has as a reoccurring theme the change of seasons. So she's going to do a spring dish that has an undercurrent of fall - basically, spring vegetables sitting on a mushroom broth. I'm not sure what to make of the fact that Melissa is ignoring the fact that spring does not transition directly to fall.

On the other side of the kitchen, we have two chefs taking some big risks. Mei is making something called "charred onion soil." As disgusting as it sounds to eat soil (I mean, Stacy was basically sent home for dirt in her clams), Mei says that this "soil" is made from charred onions, blended to a powder, with bread crumbs added. I will say that it looks like soil. Dark, dirty, icky soil.

Next to her is Katsuji. He's making a beet puree that'll represent the pig's blood that gets dropped on Carrie. He criticizes George for doing such a boring interpretation of Dr. Seuss. In contrast, Katsuji will be making a statement. He wants his diners to look at his food and say "shit," but "in a good way."

Yep, I kinda love Katsuji.

Service is quickly approaching and the cheftestants are realizing that presentation is going to a play a big role in deciding this challenge. Melissa is trying to differentiate her dish visually from Mei's - she realizes that they're both doing vegetable dishes and doesn't want to get overshadowed. Meanwhile, Greg is doing his best to ramp up his presentation. He says that "it's been a while since I've won an Elimination Challenge," and sees today as his golden opportunity. I check my notes. He's right. The last time he won an individual Elimination Challenge was Episode 3.

Greg's food is up first and he brings out his "Raven" dish. It's a seared beef tenderloin, grilled hen, parsnip puree, and crispy nori. Greg describes how each ingredient on his dish has symbolic meaning tied to "The Raven." Gail loves the flavor and says that nori ties everything together, though she questions the doneness of the meat that guest judge Tony received. It's quite rare. Lucky for Greg, Padma and Tom's meat was cooked properly. Tony notes that it's unacceptable in a restaurant to only get three proteins cooked properly out of four.

George is up next with his One Fish, Two Fish, Red Fish, Blue Fish dish. I note immediately that it looks nothing like a "cartoon on a plate." He has calamari, mussels, clams, pan-seared branzino, purple potatoes, and red peppers, but they're arranged in a very boring, standard, typical "fine-dining" sort of way. Guest Judge Francis says that everything tastes good, but notes that the dish feels "buttoned up." Gail agrees. Everything tastes good but the dish is "tight." She wanted him to "go a little crazy." Tom concurs that the dish is "not Seuss-y."

Mei is next and she delivers roasted vegetables with charred onion soil, a carrot-top vinaigrette, and a tom kha snow dusting the top. It's an incredibly beautiful-looking dish, but as the judges begin their critique, the Top Chef producers cue up some ominous music.

"There was the potential for the soil and snow to be just a lot of technique without a lot of flavor," Gail says, "but I could taste both and they complement the vegetables." Mei exhales in relief. Francis likes the use of lemongrass and tom kha, as both ingredients come through in the dish. Tom agrees. He says that her "spring Walden pond" dish (with the vegetables, snow, and broth) had flavor, told a story, and demonstrated great technique in pulling it all off.

Melissa comes out next - she's feeling good but worries that the fall aspects of her dish might be too subtle. She has a seared halibut with spring vegetables, morels, charred baby corn, and mushroom broth. To me, it looks like yet another standard fine-dining dish from Melissa, pretty to look at and pretty safe. The judges love it, though. With the light spring flavors and a darker fall finish, Tom declares that Melissa "nailed it." Francis finds the fish perfectly cooked.

Katsuji then comes out with his blood-splattered plate. He has poured spoonfuls of beet puree onto the plate and then smashed it with the back of the spoon to send the puree flying. George describes it as a "massacre on a plate." I think it looks absolutely awesome.

As horrific as the dish looks, Katsuji says that it's a pretty homey dish - one that his mom used to make for him. It's a Spanish stew (fabada) with white beans, chorizo, jamon serrano, red beet puree, and hot sauce. Tom says that it's the most unappetizing dish he's ever seen, which isn't necessarily a bad thing. Gail loves the vibrancy of his beef and appreciates the discordance in the dish. Tom says the meat is nicely cooked and has some good heat. As Katsuji walks away, Padma comments that given the challenge, Katsuji executed his inspiration beautifully. "Without a doubt," Tom says.

Last up is Doug with his Emily Dickinson dish. He tells the judges that he was inspired by one line by Emily Dickinson - "bring me the sunset in a cup." Thus, he's made grilled carrot bisque to make a sunset in a bowl. Padma finds it absolutely delicious, Francis loves the carrot flavor, and Gail says that it has real depth. As a kicker, Tom says that he would applaud this dish, as it takes really humble ingredients and makes them delicious.

Wow, I'm thinking Doug is heading for his third straight Elimination Challenge win.

With absolutely no clunkers in the challenge, the judges are in a quandary. Padma says that it's going to be hard to choose who should go home, and Gail responds that picking a winner will be even more difficult. Tackling that question, Francis says that he loved Mei's dish, taking an image from Walden - the pond in the wintery snow - and bringing it to life on the plate. Tony loved the balance and heat in Doug's soup. Gail stands up for Melissa, with her perfectly cooked fish.

As for who should go home, Padma notes that she was underwhelmed by George's presentation. Tony says that Katsuji's "mess of a dish" was itself a mess. Tom doesn't think that Greg's pairing of beef and chicken made any sense, and that his proteins were a bit overcooked. Padma chimes in that even though the diners should be able to "see" the literary work in the dish before them, Greg's didn't embody the spirit of Edgar Allen Poe. In other words, it was not so Raven.

And with that discussion concluded, all of the chefs are called before the judges. Tom says that while the chefs have had problems in the past, all of the dishes today were "really, really good." He thought the challenge would be hard, but none of the chefs had any trouble in bringing their creative sides out. He was "really happy to be on the receiving end of the food today."

Mei, Melissa, and Doug - those are your top three this week, America. Doug says that he was skeptical about his author but once he focused on bringing out carrot flavor, he had fun. Mei was worried about making a vegetarian dish, but was happy with it at the end of the day. Melissa felt inspired because she had a clear idea of what she wanted to do.

Tony, as the guest judge, is slated to give the verdict. Today's winner, he says, stood head and shoulders above the rest. It was "as close to a flawless dish as [he's] had in a long time." And your winner today is… Mei. Wow. Good for her. This is only her second Elimination Challenge win - her first since the first episode of the season. Gail heaps on the praise. She says it was "so evocative," and gave a sense of where and what Thoreau wrote, and was the "most delicious, satisfying plate of vegetables she's ever eaten." Double wow. That's badass.

Padma says that the next decision - who should go home - was even harder. She asks Greg, with two proteins on his plate, whether he worried whether the bird aspect of his dish (the chicken symbolizing the raven) would get lost. Tony says that he's not sure how much all of Greg's "symbolism" actually brought to the dish.

As for Katsuji, the other chef on the bottom today, Gail says that she loved the idea of his dish, but "felt like it was pulling different ways." Tom says that Katsuji's sauce was too thick.

And the person going home today will be… Katsuji. That makes sense. Even though Greg may not have done as much with his "raven" theme, people rarely go home for failing to do enough with the creative side of a challenge. Perhaps the last person to do so was Beverly in season nine, where she didn't bring enough oomph to the "wicked witch" themed challenge for Snow White & the Huntsman.

As Katsuji says his goodbyes, Tom says that though his interpretation was as good as anyone's, his food didn't hold up, and his beet puree was thick and messy. Katsuji says that he's sad about leaving this way, but remains proud of his performance. He thought that he could have gone home the first day or the first week - to be honest, so did I - and thus making it this far is a triumph. He came to this country 14 years ago with nothing, and he now has a restaurant, a family, and has cooked on TV. He wants his daughter to watch his season of Top Chef and be proud of him.

I know I am.