Weekend Forecast for December 19-21, 2014 Part 2
By Reagen Sulewski
December 19, 2014
BoxOfficeProphets.com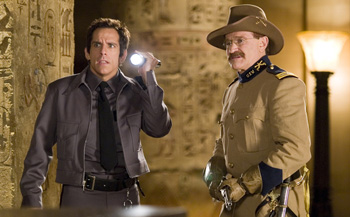 ---
Although most coverage of Hollywood news is (rightly) focused on the... ahem... international incident ongoing and its fallout, there is still a weekend to talk about, with new releases and everything. Pity their marketing departments.

Settling old business first: The Hobbit: The Battle of the Five Armies opened on Wednesday with $24 million and change (okay, some of that is from showings on Tuesday night). This is without qualifications an impressive number for a two and a half hour movie on a weekday night, and puts it in a similar landscape with The Two Towers (but also, The Matrix Revolutions, so...). As this is the first of the Hobbit movies to open on a Wednesday, we're in a bit of uncharted territory, but the analogous behavior seems solid, with better-than-expected reviews lifting it slightly. It appears as if we've gotten a strong(er) finish than we expected, but it's still a situation where we're finishing it out of obligation more than genuine excitement. I'll stick with my $64 million prediction for the weekend – still an easy win, but not one that comes without any criticism.

Leading into totally new-to-us films (kinda): The Night at the Museum franchise concludes (we think) with Secret of the Tomb, which brings back most of the characters from the past two Museum films in a globe-spanning adventure to save some magical artifact or whatever and seriously does anyone over the age of 10 actually care? Anyway, Ben Stiller leads the resurrected Smithsonian exhibits, spanning the length of human history, to recapture the magic tablet from Lancelot, who is unaware of the danger it possesses. With the exhibits behaving ever erratically, and attacking patrons as they fade into insanity and dementia (hey hey, kids!), it's a race against time to fix everything.

In addition to Stiller, we have Owen Wilson, Steve Coogan, Ricky Gervais, Ben Kingsley, that freaking monkey, and Robin Williams, in his last live action role, a sad fact for a couple of reasons. Rebel Wilson also adds herself in, in case you were looking for another reason to find this movie sad. Essentially a long action movie with bits of safe humor mixed in, it's aiming squarely at the heart of the inoffensive family entertainment market. That we even have a third movie in this series is thanks to the (eight years ago!) first film's surprising performance over the Christmas holidays, where it racked up three weeks at the top and five weekends in double digit millions. It should get some boost again from the holidays, but there's a two-headed decline in effect – both the aging out of the film's original audience, and the general fatigue for the series. The second film opened in May of 2009 to a truly impressive $54 million, but fell $75 million short of the first film's total box office. I expect this to fall a bit short of the $30 million of the 2004 debut of the franchise, with about $26 million.

Another family option this weekend is Annie, a remake of the classic musical about an orphan adopted by a wealthy billionaire and lifted up into the lap of luxury. In a race switch that's probably bothering someone who should really shut up about it, Quevenzhane Wallis (she of Beasts of the Southern Wild) plays the title character, with Jamie Foxx playing billionaire mayoral candidate Will Stacks (oh, I get jokes!). Looking for an angle for his campaign, he decides to choose an adorable little moppet to use as campaign fodder in an angle that people apparently wouldn't see through immediately. Her goofy, poverty-stricken ways charm Stacks anyway, and the crisis of the film comes as Annie's true parents are found and the billionaire has to decide how much he really wants to change. Because once again, it's the billionaire that's the important part of the story.

Also starring Cameron Diaz as the tyrannical foster home parent, Rose Byrne (who probably looks at Jennifer Garner's career with a cold stare) as Foxx's assistant, and a handful of other character actors, this seems to be a rather toothless adaptation of the musical, which has gutted many of the songs but also hired a bunch of non-singers to act in a musical. Which... no. Even as a non-fan of musicals, I'm offended.

Even with that, it's not quite bad enough to reach train-wreck status (a noble intention goes a long way), it still doesn't have much to recommend it to casual audiences, and the light stabs at humor place it firmly in the "harmless, but completely avoidable" category. This should come in with about $11 million this weekend.

Expanding into wide release is Wild, an Oscar candidate starring Reese Witherspoon as a woman who undertakes an 1,100 mile hiking trip on her own as therapy for a recent personal tragedy. Based on a true story, the film is a bit of an acting showcase for Witherspoon and could be a non-jackass version of Into the Wild, and is being hailed as a tour de force acting showcase for Witherspoon. It could also make noise for its director, Jean-Marc Vallee, and its writer, BOP patron saint Nick Hornby. Moving into about 1,000 venues, it should earn around $6 million.

December box office tends to be an exercise in staying power, as films attempt to make it to the Christmas holiday while still earning enough money to make a difference in their final totals, with the equivalent of two extra weekends in there. Exodus: Gods and Kings is the first candidate to win by virtue of being the top earning film heading into the break with $24 million. Although this is a stunning disappointment for a film budgeted well past $100 million, it does have a bit of a chance if can hold on for one more week. I'd bet against amazing legs, but even bad films get helped. Give it $12 million this weekend.

The Hunger Games has franchise power going for it, but public sentiment going way, way waaay against it, as it continues to lose pace to its predecessor. Mockingjay Part 1 should earn about $7 million this weekend and will cross the $300 million milestone next week sometime, but it's a hollow victory.

Top Five, Chris Rock's semi-autobiographical film about a comedian's life and troubled family, expands by a few hundred theaters this weekend, and should hold its own at about $7 million. With the Christmas bonus week, it stands a good chance at $50 million total.

Family films benefit the most from the Christmas week, naturally, and Penguins of Madagascar and Big Hero 6 are the two poised to really cash in. Even though they'll both earn a little less than $5 million this weekend, a jump for both of these films starting on Monday is distinctly possible.