Top Chef Power Rankings
By Jason Lee
December 16, 2014
BoxOfficeProphets.com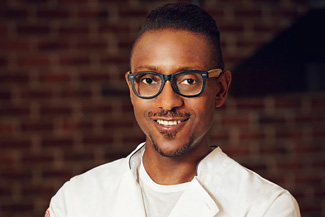 ---
1. Greg

Greg edges Doug out for the top spot in this week's Power Rankings. While it's true that Doug won his second Elimination Challenge in a row last week, Greg won the Quickfire and seemed to just narrowly miss winning the Elimination Challenge as well (which would have been his second sweep this season). After some recent stumbles, it looks like Greg has found his form again. For his fellow cheftestants, this is not good news.

2. Doug

In recent weeks, Doug has evolved from middle-of-the-pack, to dark horse, to legitimate threat. He didn't do a great job in last week's Quickfire, but scored a surprising win in the Elimination Challenge. He has yet to be in the bottom of any Elimination Challenge (something that cannot be said of any of the remaining chefs) and I don't anticipate seeing him there anytime soon.

3. Mei

Yes, yes, I know. Mei hasn't won anything since episode one, and she slipped up in last week's Quickfire (underseasoned) and Elimination Challenges (lamb too rare), and wasn't great during Restaurant Wars (Brussels sprouts overdressed). Still, her track record, in my view, is still strong enough to keep her in the top three... at least for now. She's the winner of this week's "Benefit of the Doubt" award.

4. George

The jury is still out on George. I realize that the eliminated chefs (correctly) picked him as their contender to return to the competition, and those votes of confidence have to count for something. He also made it into the top three of the Elimination Challenge alongside Greg and Doug - some great company. I'm not sure how much credit to give to his win in the Quickfire Challenge, though, as he beat out Katie head-to-head, whose wacky flavor combinations can wow (blueberries in stuffing) as often as disgust (black tea and sourdough). By this week's episode, we should have a better idea of whether George is a contender or a pretender.

5. Katsuji

Katsuji has played supporting roles in the last two episodes. Now that Adam's gone, I expect him to be the producers' go-to guy when they need witty or acerbic commentary. Let's see whether he can play a similarly sized role in the kitchen.

6. Melissa

Oh, Melissa. How many more times will you be able to escape elimination by exhibiting great knifework in otherwise safe dishes? Given the caliber of the chefs left in the competition, and given your seeming inability to bring a "wow" factor to your food, you're my choice to go home this week.