Survivor: San Juan Del Sur Power Rankings
Week 13
By Ben Willoughby
December 17, 2014
BoxOfficeProphets.com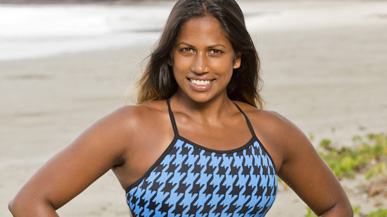 ---
Last episode, we saw good-natured Jon get completely blind-sided and smack his head after forgetting all about the "torch-snuffing" ritual. Lesson: you can't control other people's actions by visualizing them. So, we are left with an uninspiring final five, only one of whom has been getting the winner's edit. I can't wait for this season's finale - and not in the way the producers are hoping.

Here are the final round of power rankings for Survivor: San Juan del Sur.

1. Natalie

So Natalie ended up playing dumb about her vote for Alec. Hopefully we get to see the pay-off, with the big reveal that it was all part of her master plan to get rid of Jon. As Jaclyn points out, "I stuffed up who to vote for" is not that great to say in front of the jury.

Overall, Natalie has the strongest chance of winning. She has a place in the final four guaranteed, courtesy of her hidden immunity idol which can only be played at the next Tribal Council. She has gotten to the final episode without her Blood vs Water partner, who was voted out in the first episode, or without her main ally Jeremy, who was voted out two episodes into the merge, so there's no suggestion of riding coat-tails.

Natalie has been involved in nearly all the voting decisions that we have seen, but doesn't have dirty hands. Her big move was getting rid of Jon, which was a very popular choice, as he had betrayed everyone sitting on the jury bench and was seen as entitled. And she has some serious mental fortitude. The type of person who can come back from two days on Exile Island, have an emotional breakdown right before the immunity challenge and then go on to win, even though it is a "balancing a thing on another thing" challenge really, really wants to win.

2. Keith

Keith made several discoveries last week. Massages are invigorating! Spa food is just like normal food! They even have steak at spas! After 30 days in the game, he finally has an ally! After weeks of "squeaking by, squeaking by, squeaking by," Keith has managed to land himself in a pretty good spot. It's final five time, all of the "obvious" potential winners are sitting on the jury bench, and the jury is stacked with men who formerly had Keith in their alliance.

Keith has proven that he has strengths in the game in out-playing, by winning immunity challenges over the younger guys. (Though how many "balance this thing on this other thing for a really long time" challenges can there be in a single season? We've had four in the last three episodes!), and in out-lasting, by being the sole remaining member of his alliance. But it's the absence of out-witting that will be his downfall.

How is Keith going to convince the jury that he deserves to win, when the overwhelming consensus is that Keith didn't have any idea of what was going on? When he was the one who blew his alliance's chances by saying "stick to the plan?" Everyone likes Keith, but I don't think anyone really thinks he deserves to win.

3. Missy

Everyone is still sucking up to Missy so hard – see Jon, with his "soon Missy will feel as young as she looks" comment. But just as telling to me is Baylor saying "I'll carry you to the finish line if I have to," followed by Natalie's "I'll help you." I bet you will, Natalie.

I get a strong vibe that no one actually likes Missy. The other castaways see her as "she who must be obeyed," the one they all have to tread carefully around or face the consequences. Well, with Missy set to go to the end – broken ankle and all – there are no more consequences for the jury. There's a dam of resentment that is going to break. Missy had better hope she is going to the final two against her daughter, and that the jury will not ask any questions but instead chat amicably among themselves about who should win.

4. Jaclyn

Ha ha, right after Tribal Council, Jaclyn wondered if Alec had possibly voted for himself. I'm not sure if that reflects more badly on Jaclyn for believing that could happen, or on Alec, because let's face it - it's entirely plausible that he thought he was voting for the winner of the game. She did piece it together later, saying that Natalie could have deliberately voted for Alec, but Jon convinced her that it was all just paranoia happening in her little mind. Jaclyn should come up with some sort of hand signal for "I told you so." It will save her a lot of time in the years ahead.

When Jon was voted out last episode, Jaclyn's influence over the game was voted out with him. The jury doesn't seem very aware of the game she did play, and when they do see it as a factor, it's not seen as a strategic choice (eg "she and Jon didn't vote with us because they would have been first out. Good call"), but as a personal choice by Jaclyn ("she turned Jon against us because she thought we were a bunch of assholes"). Jaclyn played a team game with her partner, and I don't see the jury voting for her over people seen to have played a more individual game, like Missy and Natalie.

5. Baylor

If there's one thing that has repeated itself far too much this season – apart from "balance this thing on this other thing for a really long time" challenges, it's people giving up their reward spot to whomever they want to suck up to. Jon gave up his spot for Baylor so she could have the experience of a lifetime by going to the spa with her mother – that would have been great, if she hadn't already had the experience of a lifetime riding horses and eating brownies with her mother six days ago. This means nothing for Baylor's chances, I'm just tired of this transparent reward sacrifice trend.

I kind of feel sorry for Baylor, because she has been damned in the game since day one. She made mistakes very early on that basically meant she has no chance of winning, and she's been dragged along for 30 more days to be a scapegoat at the very end. I mean, you can say she's immature and selfish, but that's all part of being 20 years old, which she is, and playing Survivor, which she is. Her real problem is that she's really just not very good at playing Survivor.

That completes the power rankings for this week and for the season. This has been a weird season, because there hasn't really been anything wrong with it, but it has been pretty forgettable. I get that the fan base has dwindled over the years, but in the corner of the internet I usually visit to talk about Survivor, there have been audible crickets.

It's a letdown, as a lot of the changes sounded pretty good on paper - bringing back the Blood vs Water concept, deciding not to bring back returning castaways. I personally could have lived without Exile Island, but something was needed to milk the Blood vs Water drama and grievance-airing, and it was a better choice than Redemption Island. Meanwhile, the production choices that were objectively bad choices – stunt-casting of Amazing Race veterans and John Rocker – were basically forgotten by week four. I think that ultimately the casting just didn't click – just as it didn't click on other not-so-good seasons. Sometimes that just happens. Probst had better have a big reveal for Survivor 30!

Anyway, tune in for three whole hours of Survivor tonight, including the traditional white-washing at the reunion, and then come back for David and Kim's recaps assuming you haven't written the season off by then.