Top Chef Boston Recap: Episode 8
By Jason Lee
December 16, 2014
BoxOfficeProphets.com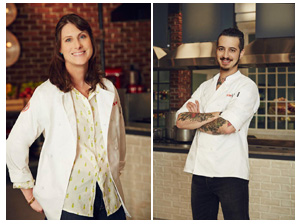 ---
For all the drama and eliminations that have taken place thus far this season - sudden death Quickfires ("SDQ"), head-to-head battles, Thanksgiving in the Boston spring, and yet another surprising outcome in Restaurant Wars - it's hard to believe, but we've passed the midway point in Top Chef: Boston. We started with 16 and now only seven remain. Which, of course, means that we're a trio of episodes away from the finale.

But more on that later. For now, it's about making it through this week's Quickfire, which will be (Padma explains) a SDQ. Yep, someone will be going home after this.

Standing at the front of the kitchen with Padma as the chefs enter is "local legend" Jasper White. Beside them is a table full of clams. Taking a cue from the city's local cuisine, as the producers so often do, the cheftestants will be putting their own spins on chowder. The winner gets immunity. The loser in this SDQ will have to survive a head-to-head cooking challenge to stay in the competition.

Padma gives them the green light and all of the chefs grab as many little neck clams as possible. Apparently, they're the type of clams that pack the most flavor, and the single bucket provided to the chefs simply does not provide enough to go around. Adam and Doug apparently get the bulk of the bucket, while Melissa has to scrounge for enough to use. Mei had grabbed some, but some unknown chef steals them from her station and she's left with three. She has to use steamer clams instead, and she's appropriately steamed.

Meanwhile, Greg shows that he was as smart in his preparations before the show as he has been throughout the season. Anticipating this challenge, he practiced and is using razor clams to put together his pre-planned dish. It's a coconut curry soup, and Doug points out that Greg has used this combination on multiple occasions already.

Meanwhile, the other chefs are doing their best to put together unique versions of a Boston staple. Adam doesn't want a heavy chowder, and is thus incorporating tomato water. Across the room, Katie is doing a bizarre-sounding black tea chowder with sourdough. Katsuji's chowder - in total Katsuji fashion - is green.

Padma and Jasper make the tasting rounds and before long are ready to announce their decisions. On top are Adam (whose red wine-poached little neck clams with boiled potatoes had excellent flavor), Greg (who smartly incorporated sweet potato into his razor clam chowder with dashi), and Melissa (with a cioppino chowder with clams, shrimp and white wine that was "very tasty"). This is a nice performance by Adam - his first individual top three-showing in any Quickfire or Elimination challenge this entire season, I believe.

He's not able to get the win, however, as that goes to Greg (his third QF win thus far). Padma assures Adam that he was a "very, very close second," but it's cold comfort.


As for the bottom of the challenge, it's basically everyone else. Doug served a grilled oyster chowder with steamed clam broth that was simply too salty. Katsuji's use of oysters in his chowder with poblano overwhelmed the clam flavor. Mei's chowder was "the prettiest to look at," but under-seasoned. Finally, Katie's black tea and sourdough chowder was not pleasant to eat - her use of raw sourdough was overpowering and gave the dish a "gummy texture." To the surprise no one, her dish is picked as the weakest of the day.

Which brings us to the sudden death part of this Sudden Death Quickfire. To the astonishment of all the chefs, Tom walks in holding a covered plate and followed by all of the eliminated chefs behind him.

The cheftestants have no idea what's going on, so Padma quickly explains. Instead of Katie choosing the chef against whom she'll battle to stay in the competition, the eliminated chefs will vote for who amongst their population will take on Katie for the opportunity to return to the competition. They cannot vote for themselves.

Rebecca goes first and votes for George, the first chef eliminated this season. As you may remember, George and Greg ended up on the losing side of the opening mise-en-place Quickfire. They cooked against each other in a SDQ and George lost. It seemed like a very bad win at first, but in retrospect, no one at the time knew that Greg was the best chef in the competition. Thus, it seems likely that any of the chefs that had cooked against Greg in that SDQ would have been eliminated right off the bat.

All of this is to say, in a long-winded way, that we actually have no idea how good or bad George is. We have reason to believe he's not as good as Greg, but that pretty much describes everyone else that has appeared this season.

The voting continues. Stacy votes for Joy, Keriann votes for James, Ron votes for George, Aaron votes for George, Joy reciprocates and votes for Stacy, George votes for Aaron, and finally, James votes for George. With four votes out of the eight eliminated chefs, it'll be George (a business partner with Mike Isabella from Top Chef: Las Vegas and runner up in Top Chef: All Stars) taking on Katie for the opportunity to get back into the competition.

And what will be their challenge? Padma tells them that they'll need to "pull a rabbit out of their hat" - meaning, obviously, that they'll be cooking rabbit. This is one of Tom's favorite ingredients, as it can be used in a variety of different ways.

The pair gets cooking and both sides of the kitchen - the eliminated chefs and the active chefs - actively root for their "representative." They offer advice, give tips, etc. It's a very interactive process. Katie doesn't seem to have much trouble pulling together a dish she's happy with, but George (who's cooking in only his second challenge ever on TC) finishes his in the nick of time.

Offering the plates up to the judges, Katie has a braised rabbit leg with Moroccan tomato sauce, while George has a roasted rabbit loin with barley, glazed carrots, and a mustard rabbit jus. Jasper is the first to offer his thoughts - for him, George was the "clear-cut winner." Tom liked Katie's sauce, but notes that it finished a bit bitter. He enjoyed George's barley and found his rabbit to be perfectly cooked. He picks George as well and with that, Katie is sent home.

It's a tough moment. George, who has lamented his defeat at the hands of Greg since then, is overjoyed to be back in the competition. Katie is understandably heartbroken that her stint on TC is ending in such a fashion. Tom makes a final pitch regarding Last Chance Kitchen ("watch it on BravoTV.com now!") and heads out with the eliminated bunch.

It's on to the Elimination Challenge. Padma tells the chefs that after 11 seasons, the chefs are going to be doing something that's never been done before on the show - actual fans of the show will get to eat the food the cheftestants make. Apparently, a tweet was sent out regarding this opportunity, and among 15,000 responses, 75 Top Chef "superfans" were offered the opportunity to attend a casting event (catered by the remaining seven chefs) in the Top Chef Kitchen. I immediately start grinding my teeth - why couldn't they have done this two years ago while I was still in Boston?!?! DAMMIT.

Adding another twist, the chefs will not be doing their own shopping for this challenge. As was replayed over and over in the promos for this episode, the four judges (Tom, Gail, Richard, and Padma) will be shopping for the chefs. The chefs draw knives to see which judge will be filling their pantries - Mei gets Tom, George and Greg get Padma, Melissa and Katsuji get Gail, and Doug and Adam get Richard.

The judges head over to Whole Foods and have 30 minutes to fill their shopping carts. Richard, having competed on Top Chef in two seasons, sprints to the proteins. Tom, Gail, and Padma, meanwhile, saunter over to the produce section. Richard laughs at their slow, measured pace.

The judges seem to be trying their best to pick out ingredients that their chefs will be able to use. Tom tries to find ingredients that Mei will be able to take in an Asian or Italian direction. Gail is struggling to figure out what Katsuji, who she says is "all over the place," might want. Ultimately, she starts picking out foods that she'd like to eat. Richard tries to get a nice variety of ingredients, hoping to avoid a situation where the two chefs that he's shopping for "bomb" because they can't use anything he's purchased.

Meanwhile, back at the house, George is going through a roller coaster of emotions. At first, he's ecstatic to be there - remember, because he got cut during the first SDQ, he never actually got to see the house. The other chefs eye him warily - they know he's got great training and experience, and they have no idea what to expect from him. Is he a legitimate threat to take home the title, or is he a future member of the dwindling middle of the pack? Perhaps sensing this, George is uncomfortable the next morning, saying that the other chefs have established their relationships with each other and that the pressure is on him to show that he belongs there.

The chefs arrive back at the Top Chef Kitchen and take stock of their pantries. For the most part, the chefs are very happy with what's been provided for them. I say, "for the most part," because neither Adam nor Doug are pleased with Richard's shopping. The ingredients are diverse to the point of being random, and Adam has no idea how he's going to be able to pull together a cohesive dish.

Greg and Padma apparently share similar palettes. He loves what she bought and starts making a Indian-style curry with coconut with her. Yes, for the umpteenth time this season, Greg is making another coconut curry. Hopefully Padma won't mind, as she and Jasper had some of his coconut curry at the previous day's SDQ.

Adam is taking a risk. He's preparing his shrimp by immersing them briefly in some very hot olive oil, leaving them just barely cooked. He's never done this before but declares that he has to do something to break out of the middle of the pack. Katsuji concurs with Adam's decision, noting that over the course of the season, Adam has "never been that good, but never that bad either."

Back with Greg, he's opened up a strange-looking fruit that has spines sticking out of its exterior. It's a jack fruit, Greg explains. The interior is bright orange and resembles, in my opinion, an alien placenta with little bell pepper-shaped eggs inside. The "eggs," Greg explains, smell like bubble gum. He's going to incorporate them into his curry. Needless to say, the prospect of an Indian curry infused with bubble gum-scented alien placenta eggs starts my mouth watering instantly.

As the clock winds down, Mei is having trouble with her lamb. Apparently, the bones in the rack of lamb are interfering with the cooking. Mei throws the lamb in the oven to try and finish it off, regretting that she didn't take the lamb off the bone earlier.

Within minutes, the Top Chef superfans are in the kitchen, wandering around, gawking at the kitchen equipment, and chatting up the chefs. I am insanely jealous. I envision all of the likes I would have gotten by attending the event and putting pictures up on Facebook afterwards. Sigh.

The judges arrive and, as they so often do, start judging. Katsuji is first, serving up a harissa-poached shrimp with a Tunisian potato salad with white sangria. Gail loves his potato salad.

Greg again (and again and again) serves up a coconut milk madras curry with chicken and jackfruit (alien eggs) flesh. Tom thinks it's a good plate, with both sweet and hot elements. Padma fawns all over it. It's clearly her type of curry.

Adam has his flash marinated shrimp with peppadew peppers. Gail wishes that, when cooking his shrimp, Adam had done it for five seconds longer at a temperature of five degrees hotter. She really doesn't enjoy the texture they have.

Melissa has incorporated many of the ingredients that Gail bought for her. She serves sautéed shrimp with a harissa yogurt and roasted figs. Richard wishes that Melissa hadn't played it so safe with her dish and laments a lack of spice. Gail says that Melissa's shrimp was just on the edge of being too salty - the same flaw as in the previous Elimination Challenge, Gail notes.

Mei has a rack of lamb with charred eggplant purée and scallion-ginger relish. Padma loves the eggplant purée but questions (along with Tom) the cooking of her lamb. Padma says that, for her, it's too rare. Tom concurs - he likes his lamb more medium-rare than rare, but admits that Mei's flavors are good.

Doug has chorizo-marinated mussels with sweet peppers. It doesn't look like much food on the plate, but Gail likes the dish a lot. She likes Doug's plump mussels. Insert your own sexual euphemism there.

Finally, we have George, the newbie who's nervous. In his first Elimination Challenge, he has a beef and lamb kabob with green lentils. Padma finds his lamb moist and flavorful, and Tom thinks that his lentils are cooked perfectly. Score one for the new guy.

The judges meet to go over their favorites and it's clear within seconds which chefs will be in the top three. George's dish was well-seasoned (per Tom) and made good use of his pantry (per Gail). Padma loved Greg's curry, Tom appreciated the cooking of the chicken and use of jack fruit. Richard thought Doug's use of ingredients was smart, and Tom comments that he put classic flavors together on the plate.

As for the bottom, Tom laments the lack of flavor in Mei's dish, and Padma hated how undercooked it was. Gail notes that the lamb was slimy, though not as slimy as Adam's flash-marinated shrimp. Richard has no idea what Adam was trying to do with that cooking technique. Finally, though Tom appreciates that Melissa cooked her shrimp to order, Padma wishes there was more sweetness to the dish, and Richard criticizes her for playing it too safe.

No mention is made of Katsuji's dish - the bane of the chef stuck in the middle.

Sure enough, when all the chefs are called out, George, Greg, and Doug are announced as the judges' favorites. George was smart to combine beef with lamb to get enough fat in his dish, and his lentils had tons of flavor. Doug featured a classic combination of flavors and, as described by Tom, put together a "powerhouse of a dish." Greg, Richard says, was "otherwordly" in preparing his curry. Tom says that his chicken was perfectly cooked and had great flavor.

I was fully expecting this to be the second episode this season where Greg has swept both the Quickfire and the Elimination challenges, but to my surprise, Doug picks up his second Elimination win in a row. Wow, he's sure coming on strong as the season is winding down. Will he be this year's Carla Hall?

As for the bottom three, it's Mei, Adam, and Melissa. Though Gail loved Mei's eggplant purée and salad, the lamb was unpleasant to eat. Tom likes that Adam took a risk in the way he cooked his shrimp, but found the dish under-seasoned. Finally, though Padma admits that Melissa's food always demonstrates great knifework, she chides Melissa for doing something safe like "seafood on top of salad," which she's already done before. Gail agrees - she wanted more depth in Melissa's food.

We've seen chefs go home for rare lamb before and I think it's possible that Mei goes home today... but in the end, it's Adam who'll be leaving on account of his slimy shrimp.

He's pretty devastated. He wanted to show people who he is as a chef, but never envisioned his journey ending like this. He tearfully says that this may just be cooking, but it's what he breathes and believes every day of his life. He looks into the camera and advises other chefs: "If you don't love cooking enough to be an emotional mess on national television, put the knife down."

Words to live by. Best of luck to him in Last Chance Kitchen.