Weekend Wrap-Up
Exodus Fails to Get the Holiday Fire Burning
By John Hamann
December 14, 2014
BoxOfficeProphets.com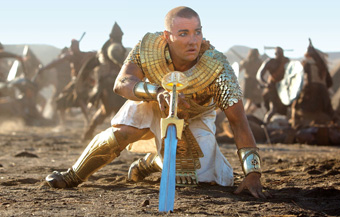 ---
Another weekend, another small disaster at the 2014 box office. This time it's Exodus: Gods and Kings, but really, it's the entire top 12 bottoming out over what should be an exciting weekend.

Faith based films are supposed to be all the rage these days, but when it comes to Hollywood faith-based blockbusters, the only rage seems to come from audiences. First came Noah with Russell Crowe, the $125 million Paramount spectacle. It opened decently at $43.7 million but had no legs, earning only $101.2 million at the domestic box office (a worldwide gross of $362 million likely made it close to profitable). Noah had a Cinemascore of C (about the worst you can get for non-horror), but critics at least liked it, giving it a 77% fresh rating at RottenTomatoes. The resounding word about Noah (I haven't seen it) was about "rock monsters" (no, Peter Griffin, not rock lobsters). The rock monster conversation dominated the word-of-mouth on Noah, and at least domestically, sank it into the deep. That was then, and brings us to today with Exodus: Gods and Kings, a movie directed by one of the kings of film, Ridley Scott (Alien, Black Hawk Down, Blade Runner, to name only a few). I had Cecil B. DeMille hopes for this one, and unfortunately, they have been dashed (and I'm an atheist).

While our number one film of the weekend is Exodus: Gods and Kings, the result is not terrific. The biblical epic is also going to get buried under a third Hobbit and Night at the Museum 3 next weekend. Exodus got started on Thursday night, earning only $1.2 million, a Thursday number that is not up to snuff for a holiday blockbuster (Dumb and Dumber To earned $1.6 million from previews, for Christmas's sake). The writing was on the parchment for a mid-$20 million opening, a number likely not good enough for a film that cost $140 million to make. The Christian Bale starrer (the man from Wales who at least looks more Egyptian than Australia's Joel Edgerton) went on to earn a combined (and puny) $8.6 million on Friday night, a number that translates to a woeful $7.4 million once previews are removed. Noah had a Friday-plus-previews take of $15.1 million at the end of March, which should have been the target for Exodus as well.

Over the rest of the weekend, Exodus: Gods and Kings could only manage $24.5 million from its bounty of 3,503 venues, giving it a sad venue average of only $6,994. If you are the distributor, in this case 20th Century Fox, you are quick to blame Christmas shopping, the weather, the wind, or just about anything other than film quality. You would say that it's the holiday season, you don't need to open large, you just need to skate your film over the next three weeks and cash in. While the last part is true, even if Exodus has an opening-to-total multiplier of 5.0 (which it likely will), the biblical epic will still fail to earn more than its budget stateside. Like Noah, it will have to rely on the finicky overseas audience if jobs are to be kept. The issues with that happening are the critical notices and dangerous word-of-mouth.

Reviews for Exodus were awful. Only 34 critics out of a possible 121 found something to like here, giving it a rotten rating of 28%. "Top critics" were even lower at 24%. The Cinemascore is a B-, a small step up from Noah's score, but one that puts any form of legs in serious jeopardy. In fact, if it weren't the holiday season, Exodus would be in even more trouble. Given the effects, the release date and the star power, one of the better comparisons for Exodus may be The Golden Compass, even though the target isn't quite the same. The Nicole Kidman/Daniel Craig fantasy film opened on December 7, 2007 to $25.8 million and went on to earn $70.1 million stateside. It cost $180 million to make, and was bailed out overseas with a worldwide gross of $372 million. Despite what looks to be a large gross, Compass flopped, as it needed to earn more than a half-billion worldwide to see a profit. Exodus won't need quite as much, but it will be looking for $400 million to keep Fox out of trouble.

The Hunger Games: Mockingjay Part 1 may have benefitted slightly from the poor debut for Exodus. For the first time, Katniss and company were able to keep the drop above the 50% mark, as Mockingjay Part 1 earned $13.2 million, and fell 40%. That's an improvement over the last two weekends when it fell 63% and 53% compared to the opening and second weekend respectively. Mockingjay is not going to even approach what the first two films did ($408 and $424 million domestically), but will succeed as a standalone. Mockingjay cost $125 million to make, which means it needs at least $375 million worldwide. So far it has earned $277.4 million stateside and $334 million overseas. Given that the holiday season is approaching, I do expect it to get to $300 million domestically, which is more than those damn Twilight films ever made.

Third spot goes to those pesky Penguins of Madagascar. The animated film had a better weekend this time around after getting beat up pretty badly over its first two frames. This weekend, the kid-friendly flick earned $7.3 million, but dropped a somewhat slim 33% compared to last weekend. Penguins is skewing very young (Alvin and the Chipmunks young),as we are seeing multipliers well above 4.0, which means the film is not being seen on Friday, Then, theaters are being overwhelmed on Saturday and Sunday. This one cost a hurtful $132 million to make, which means its needs $400 million worldwide to see a theatrical profit. Overseas numbers are decent ($100 million plus), but a domestic score of 58.8 million so far is going to sink it.

That puts new release Top Five from Chris Rock in the top five this weekend at #4. Top Five, the extremely well-reviewed comedy from Paramount, opened at 979 venues this weekend and earned a respectable $7.2 million. It had a solid venue average of $7,365. Rock goes Woody Allen here, writing, directing and starring in Top Five, and critics went gaga. Top Five is currently 89% fresh at RottenTomatoes, and Rock has a hit on his hands. To be honest, Rock has always been a wasted talent at the movies for me, as I enjoyed him in Nurse Betty way back in 2000, but off the top of my head can't think I've seen him in another movie I've enjoyed since. Made for only $10 million (with Paramount acquiring it for $12.5 million), Top Five should see a healthy profit, especially if it can gain some traction and expand over the holidays.

Fifth is Big Hero 6. Like Penguins of Madagascar, Big Hero 6 is also playing young, with a big multiplier after a seventh place finish on Friday night. Big Hero 6 also held well this weekend, earning $6.1 million and dropping a slim 24%. Now in its sixth weekend, the $165 million Disney product pushed its domestic total up to $185.3 million. It continues its slow rollout overseas, with its foreign take now up to almost $70 million.

That slides Interstellar into the #6 slot, and it also holds decently this weekend (the holdovers are thankful for the Exodus miss). Also in its sixth weekend, Interstellar earned $5.5 million and fell 29%. Interstellar brought its domestic total up to $166.8 million, but this one is a hit overseas, pulling in over $430 million so far. Made for $165 million, the Chris Nolan flick will be profitable at the theatrical level, as it needed a half-billion worldwide and has $600 million and counting.

Seventh is Horrible Bosses 2, which didn't avoid the slump this weekend. The comedy sequel earned $4.6 million and declined 45% compared to last weekend. With its $42 million budget, Bosses 2 needs $125 million worldwide to see a profit, and currently has a domestic cume of $43.6 million and about $25 million from overseas theaters.

Dumb and Dumber To can't stop the slide, either, as it earned $2.8 million in its fifth weekend. It was off 36% compared to last weekend, but has taken in $82.1 million domestically against its $40 million budget. It has also found another $45 million overseas for Universal and Red Granite.

Focus Features' The Theory of Everything expanded to 1,220 venues this weekend, and the move paid off. Last weekend, the awards fave earned $2.6 million. This weekend, Theory earned $2.5 million. The $15 million film has now earned $17.1 million and is just getting started overseas.

Wild, with Reese Witherspoon, also expands from 21 venues to 116 this weekend. Wild earned $1.6 million, and increased over last weekend's score by 155%. The Fox Searchlight film is still just getting started, but already has a domestic cume of $2.4 million.

Birdman, despite dropping a handful of screens, has a good hold this weekend thanks to its seven Golden Globe nominations. Birdman earned another $1.3 million and increased 15% compared to last weekend. The $18 million release now has a running total of $20.8 million.

In limited release, Paul Thomas Anderson's Inherent Vice with Joaquin Phoenix opened on four screens this weekend. Despite some subdued critical responses, Inherent Vice still opened strongly, pulling in $330,000 for a venue average of $66,000.

Overall this weekend, things are just generally bad. The top 12 films earned a woeful $77.7 million, down sharply from the $140.6 million earned last year over the same weekend. For comparison's sake, this same frame in 2013 hosted the second Hobbit movie, which debuted to $73.6 million. Next weekend, The Battle of the Five Armies will be upon us, but it opens Wednesday, which means the weekend proper might be muted. Also opening are Night at the Museum 3 and Annie, the remake that has already been leaked by North Korea and/or the Sony hackers.