They Shoot Oscar Prognosticators, Don't They?
SAG and Golden Globes Give Us Tea Leaves
By J Don Birnam
December 11, 2014
BoxOfficeProphets.com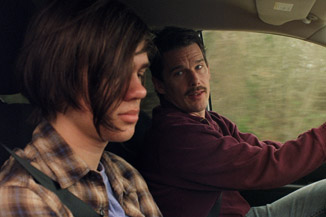 ---
Has Boyhood already won the Best Picture Oscar? And just what do the SAG and Golden Globe nominations mean for the 2015 Academy Awards? The main races are starting to come into sharp focus. Let's analyze what the latest slew of nominations and awards means for the speeding-up Oscar race.

SAG: The Industry Finally Speaks

The Screen Actors Guild was the first industry group to speak this year. Some of its members also belong the actors' branch of the Academy, its most numerous. However, with its 100,000 or so members, SAG is gargantuan compared to the 6,000 or so voting members of AMPAS. Thus, while SAG nominations do tell us where the wind may be blowing, caveat emptor: their usefulness as prognosticators is necessarily limited because actors and other branches may sometimes differ. SAG wins for American Hustle or The Help are notorious in how they missed with Oscar. Moreover, because SAG nominations occur the earliest, late-breaking movies have a hard time getting in. Recently, for example the Wolf of Wall Street, Django Unchained, and Zero Dark Thirty did poorly with SAG, only to land Best Picture nominations with the Academy. Conversely, early release movies can do well with SAG only to have faded entirely by the time the Oscar nomination votes are cast: witness The Butler's complete disappearance between SAG and Oscar.

This should be, by the way, an obvious lesson to wily Oscar consultants: late-breaking movies have not won Best Picture since I believe Million Dollar Baby did it in 2004. Since then, the winner had already been seen by October at the latest. This makes sense: when the Oscars moved their date from late March to late February, it gave viewers and guilds less time to pop in screeners and get late movies into their ballots. It should thus be no surprise that late breakers like Selma and Unbroken are practically nowhere to be seen in the SAG nominations, dominated instead by festival movies like Boyhood, the Imitation Game, and Foxcatcher.

So what to make of the SAG nominations? The five contenders for the top prize are, in case you missed it, Birdman, Best Picture front-runner Boyhood, The Grand Budapest Hotel, The Theory of Everything, and The Imitation Game. At least four of those seem mortal locks for a Best Picture Oscar. The interesting thing is the inclusion of The Grand Budapest Hotel. Will that be another Butler, fading by the time January rolls around? I doubt it. The movie opened last winter - its inclusion here is more of a revival if anything. The Butler, by contrast, was an August release. I think its inclusion here gives it a real chance at a nomination, given how passionate support for the movie is. In fact, I am currently predicting The Grand Budapest Hotel for the SAG Ensemble win.

Boyhood, the presumptive Best Picture front runner, features only four actors, one of whom is the director's daughter and another (the lead, Ellar Coltrane) who was unknown before this movie. If SAG really just wants to play with the cool kids (and a more rational Oscar prognosticator would think so), then surely they will go for Boyhood. But a rational SAG win would be for Hotel or Birdman. Even The Imitation Game features a more diverse and strong ensemble - it is an ensemble pic.

The SAG acting categories offer some of the same and some surprises. Keaton, Redmayne, and Cumberbatch were nominated, and it would be a snub to have one of them miss out on an Oscar nod. Jake Gyllenhaal got a boost in this competitive category with his deserved nomination for Nightcrawler, but he didn't really face Selma's David Oyewulo as he will for the Oscar. Steve Carell also made it in, which should also help his chances.

The main surprise in the lead actress category was Jennifer Aniston for the little-known but well received Cake. This has made her a credible threat for that fifth slot, which we earlier mentioned could go to Hilary Swank. Rosamund Pike also landed Gone Girl's sole nomination with SAG - and this one has to hurt for the David Fincher vehicle, which seems to have faded entirely from contention. Marion Cotillard didn't make the cut here, but is still a serious contender for that fifth spot that went to Aniston, given that her train is barely starting to gather speed.

In the supporting field, it seems as if Supporting Actor is Whiplash's J.K. Simmons' to lose. Robert Duvall got in for The Judge, but I expect that spot will go to Tom Wilkinson as Lyndon B. Johnson in Selma - again, a dichotomy between the early release movies and the later-breaking ones that limits SAG predictive value to a degree. But the other slots - Edward Norton (Birdman), Mark Ruffalo (Foxcatcher), and Ethan Hawke (Boyhood) - seemed locked alongside Simmons.

Finally, category fraud once again reigns supreme as Patricia Arquette leads the supporting actress pack with SAG, and I expect she will walk home with the Oscar if AMPAS puts her in that category as well. Meryl Streep got in for Into the Woods despite the fact that most SAG members haven't seen it (to be fair, they nominate by committee) - they probably just mark her name on the list blindly at this point. The big surprise is Naomi Watts' inclusion for the dark comedy St. Vincent, probably over Jessica Chastain for a Most Violent Year (another late breaking movie).

Golden Globes: The Quirky HFPA Does Its Thing

Like SAG, the Golden Globes speak early, but they also speak often: because they split their awards between Comedy/Musical and Drama, they give themselves more space for nominations. So, to the extent they are reliable Oscar prognosticators (and they're not, remember when The Descendants won the Globe? Didn't think so), they are arguably cheating. The runners of the Globes, the Hollywood Foreign Press Association (the HFPA, consisting of about 100 reporters) are also notable for their love of star power, nominating dubious movies and roles with big stars to make for a big party.

This last bit should be startling to the people behind the Unbroken Oscar campaign, which with its zero and zero at SAG and Golden Globes is in serious trouble. You would have thought that they would want to bring Angelina in and have shots of her alongside Jennifer Aniston, who was nominated for Cake. Not so, and Unbroken has an unbroken string of zeroes.

The main movie nominations for the Globe offer few surprises - Selma did get into the drama race, a spot that SAG gave to The Grand Budapest Hotel, but that latter movie scored a comedy or musical nomination. I expect Birdman to win that category, however, as it is a more beloved movie. And I was thrilled to see Pride receive a Best Comedy or Musical nod as well - one of my favorite movies of the year. Over in drama, Selma definitely breathes a sigh of relief, but it seems like it's Boyhood's award all the way.

The Globes directing category did offer a surprise: a nomination for David Fincher, whose movie did not land any of the 10 Best Picture slots with the Globes. Intriguing, and perhaps the last lifeline for Gone Girl.

In the acting categories: Jennifer Aniston scored again for Cake, so she must now be taken seriously as a contender for the fifth slot, despite the ability of the Globes to give out ten nominations. The other nominees matched SAG (Felicity Jones, Julianne Moore, Rosamund Pike, and Reese Witherspoon) so it's likely these are four of your Oscar nominees. The lead actor races also essentially matched SAG, with Jake Gyllenhaal once again scoring and increasing his threat. But David Oyelowo did get in here because of the ten slots, so he should not be counted out. Still, the other four names (Carell, Cumberbatch, Keaton, and Redmayne) seem locked. But because Keaton is in a different category than the others, his expected Globes win won't tell us much as to where the wind is blowing when the Oscar race comes around.

The supporting nominations were very similar to the SAG ones. Best Supporting Actor matched SAG entirely, with Robert Duvall taking the fifth slot over Selma's Tom Wilkinson - a bad sign for him given that it is clear that the HFPA did see Selma (unlike SAG). The Supporting Actress race, by contrast, matched SAG except they nominated Chastain over Naomi Watts. I expect that to be the final Oscar alignment as of now.?

Some final Globes thoughts: I was happy to see Interstellar get a deserved soundtrack nomination, but their omission of "Lost Stars" from Begin Again in the original song category will surely raise some eyebrows.

In sum, this is probably what the SAG and Globe nominations mean together: expected good showings for Birdman, Boyhood, and what I will call "The Imitation of Everything," the two movies that will almost certainly cancel each other out at the Oscars; surprise victories and revivals for The Grand Budapest Hotel, Foxcatcher (which seemed to be in trouble before today as Boyhood had beaten it with the critics), Jennifer Aniston, and Jake Gyllenhaal; crushing blows to Gone Girl and Unbroken. Some hope for Selma.

Best Picture: Is It Over?

In addition to this slew of nominations, a number of other critics associations, including the prominent L.A. Film Critics, handed outtheir awards and they all spoke loud and clear: Boyhood. The question that now infects the Oscar blogosphere is this: Is the Best Picture race over? My objective instinct says yes, but my gut is hopeful that it is not.

Here is why not. There is precedent for a critic-oriented movie to sweep the critics then lose Best Picture, and it's recent. It's called The Social Network. And let's face it, Boyhood is a quintessential critical darling - quirky, edgy, and different. It lacks, on the other hand, that grandiose feeling of self-importance that movies like The King's Speech and "The Imitation of Everything" have. But Boyhood does have that "gimmick" Oscar story of "it was made over 12 years." Don't underestimate the importance of the "gimmick" and the "Oscar story" for the win - it helped The Artist with its black-and-white gimmick narrative, it helped Slumdog Millionaire with the "almost went straight to video" Oscar story. Boyhood has those things. It's the project that should have never been. That story alone is hard to resist. So, even as I'm speaking as to why I think the race is not over, I'm seeing reasons why it likely is. Ouch. Still, until Boyhood scores wins at PGA, SAG or DGA, I remain a bit skeptical that this slightly-out-of-reach three hour saga has the insurmountable lead.

But, to be fair, here are additional reasons why the race may be over. The main reason is that there is no viable alternative to Boyhood. "The Imitation of Everything" is going to cancel itself out: two movies about a Brit with issues saving the world. Birdman also isn't going to win: a movie of that nature - a bit wacky and completely off the regular narrative rails - has never even come close to the top prize. Only Unbroken and Selma are left as legitimate contenders, but their poor critical and SAG/Globe showings do not bode well for their chances. Year after year bored Oscar prognosticators speculate that "voter fatigue" may inject some suspense into the race (lest we have nothing to talk about for the next three months) but "voter fatigue" did not stop runaway trains called 12 Years a Slave, The Artist, or The Hurt Locker. They won and won and won and never looked back.

And then there is the definitive reason why I think the Best Picture race is likely over (but keep reading my column for the next three months mind you!): sheep mentality. The Oscars were notorious last year for featuring no surprises in any major category. The winners of the acting races were anointed early on, won every relevant precursor, and the deal was sealed. Are voters lazy? Disinterested? Scared? Certainly you would think that the desire to "be right" or to "vote with your peers" does not come into play when voters cast their ballots in secret. But the thing is: voters know that their collective choices will be publicly known. So the silly Oscar voter doesn't want to pick Birdman - it's not a safe choice when everyone else has picked Boyhood. It causes controversy and angst like their choice of Crash did. Better not move the needle, it seems. Indeed, Oscarologists who talk to Academy members consistently report being told that someone is voting for the perceived frontrunner to "be a part of the winning team."

More surprising is that critics groups do it. There is already fatigue over the exploding number of critics - not only are they now organized by state and city, but also by region. But, and no offense to the non-coast critics, why are these additional groups relevant if they are simply going to select the same movies that New York and Los Angeles critics do? This happened last year and most of the years before that. It's obnoxious to have to follow and cover 50+ critics groups. It's downright maddening to have them all simply parrot the same choices.

So, while here we are hoping that something - anything - will come along to shake up this already settling Oscar race, don't get your hopes up. At least we can look for drama and analysis in other categories in the weeks to come. Thank God for the below-the-line awards.