Weekend Wrap-Up
Mockingjay Tops Post-Thanksgiving Fallout
By John Hamann
December 7, 2014
BoxOfficeProphets.com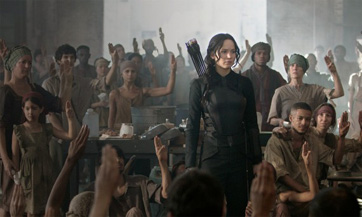 ---
Like Halloween and Labor Day, it is really no surprise that this weekend's box office bottomed out, as the post-Thanksgiving frame is always a dead zone at the box office.

A year ago over the post-turkey frame, Relativity Media tried to launch the Christian Bale film Out of the Furnace. It had a good cast, some awards potential, and had a marketing push behind it, but it opened to only $5.2 million from 2,100 venues. Sure, the subject matter was tough, but Bale was coming off The Dark Knight Rises, and it was the lone opener of the weekend. Still, with holiday shopping now in full force and those holiday season activities starting to pick up, nobody went to the movies that weekend, leaving the second weekend of Frozen to dominate, with Catching Fire pulling up in second. While the top two combined for $57.8 million, both suffered 50% plus drops, as is the trend over the post-Thanksgiving weekend. Last year, the percentage drop for films in the top ten averaged a plunge of 51.6% compared to the Thanksgiving weekend previous. As odd as it may seem, this is the norm at the box office, as ever since Analyze That flopped over the first weekend of December of 2002 and The Last Samurai started slow the following year, studios have avoided opening films on this weekend. The Tom Cruise samurai flick went on to find global success and is also a footnote in box office history, as it was the last time a new film opened in the #1 position over the post-Thanksgiving frame.

Eleven years later, and we have 11 repeats. This year is no different, as The Hunger Games: Mockingjay Part 1 remains on top for a fourth consecutive weekend. The three-peating three-quel earned $21.6 million this weekend, off an expectedly rough 62% compared to the holiday frame, where it earned a powerful $57 million. The last film in the series, Catching Fire, earned $26.2 million over the same weekend, dropping 65%. The Friday number for Mockingjay came in at $6.6 milllion, off 73% from last weekend's Black Friday gross. Mockingjay did what it could this weekend and pushed the domestic tally across the $250 million mark on Saturday, its 16th day of release. It took the first Hunger Games 11 days to reach $250 million, while Catching Fire took eight days, so one can see how Mockingjay is lagging behind.

Mockingjay sits with $257.7 million in the domestic kitty, a number Lionsgate is going to be quite happy with. Had Mockingjay not been split into two parts, it would have made $450 million domestically and a billion worldwide, instead, Lionsgate will get the same result from Part 2 and see the revenue from Part 1 as gravy. Mockingjay Part 1 has now earned over a half-billion worldwide. The $125 million release has pulled in $303 million from overseas theaters and has yet to open in China. The original Hunger Games earned $283 million total overseas, while Catching Fire earned $440 million. Part 1 will act as marketing for Part 2 with overseas audiences, and I would expect Part 2 to substantially add to the $440 million that Catching Fire earned. Domestically, Mockingjay Part 1 should cross the $300 million mark.

The rest of the top ten was dreadful this weekend, even considering the calendar configuration. Penguins of Madagascar is second this weekend, coming off a muted debut of $25.4 million. This weekend, the Friday number alone was off a hurtful 77% compared to Black Friday, and the Penguins of DreamWorks Animation earned only $11.1 million, off 56% from the holiday frame. With kids off school last Friday, it is understandable that the Friday plunge is so significant; however, with a domestic gross so far of $49.6 million, 20th Century Fox (who is distributing the DreamWorks product) has to be looking at a worst case scenario.

Remember that Penguins cost $135 million to make, so it will need a worldwide gross of between $350 and $400 million to see any kind of profit. At $135 million, these films simply cost too much to mitigate the risk. The only upside still possible is in the overseas grosses, as the Madagascar films have proven to be popular outside of North America. Penguins has managed an overseas total of $94 million so far. It should still be able to manage $75 million stateside, which would mean a need for an overseas gross approaching $300 million. At this point, that seems unlikely.

Third spot goes to Horrible Bosses 2, which had some good news by placing second on Friday, only to be relegated to third by the end of the weekend. After a fifth place, $15.5 million three-day total last weekend, Horrible Bosses 2 was one of the films in the top ten to actually hold decently this weekend. "Decent" over the post-Thanksgiving frame means that the Warner Bros. release earned $8.6 million and dropped 44% compared to the holiday frame. Working in favor of the R-rated comedy is the budget of only $42 million, which reduces the pressure on the movie to over-perform. Given its domestic take of $36.1 million so far, it will match it production budget next weekend, and could even be profitable should overseas numbers show up for the sequel like they did for the original ($92 million overseas take). Domestically, I'm thinking that Horrible Bosses 2 finishes within $20 million of Penguins of Madagascar, yet it cost $93 million LESS to make.

It was close this weekend between our five-weekend-old films, Big Hero 6 and Interstellar. Big Hero 6 finished fourth but had the higher percentage drop compared to last weekend. After earning $18.8 million last weekend, Big Hero 6 dropped back significantly this weekend, earning $8.1 million and dropping a severe 57%. Again, kids' movies take the brunt of the punishment from the post-Thanksgiving frame, as the differences between Black Friday and this Friday are so significant. Big Hero 6 lost 77% from Friday-to-Friday, which is hard to come back from, no matter the weekend multiplier. The animated feature with the $165 million budget has now earned $177.5 million and should have no problem touching $200 million, which means the film will have to approach $300 million overseas to be profitable for Disney. So far, Big Hero 6 has pulled in $63 million internationally, but that is from only a handful of overseas territories. It debuts within 15 more territories before the New Year hits, in countries like Japan, Australia and several European regions.

Interstellar is fifth, and has already seen a wide release overseas, and has already earned the half-billion necessary for Paramount and partners to see a profit. This weekend, Interstellar earned another $8 million and was off 49% compared to the previous weekend. With awards and best of the year lists starting to come out – and little to no sign of Interstellar save for some visual effects mentions – Chris Nolan will have to be happy that moviegoers have come out for his sci-fi epic and content himself with a domestic gross of $158.7 million, and an overseas gross that is approaching $400 million.

Dumb and Dumber To is sixth and joins the rest of the group with a big drop following the long weekend. The Jim Carrey/Jeff Daniels flick earned another $4.2 million this weekend and fell 50% compared to the $8.4 million it earned last weekend. The $40 million laugher has now rung up $78.1 million on the domestic side, and has about $40 million from overseas venues. It does open in a bunch of new territories this weekend, and there are more to come before the end of December. While it opened strong, unless it becomes huge again through its home video release, I don't see a huge appetite for another one.

Seventh goes to The Theory of Everything, the Stephen Hawking biopic from Focus Features. Focus kept the venue count close to where it was last weekend, adding just 24 theaters this frame. The result was as expected, as Theory earned $2.7 million and declined 47% compared to last weekend. I would expect a larger push for more venues next weekend, as at 826 venues, this one still has room to grow. So far, The Theory of Everything has earned $13.6 million and has yet to open in overseas locations.

Ben Affleck and Gone Girl hang around for another weekend, the film's tenth consecutive in the top ten. This weekend it earned only $1.5 million, dropping 39% compared to last weekend. Gone Girl has now earned $162.9 million domestically, and $335 million worldwide. It opens in Japan next weekend.

Misbegotten afterthought The Pyramid opened this weekend to little fanfare, as Fox chose to roll it out in only 589 venues. That kind of count kneecaps a film like this one, giving it no chance to succeed (not that it had much of a chance anyway). The Pyramid opened to only $1.4 million and will disappear quickly. It had only two positive reviews at RottenTomatoes, and we would have to search far and wide for anyone that has actually seen it.

Birdman is 10th, as even art house hits aren't immune from the turkey blues. Birdman earned another $1.2 million and fell 39%. The $18 million film has now matched its production budget, earning $18.9 million so far.

Eleventh place goes to St. Vincent, Bill Murray's successful dramedy. The Weinstein release earned another $1.1 million, and dropped 36% compared to last weekend. It has earned $40.8 million since opening, not bad against a $13 million budget.

Twelfth is Nightcrawler, which gets a new life from Open Road thanks to the mini-major adding 687 venues back into its count. Now out to 1,257 theaters, Nightcrawler earned $1.1 million and was our only film with an "up" percentage, as it moved higher by 27%. Already profitable against its $8.5 million budget, Open Road appears to be positioning it for Oscar attention in the hopes of keeping the kudos coming. So far, it has earned $30 million stateside and $6.3 million from overseas venues.

In limited release this weekend, Reese Witherspoon's Wild opened at 21 theaters and pulled in $630,000. It had an okay venue average of $30,000. The Imitation Game expanded from four locations to eight and earned $402,000, giving it a second weekend venue average of $50,250.

Overall this weekend, the box office bottomed out, as the top 12 found only $73.4 million, the lowest total since the first weekend of September when the top earned $51.5 million. A year ago, the box office was functioning much better, with the top 12 earning $86.4 million. Next weekend, we are back in business, as Ridley Scott's Exodus: Gods and Kings opens at 3,300 plus theaters, and Chris Rock's Top Five also debuts in more of a nationwide release.