Weekend Forecast for December 5-7, 2014
By Reagen Sulewski
December 5, 2014
BoxOfficeProphets.com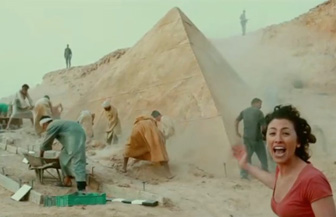 ---
Two straight weeks of bad news for the box office could get turned around by... no, I can't say that with a straight face. The weekend after Thanksgiving remains one of the dead zones of the box office, but perhaps studios can comfort themselves with the idea that they didn't even try.

The only sort of notable release this week in terms of the box office charts is one we wouldn't normally even pay attention to, not reaching the level of release we hold as our standard, but with nothing else to talk about, The Pyramid gets our gaze upon it. Isn't it lucky.

The directorial debut of one Gregory Levasseur, writer of such notable horror films as Mirrors, High Tension and The Hills Have Eyes – oh and now you're all breaking out in hives, sorry about that – it trades on one of the hoariest old tales in the genre, The Mummy's Curse. A group of archaeologists stumbles upon a here-to-fore unknown pyramid in Egypt – one with three sides instead of four, the movie breathlessly informs us for some reason – and proceeds to enter it even after the anonymous native guide is killed by the first blast of air from the crypt. You got casual racial indifference in my horror movie cliche! No, you got horror movie cliche in my casual racial indifference!

While the claustrophobic interiors of a tomb might in theory be a solid place to set a horror movie, The Pyramid seems content to run through the most basic genre signposts, including over elaborate traps, creaky, cracking floors and things that jump out from the shadows. There is, admittedly, a bit of a twist in that they've used some seriously unimpressive CGI to create monsters in the maze, but a bunch of Lovecraftian demons seem like an overmatched foe for a bunch of headlamp wearing scientists.

This bears a little bit of resemblance to earlier this year's As Above, So Below, which took another bunch of archaeologists hunting around the Paris Catacombs, only to feed them to the desires of a supernatural force. Apparently French people really hate archaeologists. That used the found-footage technique to advance its horror, while this is a more conventional film, but I think that scarcely makes a difference. It's also a bit of an afterthought to its studio, Fox, which is deeming it worth only a 589 screen release on a weekend that Hollywood would probably rather pretend doesn't exist. This should come in with a meagre $3 million this weekend, at best.

So, as underwhelming as Mockingjay Part 1 has been in box office terms (and if you even care to call it such a thing), it will have its third weekend at the top of the charts, after last weekend's openers failed to challenge it in any meaningful way. With $235 million in the bank after less than two weeks in release domestically, and just shy of half a billion worldwide, this is of course a wildly profitable film. However, it's already running about $70 million short of the previous Hunger Games film, and will probably finish about $100 million shy, at $325 million or so. Split into two, that means the final book could be worth $650-700 million, but with a much greater production budget, and at a risk of tanking the whole thing. At this point, we can clearly say there was either a backlash or a cooling of attitudes towards the franchise, and while Lions Gate has handled the series well prior to this film, they've clearly fallen down a bit on this one. Look for about $26 million this weekend.

Penguins of Madagascar was DreamWorks' big push to expand its Madagascar franchise to its more interesting auxiliary characters, but a $25 million opening weekend has rather nipped that in the bud. It's probably that the film skewed entirely too young, since that's about the only reason that really makes sense as to why this would earn about half the opening weekend of the Madagascar films proper. If I'm Sony Pictures, I'm eyeing my Minions advertising to see if there's any similar weaknesses. Give it $16 million this frame.

Meanwhile, the real family hit of the Holiday season, Big Hero 6, continued chugging along, adding $19 million to bring its total to around $170 million. It's close enough to Christmas that it may last to get the holiday boost, making final projections difficult, but $250 million isn't an improbably large figure. Look for $11 million here.

Interstellar is showing some legs as well, hitting the $150 million mark. There's some chance for it to cash in on Christmas bonanza as well, though at a lower level than Hero 6, given its genre and lower starting earnings. $9 million should be the take here this weekend.

Horrible Bosses 2 was a dramatic step down from the first film in earnings, with just over half the opening weekend. It's clear that audiences were wary of this being another Hangover II, and without any great new hooks for the audience, it became easily missable. It should earn just $7 million this weekend, and may end up under $50 million total.