Weekend Wrap-Up
Mockingjay Is the New Thanksgiving Bird
By John Hamann
November 30, 2014
BoxOfficeProphets.com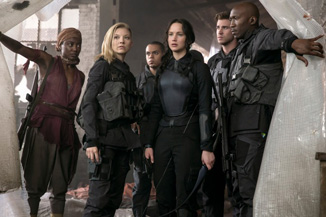 ---
Forget the turkey this Thanksgiving, folks. It's all about Mockingjays and Penguins.

Yes, The Hunger Games: Mockingjay Part 1 spent its second weekend facing off against newcomers in Penguins of Madagascar and Horrible Bosses 2, and nothing overly surprising happened at the box office. Following the $122 million start for Mockingjay, it was impenetrable over the Thanksgiving frame, leaving the Penguins and those Horrible Bosses alone to fight it out. Throw in our constantly curveball throwing holdovers, Big Hero 6 and Interstellar, and spots two to five were a dogfight. In the end, the turkey frame was very similar to almost every other weekend and season this year – lower than 2013. However, five films finished the five-day portion of the weekend at or above $20 million, so there are still things to celebrate as we head into the true holiday season.

Our number one film of the weekend is The Hunger Games: Mockingjay Part 1, as Katniss and clan climbed the peak toward $200 million and now head toward $300 million. The party hasn't stopped for Mockingjay since it opened. It saw a low point of $9 million on Monday, but after a Tuesday of $12.1 million, a Wednesday of $14.6 million and a Thursday of $11.1 million, Lionsgate's third film in the series had amassed $168.6 million prior to the weekend even beginning. It was now earning more on a daily basis than the original, but was still heavily lagging behind Catching Fire, which had accumulated $222.1 million before its second weekend began.

On Friday, Mockingjay took in $24.1 million, a solid number compared to its opening Friday. It was off 56% from that first Friday, very similar to the 55.5% decline of Catching Fire and a big improvement over the 72% plunge the original took. Additionally, Mockingjay had a much better second Friday than that of The Twilight Saga: Breaking Dawn Part 1 (another franchise that didn't need the last part split into two movies), as the vampy teen flick fell 77% over its second Friday, earning $16.7 million, despite handily outgrossing Mockingjay over opening weekend. This is good news for the Lionsgate franchise, as it now very clear that Mockingjay is not going to see Twilight style legs despite the somewhat poorer reception from the fanbase and critics compared to the earlier films. Also, compared to Catching Fire, Mockingjay was almost $16 million behind on opening day. On its second Friday, it was only $7.5 million behind, a sign that some Mockingjay goers may have been waiting for the long weekend to lock eyes on Jennifer Lawrence.

Over the weekend proper, Mockingjay earned $56.9 million, off a respectable 53% compared to opening weekend. That's essentially identical to Catching Fire's second weekend drop fell a year ago. It also fell 53%, earning $74.2 million. The original fell 62%, but it opened in late March, leaving it without the safe landing pad of Thanksgiving. Breaking Dawn Part 2 fell a much higher 69% on Thanksgiving weekend after opening to $141 million. Breaking Dawn Part 1 fell a ridiculous70% on turkey weekend after opening to $138 million. The best comparison might be Harry Potter and the Deathly Hallows Part 1. It opened on the pre-Thanksgiving weekend in 2010, earning a very Mockingjay-like $125 million, and then fell 61% over the turkey frame before finishing the long weekend with a cumulative total of $219.1 million. This tells me that The Hunger Games franchise continues to prosper despite a downtick over the opening frame. Remember that Deathly Hallows Part 2 went on to open $45 million better than Part 1 and outgrossed it domestically by almost $100 million.

Mockingjay now sits with $225.7 million on the domestic front, crossing the $200 million mark on Saturday, its ninth day of release. That's only one day shorter than the time it took the original Hunger Games to hit $200 million (despite a $30 million plus lead after opening weekend), and the same time it took the two previous mega-Part 1's, Deathly Hallows and Breaking Dawn. Next weekend will foretell the final approach for Mockingjay, as nothing new hits theaters. At the same time, that frame is one of the slower movie going weekends of the year. Even Frozen saw a monster drop last year of 53% during that calendar configuration. Overseas, Mockingjay has cleared the $250 million mark, and sits with $254 million so far. Lionsgate's $125 million investment into Mockingjay Part 1 will pay off handsomely, but we won't see the real payoff until Mockingjay Part 2 completes its run next year.

Second spot goes to Penguins of Madagascar, an expensive spinoff from the Madagascar franchise. Penguins was distributed by Fox but produced by DreamWorks Animation, who has seen some nightmarish results recently in the forms of Mr. Peabody & Sherman, Turbo and Rise of the Guardians. Penguins of Madagascar is certainly not going to help the DreamWorks Animation stock price, which has dropped a third in 2014 alone. Penguins got started on Wednesday, earning $6.3 million. That was a so-so start at best for the Madagascar spin-off, which has TV shows and blankets to keep the kiddies thinking about these Penguins from Africa. Its Wednesday gross was about what The Muppets did over its first day of turkey weekend in 2011. If that trend held, the Penguins were destined to finish the weekend below the $30 million mark despite tracking looking for a $30-32 million three-day weekend. The Thursday didn't help, as Penguins earned just shy of $4 million, which meant it had $10.2 million in the tank before the weekend began.

Over the weekend proper, the Penguins flew low, earning $25.8 million. While they did bounce back admirably on Friday with a $10.2 million gross, the weekend take is simply not enough for a film that reportedly cost $132 million to make and finished softly when compared to the rest of the Madagascar franchise. The last Madagascar film, Europe's Most Wanted, opened to $60 million, which means there wasn't as much crossover audience as Fox and DWA would have liked. The Muppets opened to $29 million over the Thanksgiving frame in 2011 and failed to reach the $100 million mark.

The Penguins are just about as front-loaded as those Muppets were, which means that this newest animated project is going to struggle to make it to $100 million. Thus, it will have to rely heavily on overseas audiences. Luckily, this is where the Madagascar films have made their money, with the first earning $193 million domestic and $339 million overseas. The second movie's split was $180 million/$423 million and the third film's was $216 million/$530 million. If (and it's a big if) Penguins can earn $100 million domestically and $200 million overseas, Fox might eke out a profit theatrically, but with that big $132 million budget, it will be difficult, as films normally need to earn three times their production budget to recoup theatre costs and marketing.

Third spot goes to Big Hero 6, which had a solid five-day turkey weekend. Last weekend, the Disney/Marvel release earned $20.1 million, a solid result in its third frame. This weekend, though, Big Hero 6 nearly equalled that score, earning $18.8 million, down a slight 7% compared to the previous frame. This was the news Disney had been looking for, as it perks up its run in its fourth weekend, and upsets the DreamWorks competition (again). It makes Big Hero 6 a strong player until December 19th, when Annie and Night at the Museum 3 open, as Penguins of Madagascar will drop harder than Big Hero 6 next weekend. The Disney release has now earned $167.2 million domestically, and is rolling out slowly overseas, where it has a gross so far of $57 million. $200 million is now in sight for Big Hero 6, which cost Disney $165 million to make. Where the overseas gross takes it is still anyone's guess, but this could still be a formidable worldwide player before all is said and done.

Not to be outdone, the other duel at the box office this weekend was between Interstellar and newcomer Horrible Bosses 2, with the holdover winning out. Interstellar pulled in another $15.8 million this weekend, increasing its take over last weekend's $15.3 million finish by 3%. Christopher Nolan's thought piece continues to roll, having now picked up $147.1 million. With the holidays looming, $200 million domestic should be at least approachable now for the $165 million epic. Interstellar is approaching the half-billion mark worldwide.

That gives Horrible Bosses 2 the sad sack fifth place finish this weekend, as the poorly-reviewed Warner Bros. comedy failed to reach the heights of the original. The star-studded sequel got started on Wednesday with an okay $4.3 million and then dropped 28% on Thursday to $3.1 million. It was Friday that hurt, though, as Bosses 2 took in $6.2 million, which destined it for the back of the pack. Over the Friday-to-Sunday portion of the long weekend, Horrible Bosses 2 could find only $15.7 million, again below where tracking had indicated this would land. The good news is that this one cost WB only $43 million to make, which means it should easily find a profit considering the original earned almost $100 million away from the US. Critics hated it, and I think it will have to work extremely hard to stay relevant through the holiday season, but then again, Let's Be Cops made over $80 million, so who knows.

The rest of the top ten nearly made less than Horrible Bosses 2 did, combined. Sixth went to Dumb and Dumber To, which earned $8.3 million and fell 41%. Thanksgiving is supposed to be a strong weekend for holdovers, but it looks like Harry and Lloyd missed the notice. The $35 million comedy has racked up $72.2 million since opening, and with an additional $20 million from overseas venues thus far, Dumb and Dumber To is going to be profitable – not widely profitable, but not bad for a sequel to a film that opened 20 years ago.

Focus Features successfully expanded The Theory of Everything this weekend, as the mini-major pushed the venue count from 140 in the last frame to 802 this weekend. The Stephen Hawking biopic earned $5.1 million from those 802 venues, and earned a decent average of $6,337. The well-reviewed film has now rung up $9.6 million from domestic theaters.

Eighth went to the seemingly always present Gone Girl, which is now in its ninth weekend. Gone Girl was down slightly compared to last weekend, earning $2.5 million and declining 13%. It will still be in the top ten over its tenth weekend, and has so far earned $160.8 million domestically and more than $170 million overseas.

Ninth is Birdman, which dropped 152 theaters this weekend to land on 710 screens. One might expect a drop due to the change in venues, but Birdman increased over its $1.85 million take last weekend by earning $1.9 million. The $18 million Fox Searchlight picture has now earned $17.2 million.

Bill Murray's St. Vincent is tenth, as the story winds down on this one. The Weinstein Company release picked up another $1.8 million this weekend and was off 21% as it lost 451 venues. The comedy, which cost $13 million to make, has now earned $39.3 million.

In limited release, Benedict Cumberbatch's The Imitation Game was white hot. It picked up an inimitable $482,000 from only four screens this weekend. That gives it a venue average of $120,500 as it looks to become a player in the Oscar game. I think we will be seeing a lot of this one going forward.

Overall this Thanksgiving weekend, 2014 couldn't match last year, when Catching Fire's second weekend led the top 12 to $194.6 million over three days. This year's top 12 could only muster $155.6 million, leaving this year in the lurch once again. Next weekend, we will replay this all again, as nothing new hits screens save for Fox's The Pyramid, which is going out to less than 600 screens.