They Shoot Oscar Prognosticators, Don't They?
The Start of Round Two
By J. Don Birnam
November 26, 2014
BoxOfficeProphets.com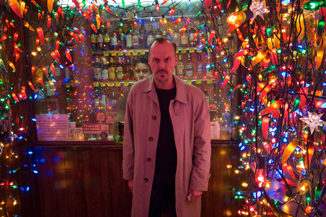 ---
Who will win the New York Film Critics Circle Awards? What movie will nab the top prize from the National Board of Review? The toe-wetting of the film festivals is over, the rank speculation backed by absolutely no data will finally be put behind us, and the endless parade of no-go contenders will soon turn into a Merry-Go-Round of the same 10 or so names. Finally, we enter Round Two of this year's Oscar race when the New York Film Critics Circle awards its top prizes on December 1st and the National Board of Review follows the next day. The Los Angeles Film Critics Association will also speak soon, on December 7th.

Critics' awards are not exact Oscar prognosticators. Rarely do they all agree on the same movie. Once they did (The Social Network), but the industry went elsewhere. Lately, the critics have been all over the place. What seems clear, however, is that each group cares deeply about how their choices are perceived. They care that their choices are relevant to the broader conversation. Again, as much as people mock or criticize the Academy Awards, they all look to them and even attempt to influence them. Indeed, a win from one of these three groups has and can revive a film's fledging chances at a Best Picture nomination.

Before trying to predict what these predictors will do, let's recap the Best Picture race we have so far. It turns out that despite the lack of a frontrunner, we have a pattern that is not very different from past years.

On the one hand we have the group of quirky, smart movies. Most are not emotionally satisfying or easy, but instead present intellectual or emotional challenges. This year, Birdman, Gone Girl, Foxcatcher, and A Most Violent Year arguably make up this list. These movies are this year's Tree of Life, this year's Zero Dark Thirty, or The Social Network, or Moneyball, and even Her. The pattern says: these will not win.

Next you have the ambitious blockbusters: Unbroken and Interstellar. Both are lukewarmly received. Still, they are arguably this year's Gravity or Avatar. I don't mean necessarily quality-wise, but it does seem like the Academy has reserved a slot for these big budget blockbuster movies since the expansion to more than five nominees a few years back. I would be surprised if at least one of them didn't get in, but past pattern says that they will not win (at least not the science fiction movie).

Then you have the very small, independent movies. Think Whiplash, Inherent Vice, or The Grand Budapest Hotel. These are this year's Winter's Bone, An Education, A Simple Man, Amour, Beasts of the Southern Wild. Few will see these movies, but again it seems as if a slot or two has been reserved for these types of movies since the expansion.

Finally you have the feel-good, pretending to be important movies. The Theory of Everything and The Imitation Game pack a one-two punch of fluff mixed with emotion combined with good acting and overall technical, while telling admittedly important stories. Argo. The King's Speech. Starting to get my drift? If these patterns hold, the Best Picture Oscar winner is likely between those two.

But maybe not. Here are some problems. First, there's the "Boyhood" problem. Where exactly in this cacophony does Linklater's contender fit? It is at times a difficult movie, and at times prepackaged in its satisfaction. It's ambitious, but it superficially doesn't seem to have anything transcendent to say. In short, it touches on a lot of the different types of movies that get Best Picture nominations and thus poses a real threat for the win, if it weren't for the fact that it doesn't "feel" important. On the other hand, this "lack of urgency" problem arguably afflicts The Theory of Everything and The Imitation Game. Sure, Hawking and Turing were important, but they're not Ben Affleck rescuing the world from Iran, or King George saving us from Nazis. On the other hand, neither was Steven Nash, and he walked away with the gold in A Beautiful Mind. So the waters are murky here.

The most difficult aspect of trying to predict the Oscars based on past patterns is that a lot depends on the competition a movie faces. Would a hard movie like No Country have triumphed over Argo or The Artist? I doubt it. The question is this: How strong is the competition against the more challenging movies? This year, it's lukewarm. So they have a shot.

That's the good news.

Here's the bad: we have one more wrench throwing things off. The little movie that could named Selma is wowing critics across the country, and it "feels" important. I haven't seen it, but it has a 12 Years a Slave feel to it, so it could be hard to argue with it if it's well made. And let's not forget the importance of "Oscar narrative." A black woman winning Best Director (Ava DuVarney helmed it)? Delicious.

So that's where we stand today, at the cusp of actually knowing a little more and seeing just which of these crosscurrents is pulling stronger this year.

Meantime, let's take the first crack at embarrassing myself by trying to predict who will win. No guts, no glory, right? After all, they shoot Oscar prognosticators too.

The New York Film Critics Circle Awards

This group has been all over the place of late. Last year they picked American Hustle when only they had seen that movie. They seemed to want to be different. But in retrospect it seemed bizarre at best that they would pick such a hollow film. Before that they had gone for Zero Dark Thirty and The Artist. And, the year prior, they went for The Social Network. So the NYFCC is clearly at odds with itself, rewarding brave and challenging filmmaking one year while falling back to much more superficial cheese the next.

But the NYFCC has also shown love for "auteurs" in the past. They don't go for the one-hit wonder unknown unless the movie is truly spectacular, and seem to reward more established directors. As such, I doubt either of the two biopics of this year has a chance here. Instead, I'm leaning towards either Gone Girl or Birdman to take the top prize with them, unless Selma pulls a surprise come-from-behind win and starts nabbing everything.

Because Gone Girl is a bit more divisive than the Michael Keaton vehicle, I expect Birdman will take their top prize, which means they'll also award Keaton Best Actor. But I think Birdman will win the NYFCC.

The National Board of Review

The National Board of Review is decidedly less pretentious than the New York folk, and is thus much more mainstream. To be fair, their choice of Her last year was bold and showed the critical love of the movie within the industry. But they normally pick movies that are already doing well with critics and the public. You have to go back to the year 2000 when the NBR picked Quills for their best film to find a movie that the NBR selected and that DID NOT get a Best Picture nomination. In other words, odds are, if the NBR gives you their top prize, you're likely headed for a Best Picture nomination.

Their choices over the last years have been unobjectionable. In addition to Her, they've gone for Hugo, The Social Network, and Zero Dark Thirty. Arguably, they picked the actual best movie of the year each of those years. So what is the arguably best movie of the year this year? It is hard to say having not seen Selma and Unbroken, but I think the consensus pick this year is Boyhood or The Imitation Game. I think that, given Linklater's history and ambition with his projects, the NBR will go for him and pick Boyhood. Of course, Birdman and Foxcatcher remain a threat as they are with the NYFCC, if only because critics love them so much.

The Los Angeles Film Critics Association

These guys have also been all over the map of late. The last time the winner of the LAFCA award won Best Picture was way back in 1992 when Unforgiven took home both prizes. Of late, the LAFCA has a very good track record of picking a movie that will get an Oscar nomination for Best Picture, but not an actual win.

One thing they do love is LA-centered films. Thus, a reach for A Most Violent Year is not completely out of the question. On the other hand, that movie may be a tad too independent and out there. Their picks the last few years have been the strange Gravity/Her tie last year, Amour the year before that, and The Descendants and The Social Network before. By picking Gravity, they showed they're not as stuck on sci-fi movies as the rest of the industry is. They're willing to go there, and Interstellar thus has a chance with them (except it's so divisive).

I actually think LAFCA will go for Birdman or Foxcatcher as well. They like the quirky drama. They do not go for the easy movie like Argo or the King's Speech or The Artist. You just don't see that in their picks. They have picked There will be Blood and Letters from Iwo Jima. They like the smarter movies. You can scratch The Theory of Everything and the Imitation Game. They have no chance here.

If Selma wins this one, it means the movie really has a formidable chance. You can trust the LAFCA that much. But, having not seen that movie, I think it is Birdman's to lose here, with Foxcatcher and Boyhood the obvious spoilers.

After these three awards we will be in business. The SAG and Golden Globe nominations will follow in rapid succession, and the embargoes on the movies that have been screened to a select few (Into the Woods and Unbroken) will be lifted. It's Christmas time in Oscar land.